We're over two months into our Stay-At-Home Coronavirus Life, and I am so thankful to have the love and companionship of my beloved dog Haddy! As we're all feeling extra grateful for our furry friends, I thought it was the perfect time to share my newly-launched clear acrylic pet products, which bring modern beauty and "invisible" functionality to your home.
As an interior designer, I found it challenging to find good-looking pet gates, feeding bowl stands, and pet beds for my design clients. To solve this problem, my team and I designed a line of acrylic - you may know as Lucite - pet products that blend seamlessly into any decor. No more unattractive wood or metal gates, plastic feeding bowls, or beds that look like pillows on your floor… Instead, elevate your pet products with completely clear, sophisticated, modern alternatives.
In this blog, I'll show you the " OLD" choices in home pet products and then our "NEW" clear acrylic versions that make pet products stylish for the first time. I'm certain you'll never go back to ordinary again!
Pet Gates for Small Openings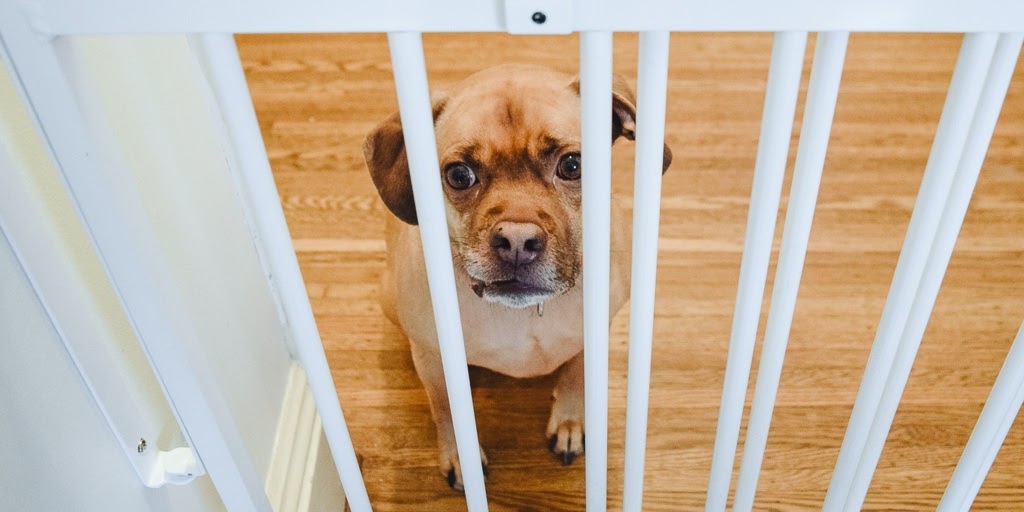 OLD
Typical choices in doorway pet gates look like these… metal bars with a prison-like look, cumbersome to attach to your wall, difficult to open, and - worst of all - often stressful for you and your pet.

NEW
We designed our Clear View Freestanding Pet Gate as the ideal solution to add a barrier to your doorways, consisting of a modern acrylic panel and clear stand. At 36" wide, this sturdy clear gate is so easy to use. This sleek barrier gives your pet a clear view, which pets really enjoy. It gives you an unobstructed view as well and doesn't add visual clutter or distract from your interior design.
Barriers for Stairways
OLD
Standard choices for stairway pet gates are usually unattractive child gates, also difficult to install and open. Plastic, metal, wood, or mesh choices resemble fencing and usually require time consuming installations.

NEW
Our Clear View Single Panel Pet Gate looks beautiful in your entry foyer or any room in the home and is so easy to open!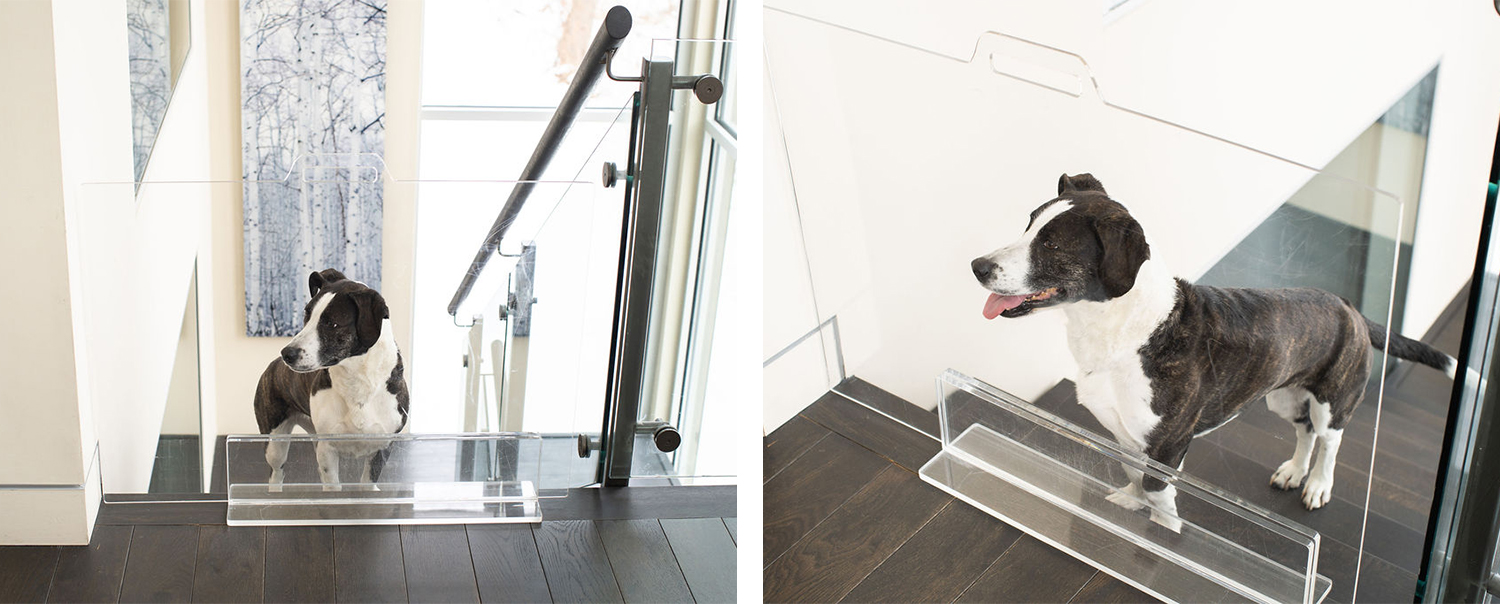 With one easy step, you place the base and panel at the top or bottom of your stairs and your pet is kept on the other side. No holes in your wall, no ugly metal bars, and no difficulty in opening and moving the gate. Need to get past? Just lift the panel, using our laser cut handle, or slide the panel in its base and walk on through!
Pet Gates for Large Openings
OLD

Pet gate choices for larger openings consist of longer metal or wood gates that create distracting lines of sight. Freestanding gates or those that attach to the walls are usually plastic, wood, mesh, or metal, most of which detract from a room's decor, especially in modern and contemporary homes.
NEW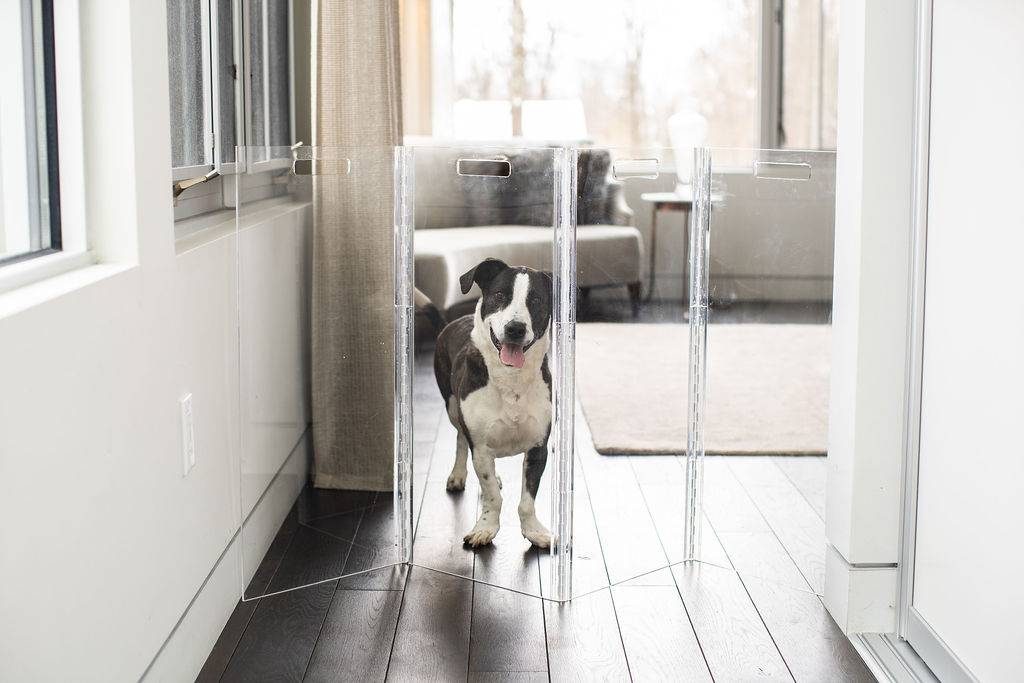 Our Zig Zag Pet Gate performs the same function but provides beauty and minimalism as well. At 60" in length and with an option to add on as many panels as you want, it's a freestanding, sturdy, clear lucite gate perfect for larger openings.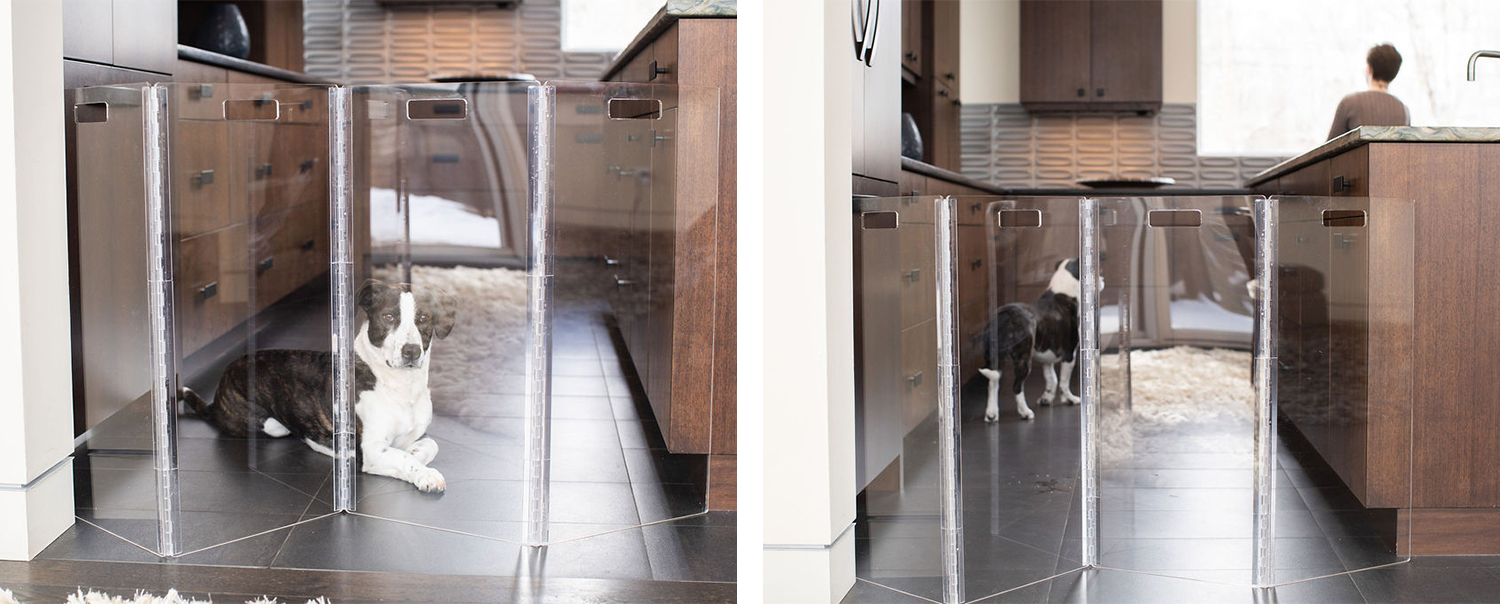 Chow Time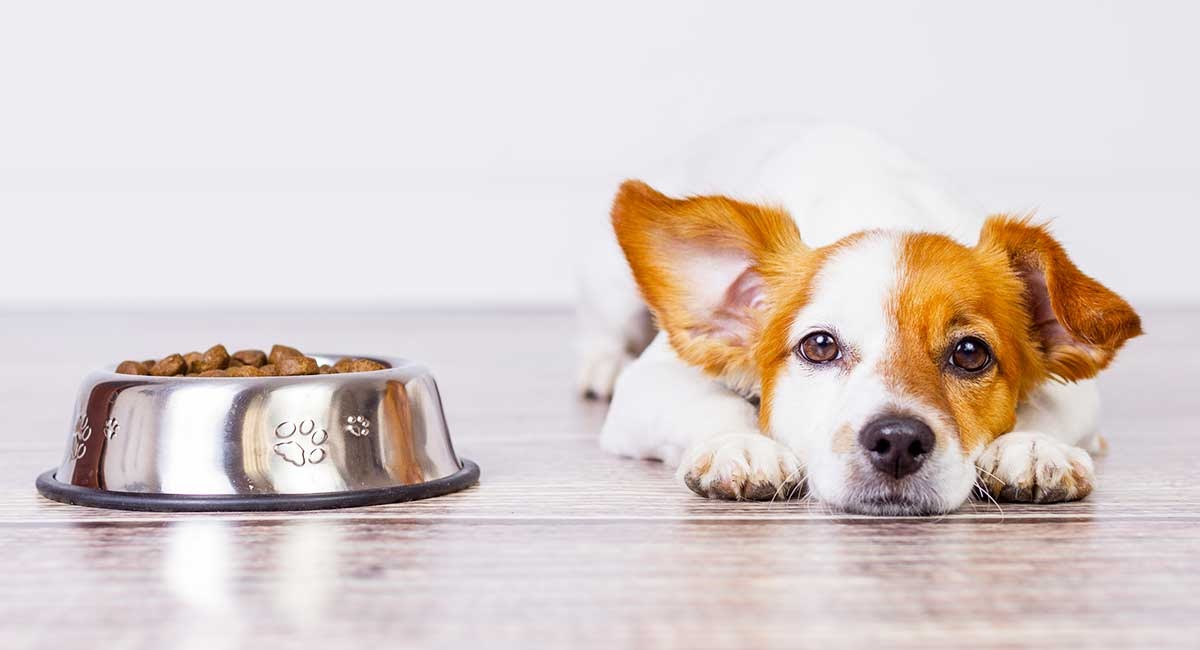 OLD
Pet bowl choices range from paw print themes to colored plastic to basic metal, and a lot of other embellished choices in between! We're guessing that may not be your choice and that the hunt for a simple, chic feeder that's still easy to clean has been exhausting.

NEW
Our Clear Acrylic Pet Feeders are as beautifully designed as your kitchen. Your search for an equally beautiful feeding bowl or one that simply disappears has finally come to an end! We've created the "dish-appear" single and double clear dog bowl sets made from sturdy, thick clear acrylic and the highest quality stainless steel metal bowls. Available in short and tall versions, this feeding stand is perfect for pets of all sizes.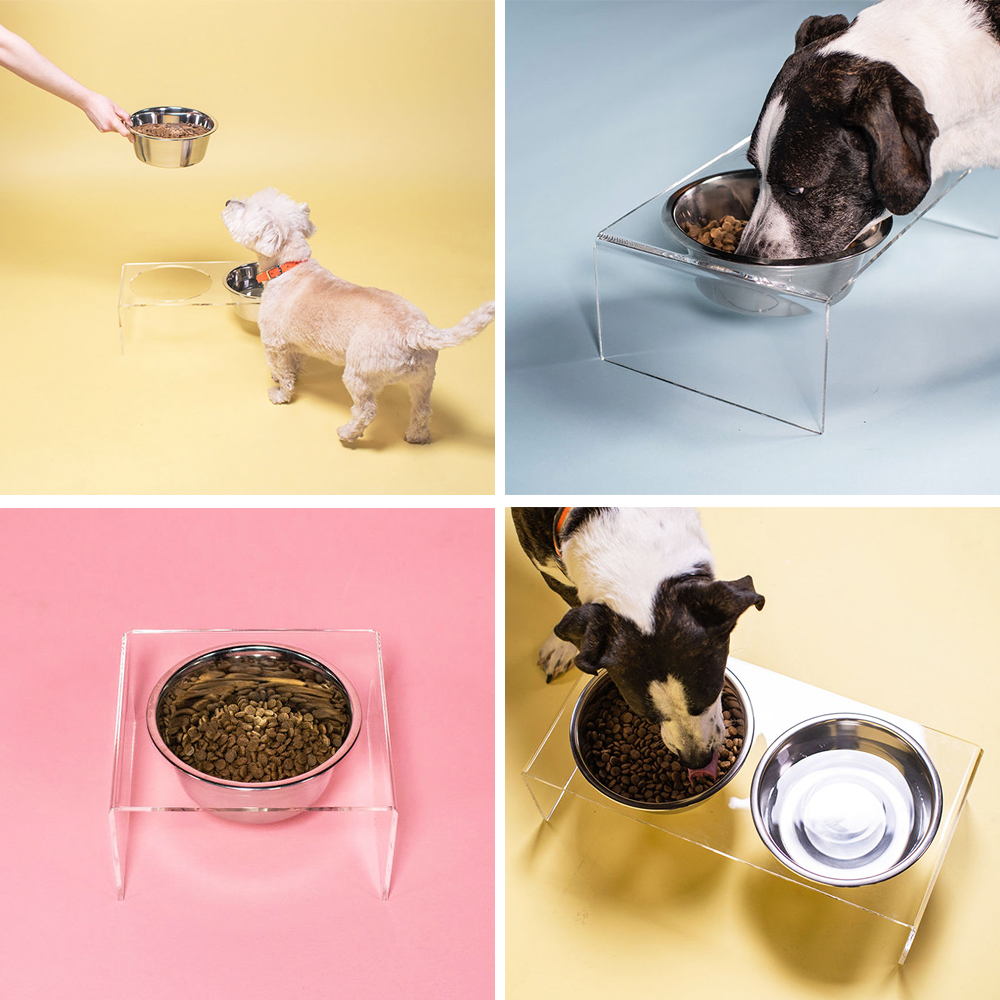 Bed Time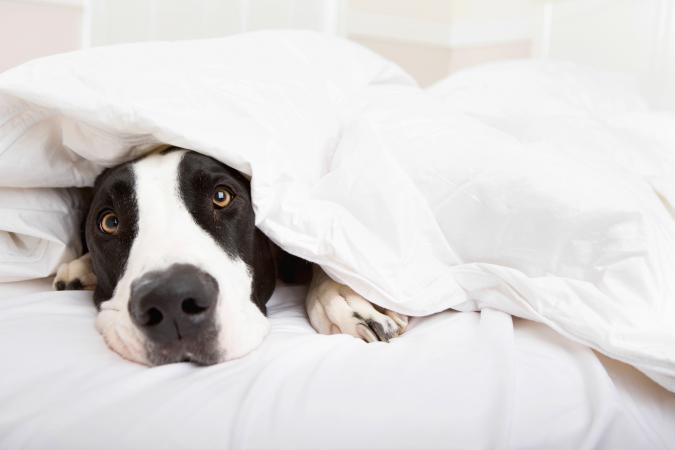 OLD
Pet bed options consist of bulky dog mattresses, patterned "donuts" that don't match your decor, trampoline-looking raised dog beds, or very expensive miniature furniture beds. Choices like these don't always suit your taste or color scheme.

NEW
Our Clear Acrylic Dog Bed and Cushion sits quietly in your decor and adds crystal clear architecture at the same time. Pet loungers should be as chic as your living room, bedroom, or wherever your pet chooses to slumber. Our patented Clear Acrylic Dog Bed and Cushion is constructed of the highest quality acrylic, with comfort and size carefully designed. Unlike any other Lucite dog beds, we designed smooth cut-out handles so you can move the bed easily from room to room.
The Choice is Clear
The way to go is clear! Our clear pet collection features two pet gates, a raised pet bed, elevated pet feeders, and a lucite treat tray. Stay tuned for our upcoming clear pet crates coming this summer for more chic pet decor!