As we all emerge from our homes to feel the Spring fresh air, the desire for a rebirth could not be more palpable. We have hibernated in our homes trying our best to stretch our interiors into workspaces, playgrounds, classrooms and dining halls, and the need to freshen our interiors is universal.
In anticipation of this, Clear Home Design has added new color Lucite items to every category of our site to help you freshen up!
---
Inflatable Furniture Fun for All Ages
Most interior design lovers are familiar with crystal clear acrylic and the endless furniture styles that come to mind; Lucite waterfall tables, clear acrylic S-shaped chairs, transparent nesting tables and more. What some may not realize is that acrylic is the perfect vehicle for modern, bold color furnishings. Transparent Lucite is available in so many eye catching shades, from bright neon and fluorescent colors to soft, soothing pastel shades and everything in between. We can't think of a better way to usher in Spring 2021 than with a color infusion to your clear interior design.
Let's start with the most fun way to incorporate bright, vibrant color that can go inside or out! We LOVE the inflatable acrylic chair collection by Mojow. These inflatable styles with strong metal or wood frames are so perfect for kid's rooms, dorm rooms, vacation homes and can be used around the pool as well.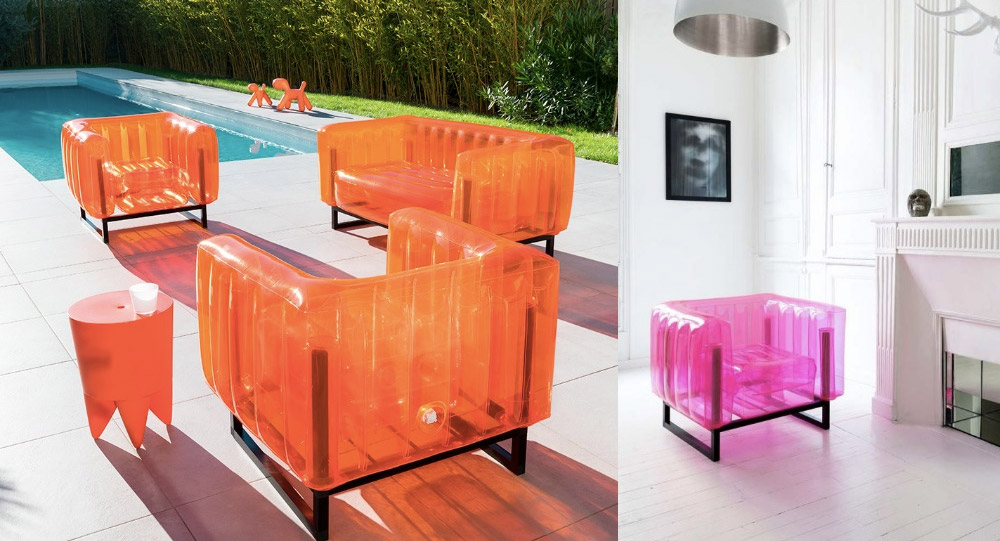 Colorful Lucite Tables to Freshen Up Your Home
Looking for something more permanent? We've got sheer color Lucite table styles in abundance.
A fresh take on the classic "waterfall" style table can be accomplished by designing these iconic Lucite tables in solid, bold, fluorescent color acrylic. In various thicknesses, from .75" to 1.5" thick acrylic, these heated and bent tables are handcrafted and iconic. Because acrylic can be formed and shaped, these bright color tables can be customized easily and don't require the long production times that ordinary wood or metal coffee tables face. In addition, Lucite is heat resistant and color-fast which makes these statement tables not only stylish, but also durable and sturdy.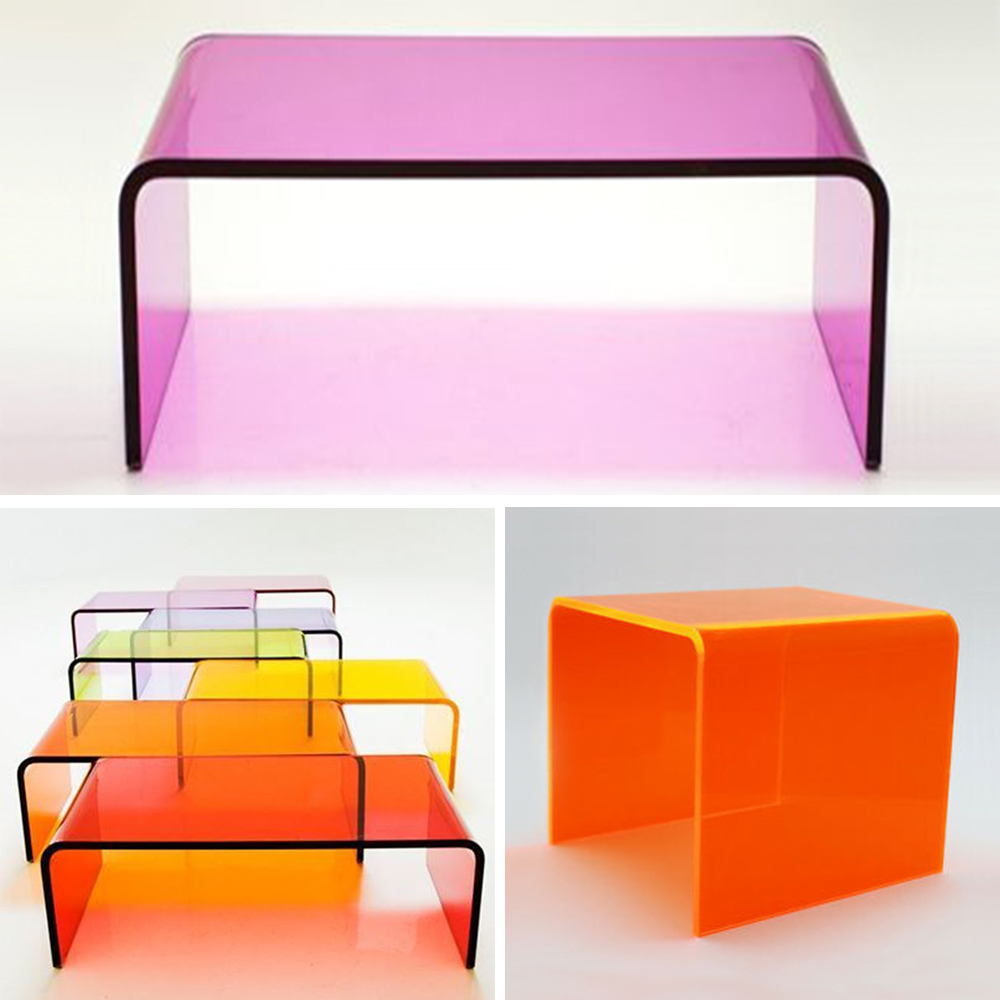 Customize Your Next Table! | Neon Colors Waterfall Coffee Table
For those of you who prefer your Lucite tables with more linear silhouettes, these linear styles deliver color as well. Equally as customizable, the simplicity of these architectural designs makes an equally bold statement. These acrylic table styles make striking statements in your foyer, hallway or living room and offer functionality as well.

Lucite Color Leg Console Table with Clear Top
Color Lucite Double X Base Console Table
If prefer your Lucite furniture with a pinch of color, then consider incorporating clear Lucite pieces with color edging. In bright hues of neon green, pink, orange, yellow and more, these strong designs hint at bold color, while still being classic and clear. Both the pink edge Lucite console table and the neon green edged bench adds modern art to any room it sits in.
Pick Your Color | Color Edge Thick Clear Lucite Console Table
Pick Your Color | Color Edge Thick Acrylic Coffee Table or Bench
Bold Seating in Bright Colorful Lucite
In case you're getting the impression that Lucite tables are the only vehicle for color acrylic, let us set the record straight! Color acrylic is just as accessible and exciting when incorporated into seating designs. What better way to dress up your kitchen or dining table than with a modern, chic set of color Lucite "Z" chairs or a chair with a mix of bold color and cool metal.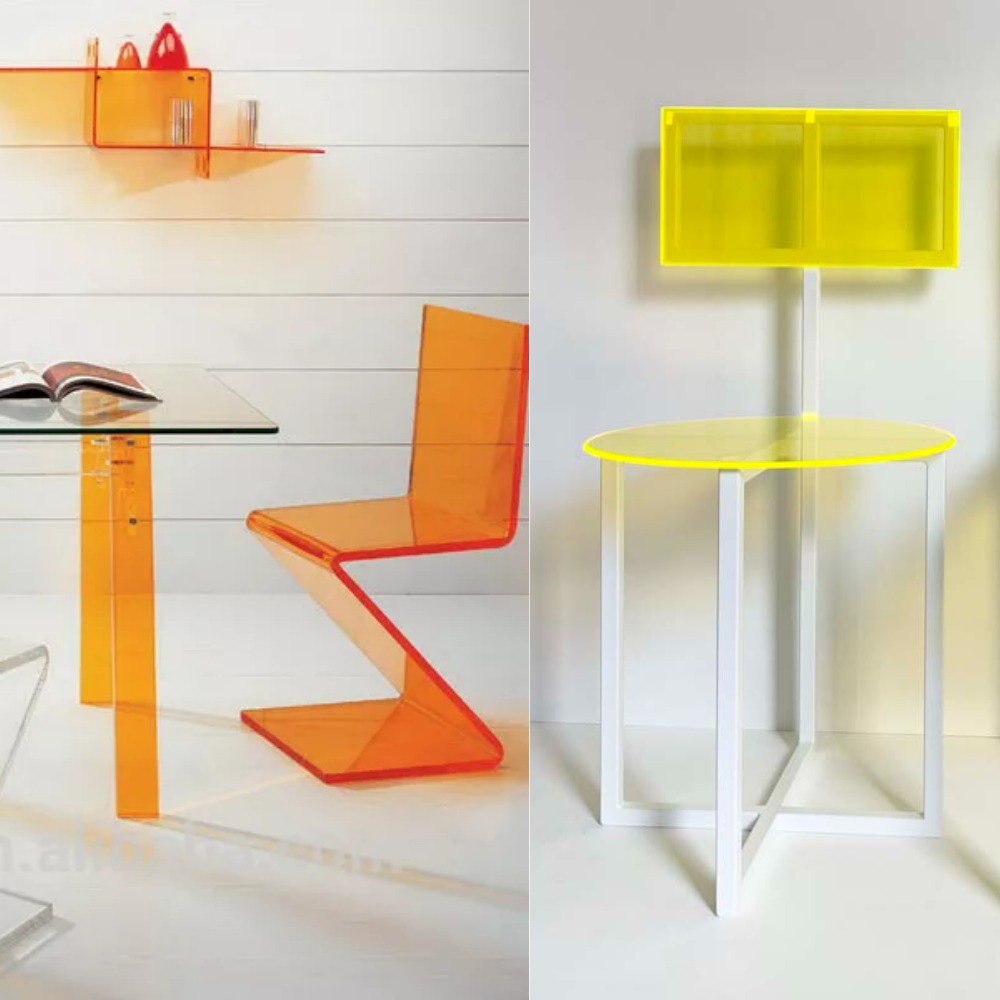 For more subtle looks, try incorporating chairs with color tipping or a pale, transparent color choice like lemon yellow. Or choose a classic chair, like the Charles Eames classic, molded chair, but do it in color Lucite. With the introduction of chrome legs, the bright color is balanced by the quiet, chrome metal. Prefer your color in fabric? Try an upholstered dining chair in vibrant color, atop crystal clear Lucite legs.
Whether your seating is all acrylic, or some mix of Lucite and metal, the strong pop art inspired color story comes to life.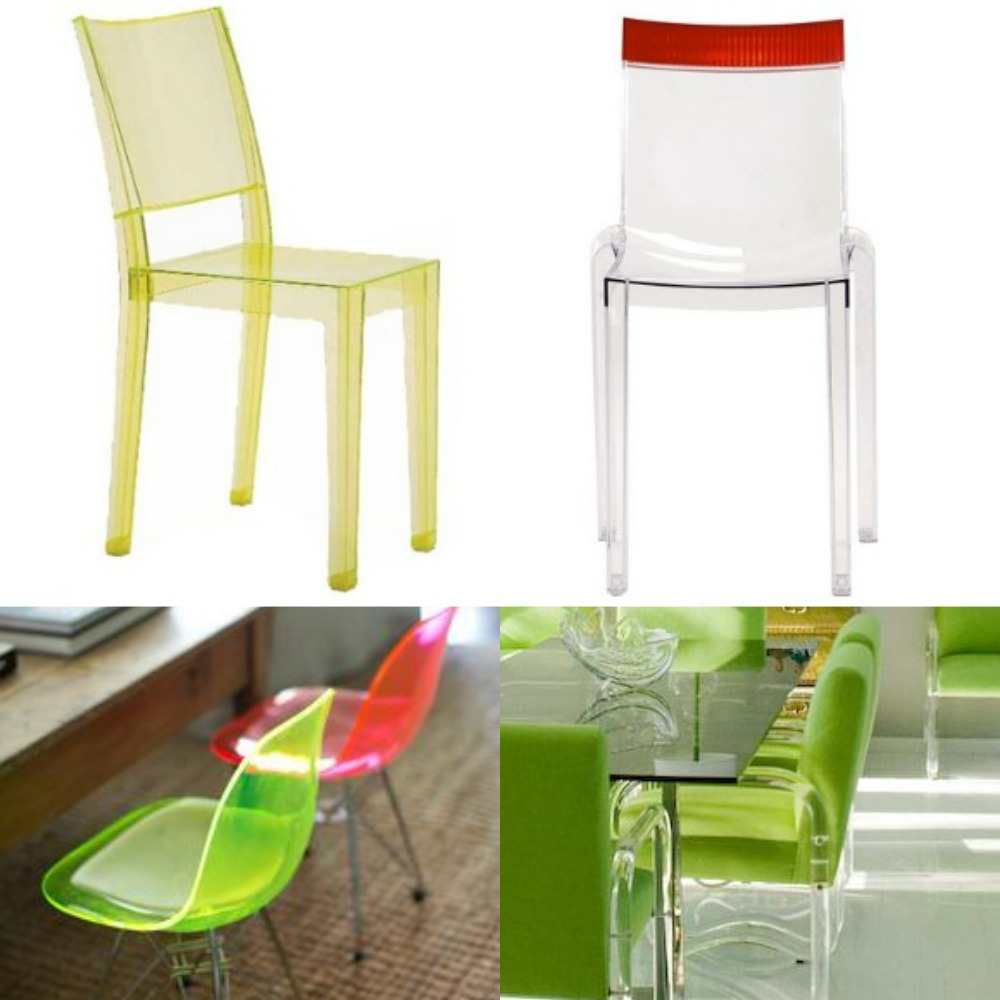 Accessorize with Bright Colors for Springtime
If you want a quick easy color fix, the world of transparent color Lucite or glass accessories is wide open and waiting. At Clear Home Design, we were thrilled by the Lucite market's wide array of bright color vases, office accessories, bathroom decor, games and more. What a beautiful way to energize a bookshelf, desk top or game table! In modern shapes and vibrant rainbow colors, just adding one of these small Lucite items can renovate an entire room.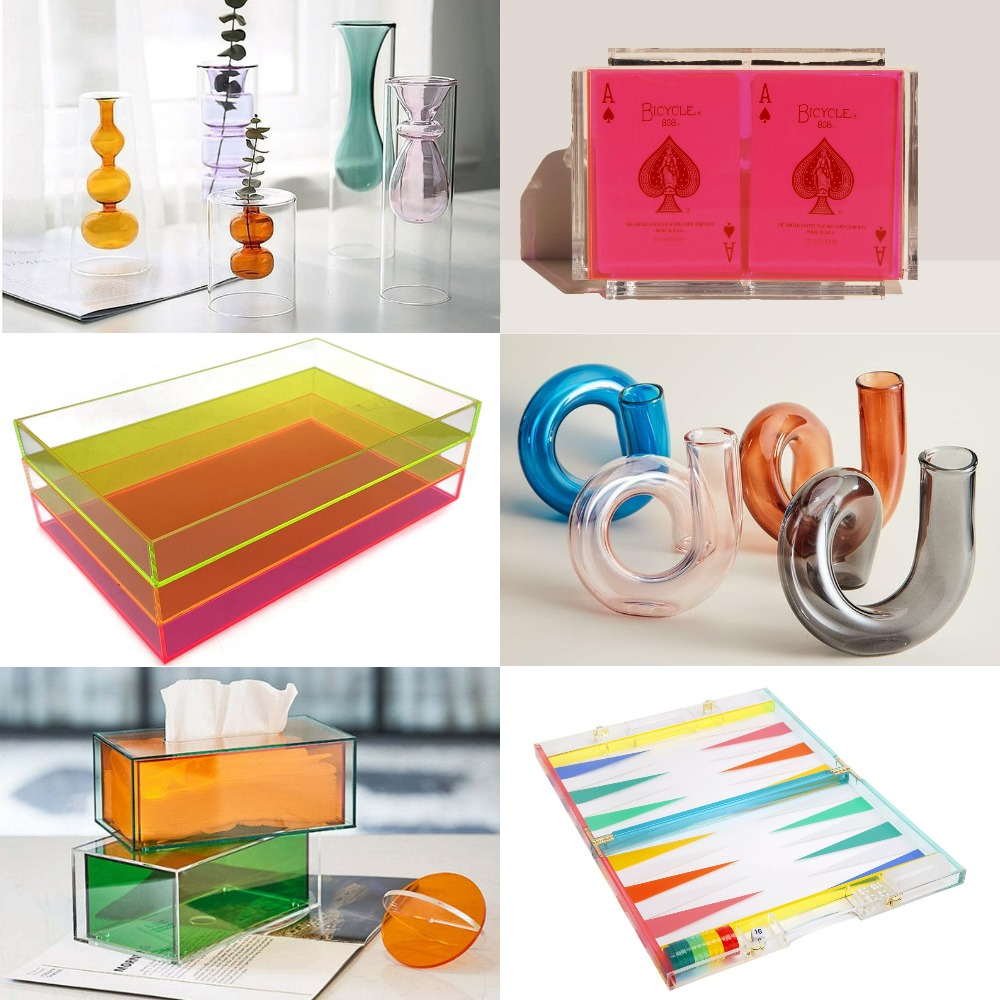 You've heard the expression - "Go Bold or Go Home!" Nowadays, we believe you can do both. By adding bold, bright, colorful Lucite into your home, you can boldly announce Spring's arrival.