the turn of the new year is the ideal time to re-evaluate not only our life goals, but the process of executing those goals... and it all starts in the place where we do our work: the home office.
as an interior designer for over 25 years, i've worked with some clients who haven't had dedicated rooms for their home office but still needed a space to do their work. after years of finding office space clients didn't think they had, i'm thrilled to share with you my tips and secrets that can help you create your ideal office space — even if you don't have a true "home office."
1. transform your rarely-used formal rooms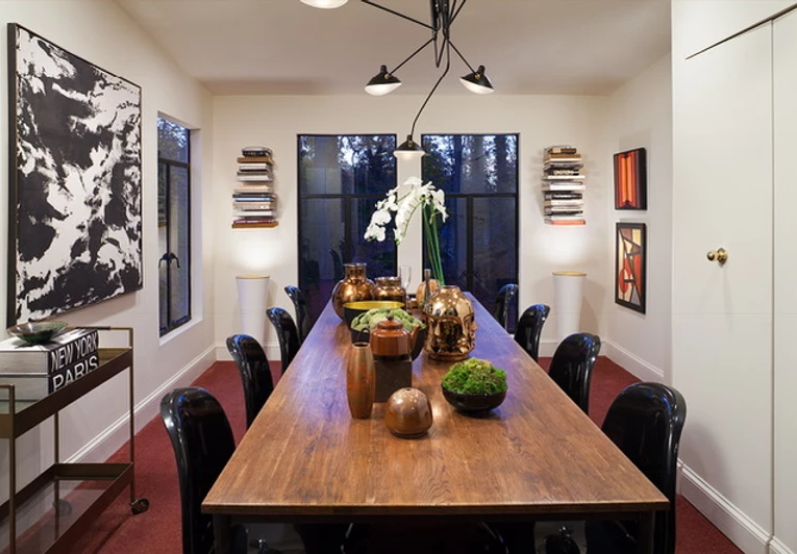 take your rarely-used dining room or living room and turn it into a home office. so many of my clients spend a significant amount of their furniture budget on creating formal living rooms or dining rooms that only get used on holidays and special occasions. By utilizing the ample surface area of the table and the storage space in the room, you can make these rooms combination rooms, so that a home office can be housed seamlessly in these rooms as well.
this was my dining room/home office when i lived in a small tudor home in new jersey and worked out of my home. my long modern dining room table served as my dining table that family would gather around during the holidays, but it converted easily to my office desk and conference table, where i would meet clients and contractors. the room has large mid century modern metal windows which let in natural light for office work. the "phantom" flush closet doors hid my printer, desktop computer, and all my files, fabric samples, and client folders!
the key to make your formal rooms transform to your home office is to have proper storage by using either closets or furniture to house your equipment. in some clients' dining rooms, i chose a credenza or server that had file drawers and media cut outs so i could hide the printer and computer within it.
2. replace your closet space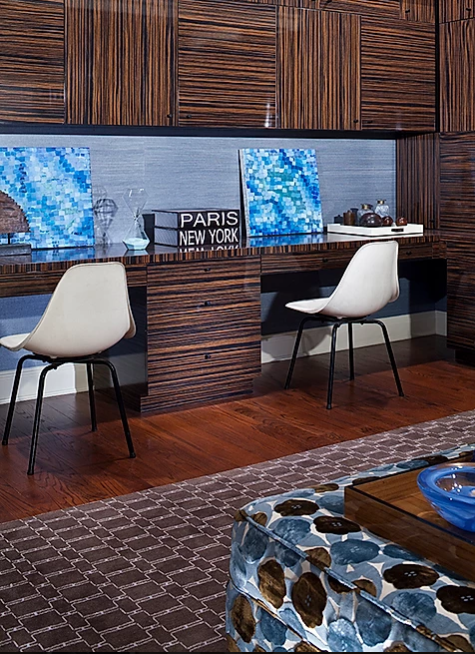 Take off the closet doors and replace your closets with a home office space. Enjoy the best of both worlds: a functional work space and ample storage. Using built-in desk cabinetry or a desk that fits into the depth of the closet, you can transform the space with ease.
Built ins are especially great for the all-in-one approach, providing the desk surface, storage cabinets, and shelves above. They remove the guess-work of finding the perfect desk depth for the space, as the modular design of built-ins allow for as much customization as you need.
For a simpler approach, install a floating countertop along the wall and use rollaway storage units underneath. Use a clear desk chair to minimize the visual space that your desk area takes up in the room.
3. find an alcove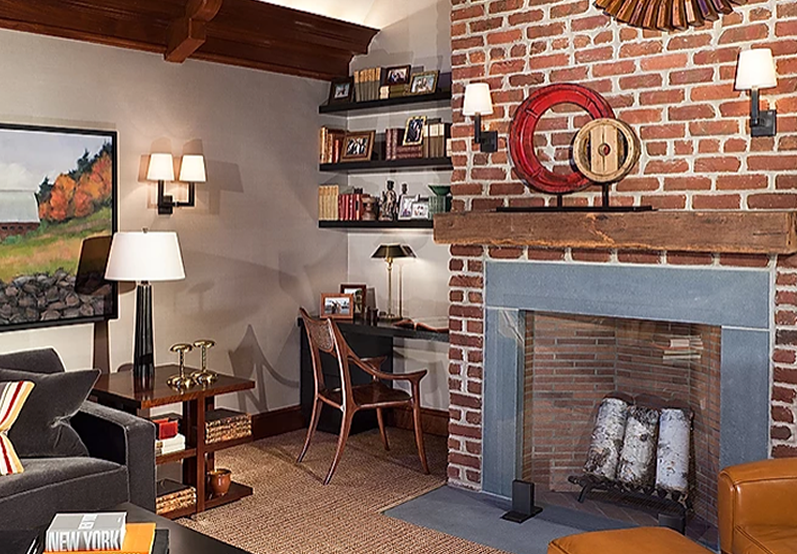 find an alcove or recess in any wall in any room to create a desk nook. desks don't have to float in the center of the room. your office space can blend into the interior design; use the same woods, the same furniture styles for your chair, and even the same lighting. this way, the desk nook doesn't stand out as an office but works perfectly with the overall feel of the room.
use shelving above your desk to give you ample space for storage and decor, and be sure to surround yourself with inspiring artwork and photos.
what's better than doing your work right next to the roaring fireplace and being able to watch tv at the same time? above is an example of how i created a small but functional home office space for my client in short hills, nj.
4. use the window wall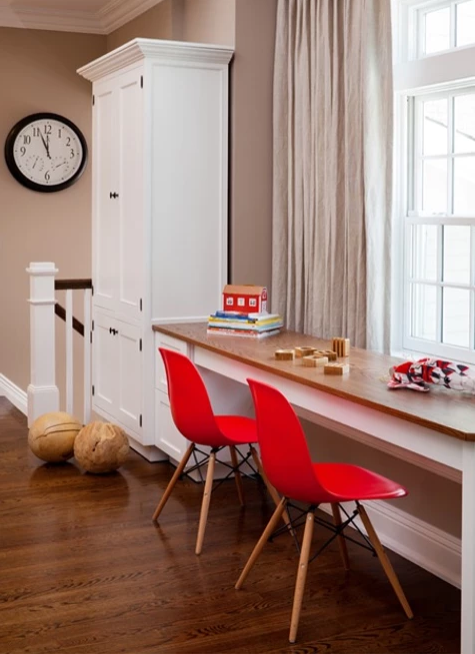 Many homes and apartments have walls of windows that other furniture can't go against. This space is perfect to utilize to build in your desk! Use a countertop across the wall to have the ideal desk space, filled with natural light. for a shallow desk, consider utilizing a computer riser to increase your usable surface area.
In this montclair nj home, i took a seemingly unusable window wall and designed a countertop desk with a storage pantry to its left, in which you'll find the printer, computer terminal, kids' pencils, pens, and other office essentials.
kids and family alike could work at the counter and look out on the beautiful pool beyond...not a bad way to work. I made sure that the desk chairs are the same as the kitchen table chairs, and the cabinetry matches the kitchen cabinets, so the desk wasn't a break in the overall room design.
5. choose clear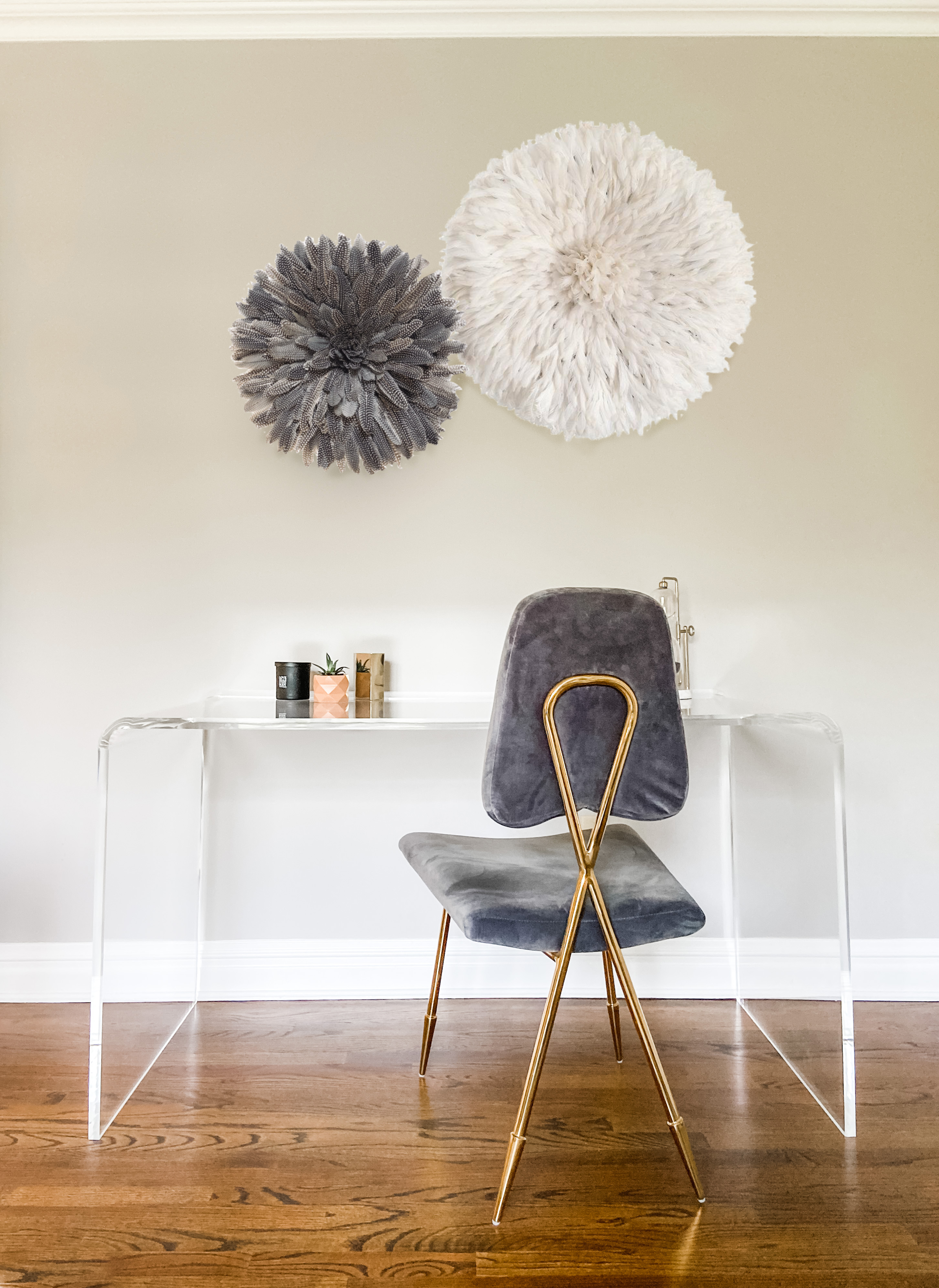 in spaces that have room for a desk but would detract from the color theme, distract from the design, or add visual clutter, try adding a smaller clear acrylic desk. The fully-transparent desk provides ample space to work when you're working and doesn't detract from your space when work is over. consider the acrylic desk waterfall, pictured here, or the acrylic desk with sawhorse legs for a larger surface.
Pair the desk with clear office accessories or hide the supplies away in nearby cabinetry, closet, rolling drawers, or other storage space. Utilizing storage for your office supplies and files can help keep your home office area clear and clutter-free, not causing any distractions from design of the rest of the room.
There are plenty of ways to find space in any size home to set up your office space for 2020. Creating a dedicated space for you to focus on your goals and work is ideal for a successful new year ahead!
What does your office space look like? Show us on Instagram or Facebook by tagging us @clearhomedesign.