For Summer 2020, life still holds challenges with the Coronavirus and our desire to be out and about whether at the beach, pool, or just under the sprinkler. If you're like me, you take your daily jaunts outside and wonder when life will return to normal. It feels like a good time to lighten up your mood and interior decor and there's no way better to do that than with clear Lucite furniture and accessories. Whether you're in your apartment, beach house or home, I'm going to show you easy, lightweight, fun and accessible sheer, clear items that will let the summer light in and brighten your mood!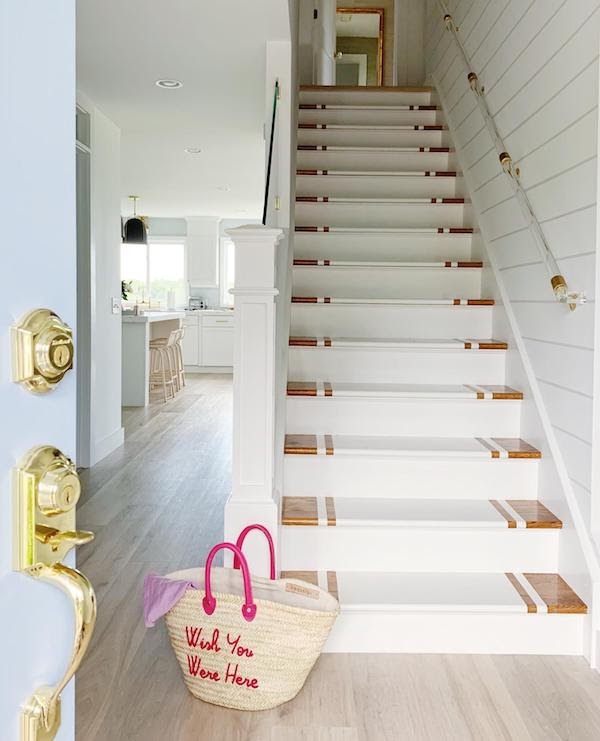 Start with a summer reboot on your stairs...yes, you can update your staircase with a paint can and a Lucite railing without breaking the bank. Try a Lucite and gold drapery rod, buy some railing brackets and voila, you have a beach house vibe even if you're not at the beach. To complete the look, you can tape off stripes on your stairs to simulate the look of a nautical inspired runner without the need to buy carpet!
Add to that a clear Lucite or acrylic waterfall console table against a wall or in a small niche, giving you a place to drop your sunglasses and a place to welcome summer. I love the dual seasonality of a summer, raffia basket filled with wood logs, blending summer and fall with the same modern message.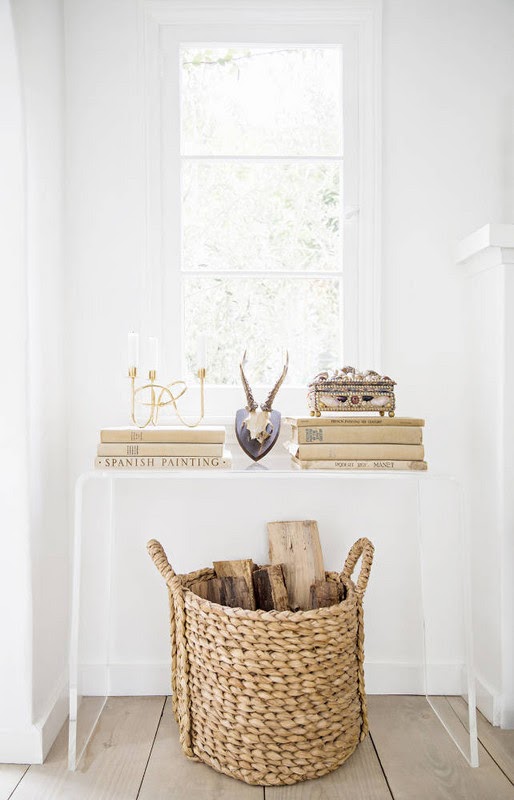 While we're staying close to family in particular, try to update your family room with a clear, sparkling Lucite coffee table that lets the sun shine through and adds an "airiness" to your decor. You may not be at the beach, but you can certainly bring that coastal decor to your home.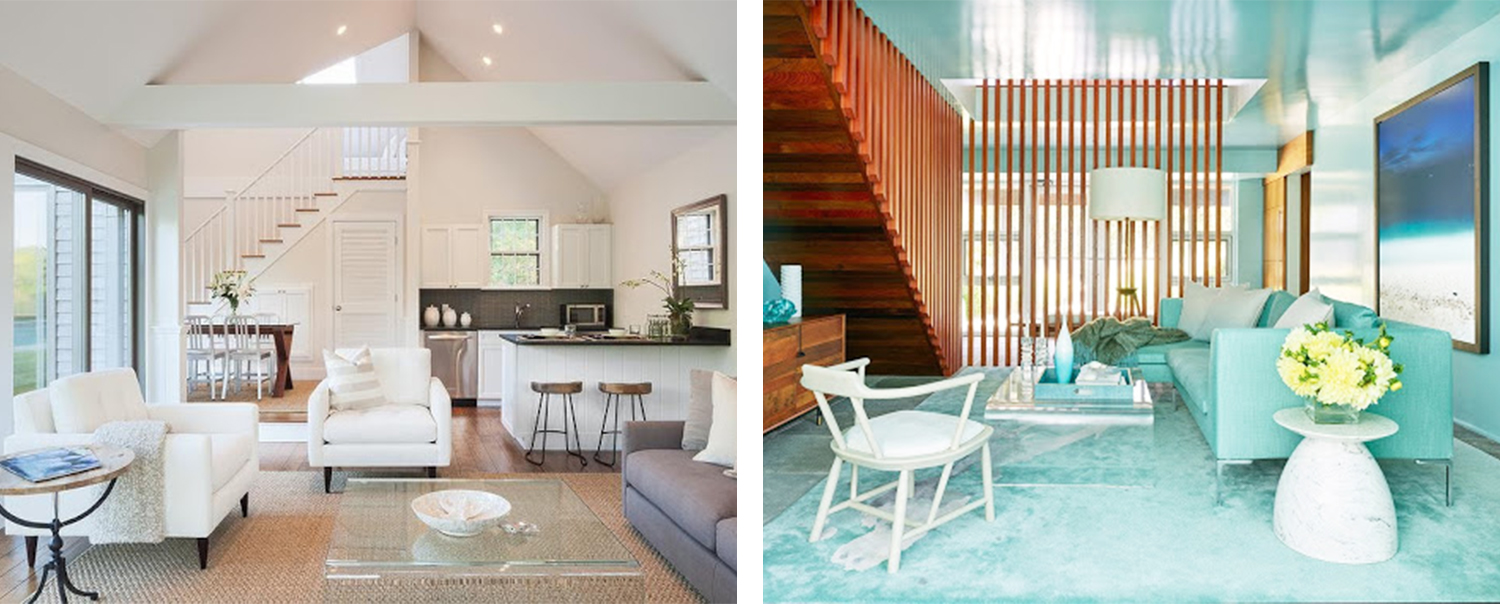 The classic waterfall Lucite cocktail table comes in so many sizes or you can get it customized to your needs. No matter your interior design style; modern, transitional or traditional...a jolt of acrylic simplicity ups the impact. As you can see above, a modern city apartment transforms to Miami Beach chic with a can of paint and a luxurious Lucite waterfall coffee table. I can almost hear the waves.
If your style is more transitional, try a Lucite coffee table with brass accents and a straighter silhouette. Notice the sofa styles below are more traditional… beige linen or white cotton camelback, skirted sofas. With the addition of the industrial modern straight acrylic coffee tables, traditional and modern marry and the result is a cool, transitional decor. And, unlike a wood or stone coffee table, the clear plexiglass table says summer.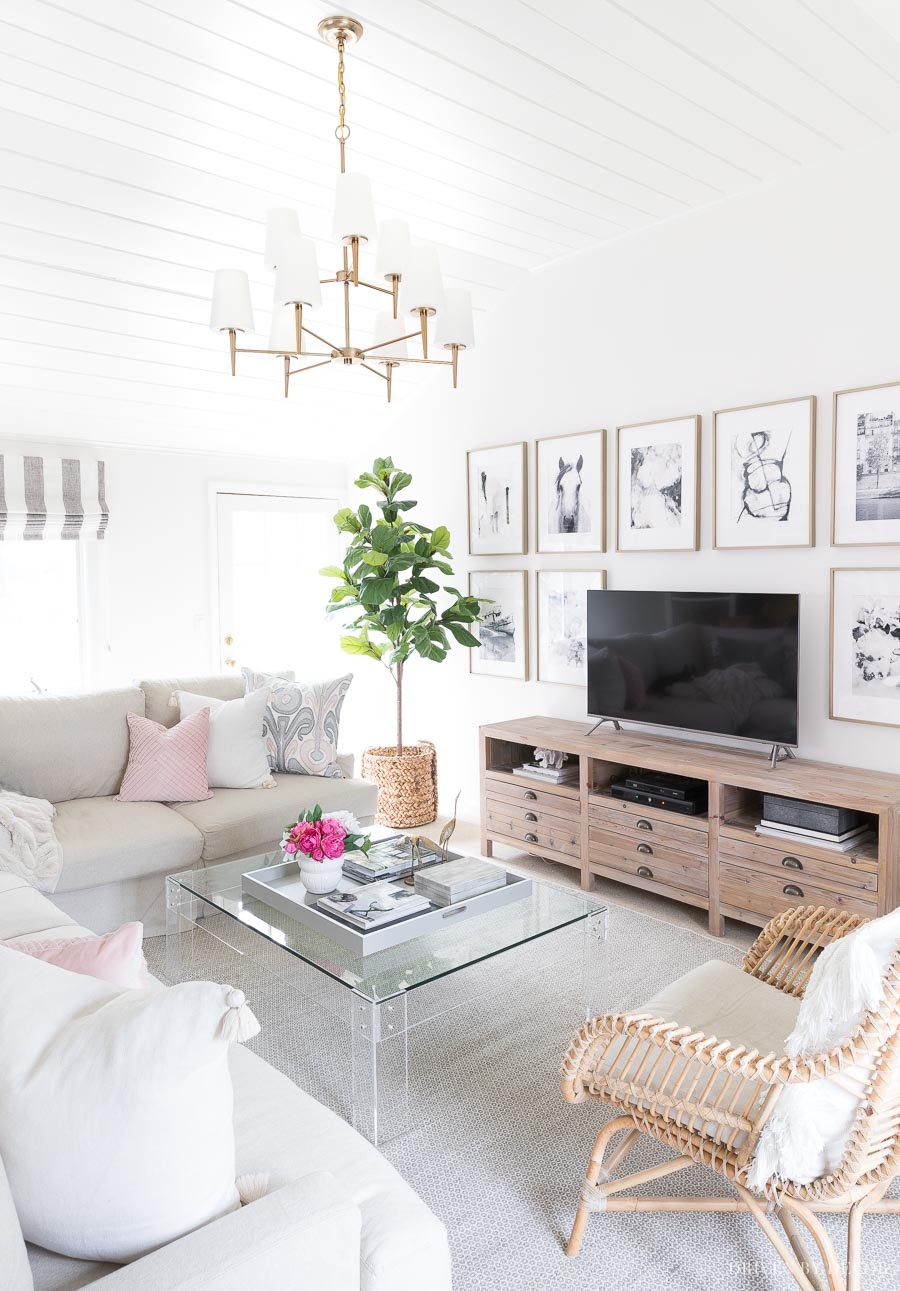 With Lucite, sometimes more is more because the material is practically invisible...so add in an acrylic storage trunk that not only lets you store items but has the added benefit of showing them off! Or, add a chic "C" shaped end table to add an edgy, functional side table.
Even if you're in NYC like me, just take some summer accessories like shells, horn boxes or driftwood and highlight them in a clear Lucite trunk with a nautical rope handle. Relaxation and a good book are exactly what these times call for.
Or splurge on a solid, thick Lucite game table that makes family game time oh so chic! If the table is too much, try a chic clear acrylic table game like tic tac toe, backgammon or chess.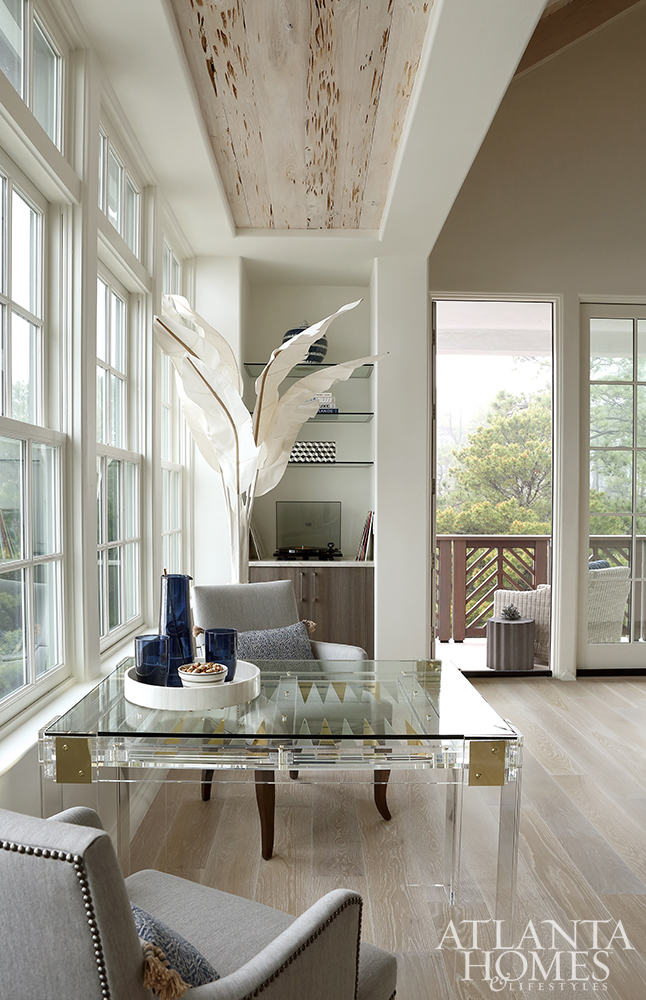 It's even easier in the kitchen...you can almost hear the waves. Try a Lucite leg bench or inexpensive clear acrylic chairs and switch out your heavier wood or metal chairs. Your table awakens and gets a fresh beach house look. If you prefer, get your clarity by adding new Lucite barstools or go all the way, and hang a cool, modern acrylic Sputnik chandelier.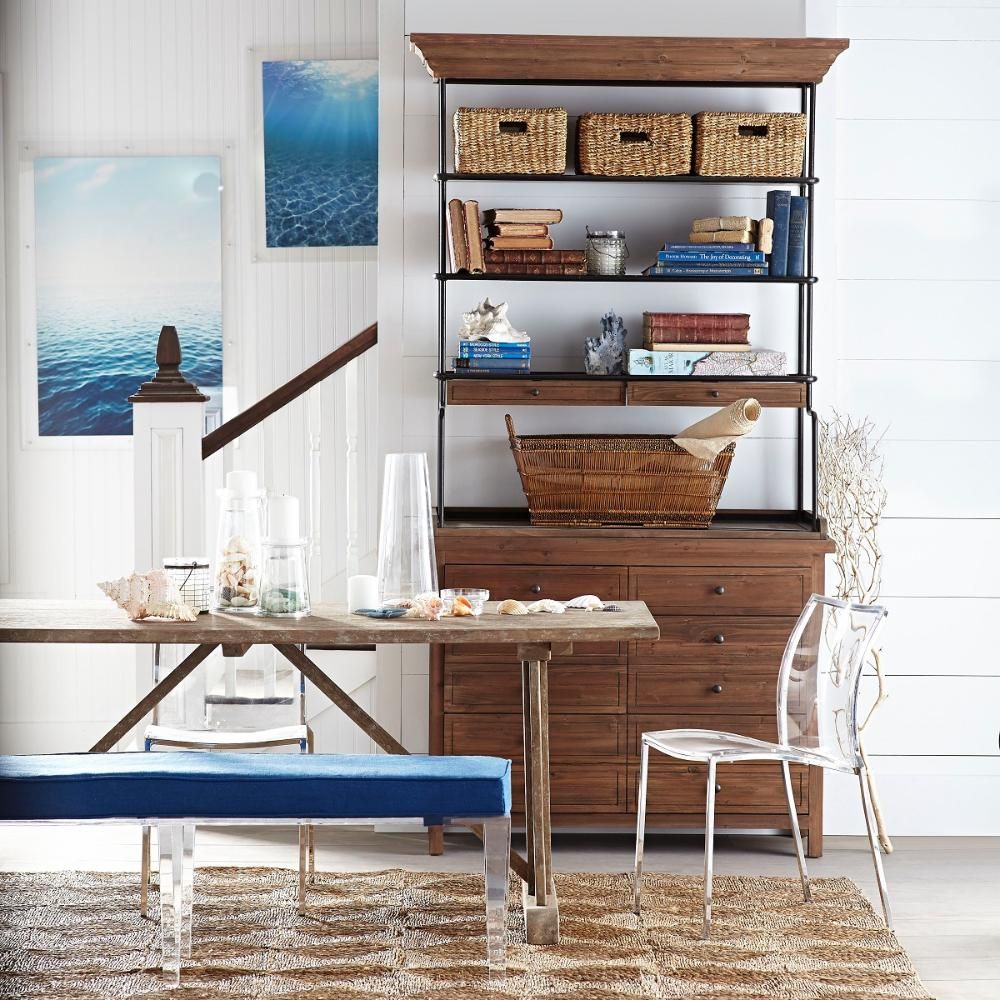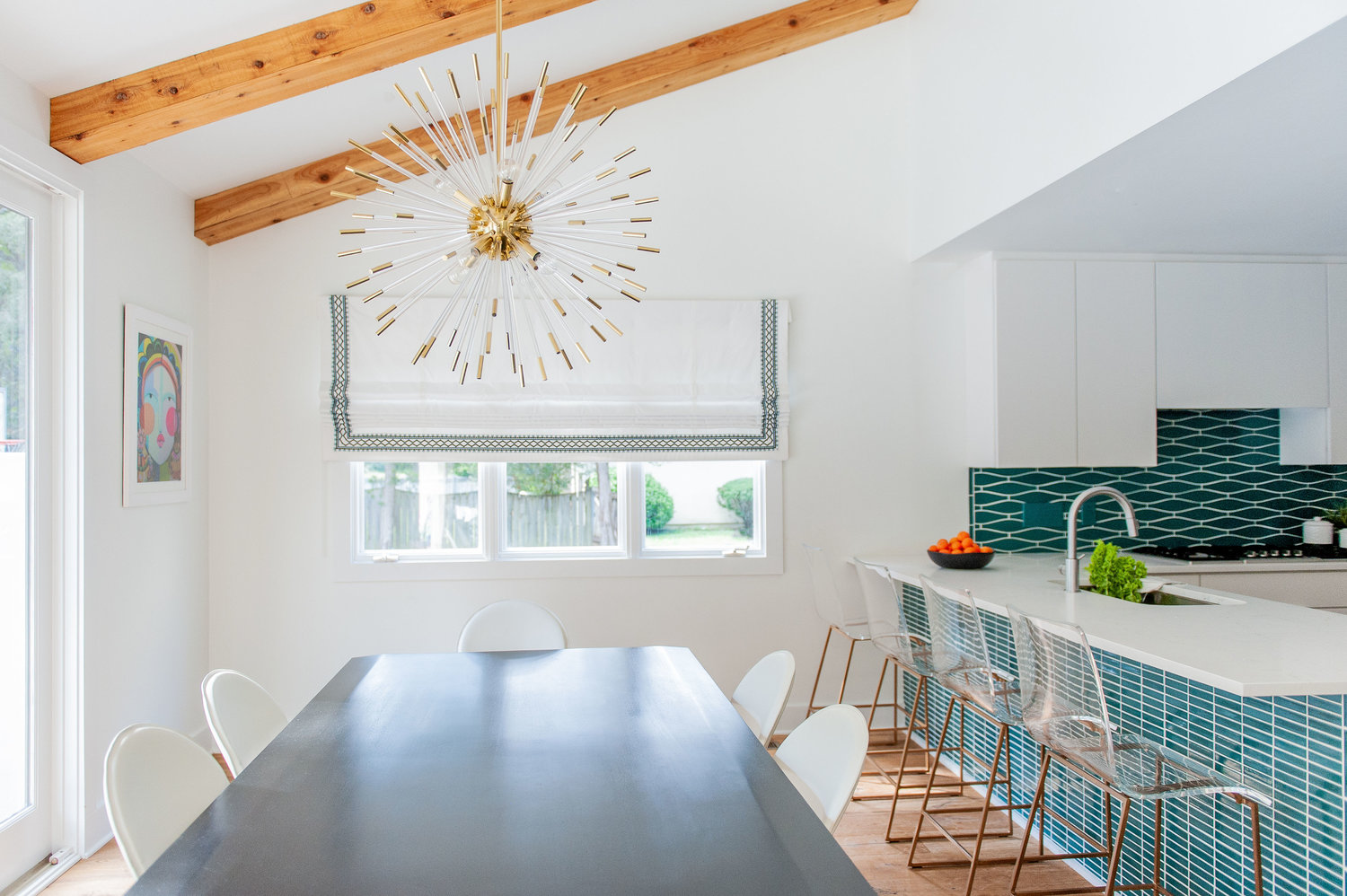 And don't forget about your bedroom retreat because Lucite deserves to be there too. The same tranquil effect is achieved by adding clear plexiglass to bedrooms...trust me, you'll feel like you're vacationing in your own home.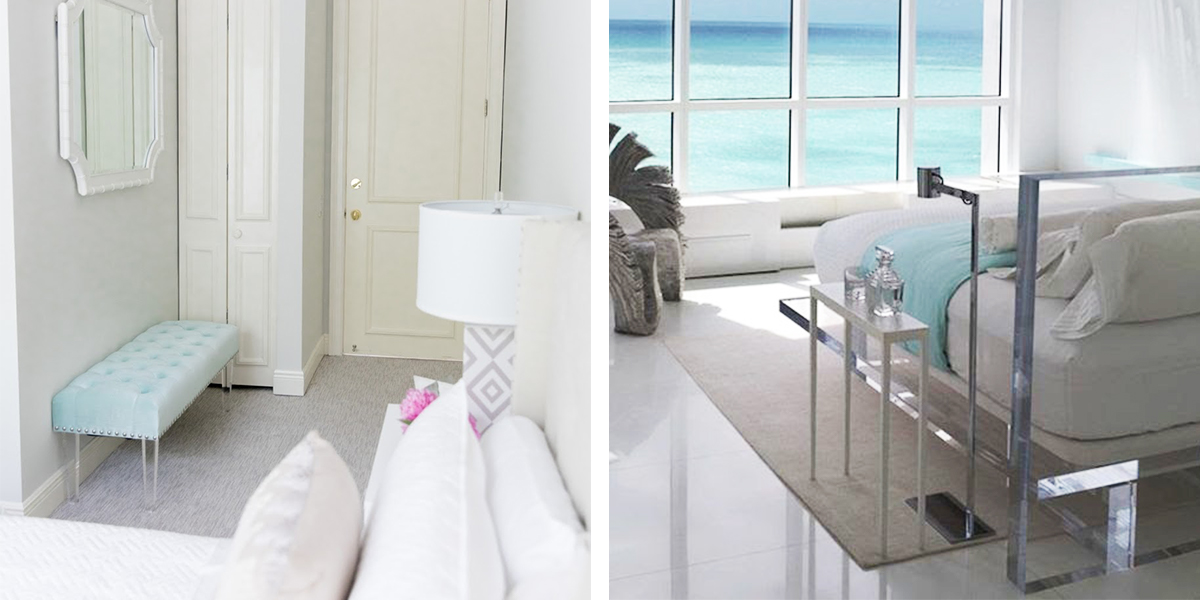 And, of course, Lucite is sun resistant and waterproof...easily wiped down with a damp cloth so bring the beach to your porch, backyard or balcony.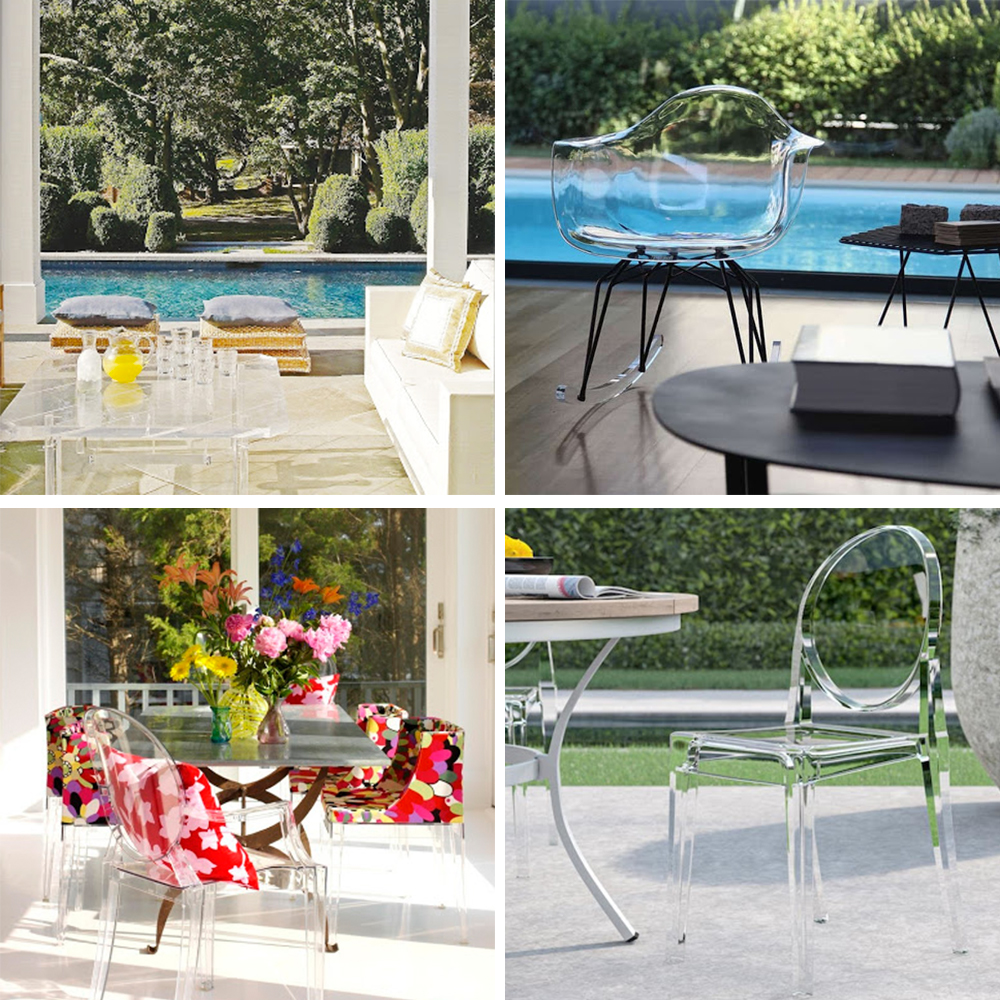 As you can see, ANY room in the house can get a summer refresh with the introduction of clear Lucite furniture. Durable, cleanable, transparent, chic and so right for summer 2020.
Enjoy and be safe!