The home is a key element to all of our lives, and I believe in the importance of making your home a reflection of your style. The proper lighting in any environment can bring energy, optimism, and serenity. It may seem like a small thing, but bright light helps not only illuminate task areas but also bring focus to your interior design.
One way to accomplish this is with Lucite or clear acrylic lighting. Because of Lucite's clear, glass-like construction, it is the perfect material to use in lighting fixtures. Much lighter in weight, easily cleanable, and more modern in appearance, clear acrylic lighting is a hot trend in interior lighting.
Inject Art Deco glamour into your interior design with this lucite "loop" chandelier, based on an iconic 1940's classic acrylic chandelier style. This luxury chandelier, with twisted clear acrylic rods, is a classic Lucite chandelier design. Use it for a foyer or dining room as a single chandelier or joined together in multiples to create even more sparkle and drama.
With the look of clear glass but the light weight of clear acrylic, these basket style chandeliers are pure decadence.
Many of the new Lucite Chandeliers and pendant lights take their cue from classic, vintage, iconic light fixtures. Below is another example of a chandelier based on a vintage style. From Arteriors Lighting, the Hanley Sputnik, available in gold or silver, is a perfect example and is very popular with interior designers today.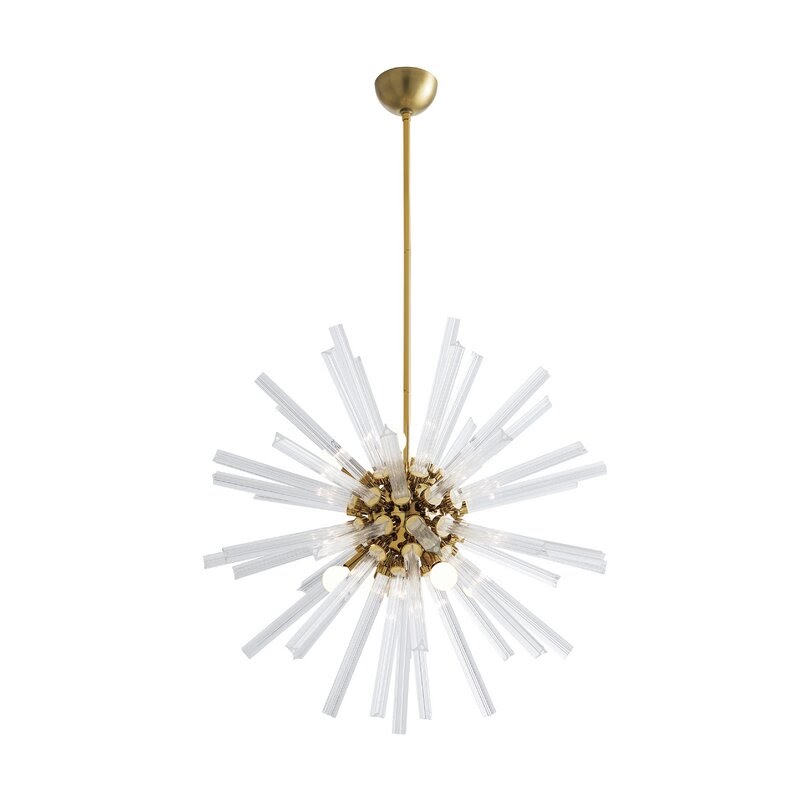 Bold, dramatic, illuminating and chic... This Sputnik Lucite chandelier is a show stopper! The market is full of variations in shape and style for the Sputnik so if you prefer a more horizontal look, you can try the Robert Abbey Andromeda Chandelier.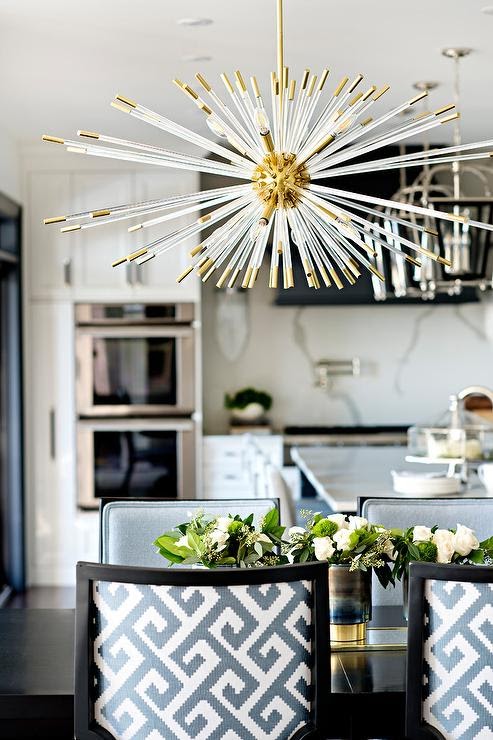 Available in gold and silver, this wider Sputnik is perfect for long, rectangular dining tables or over a kitchen island for more dramatic flair. Considered Mid Century Modern in style, these glamorous chandeliers fit into any decor today.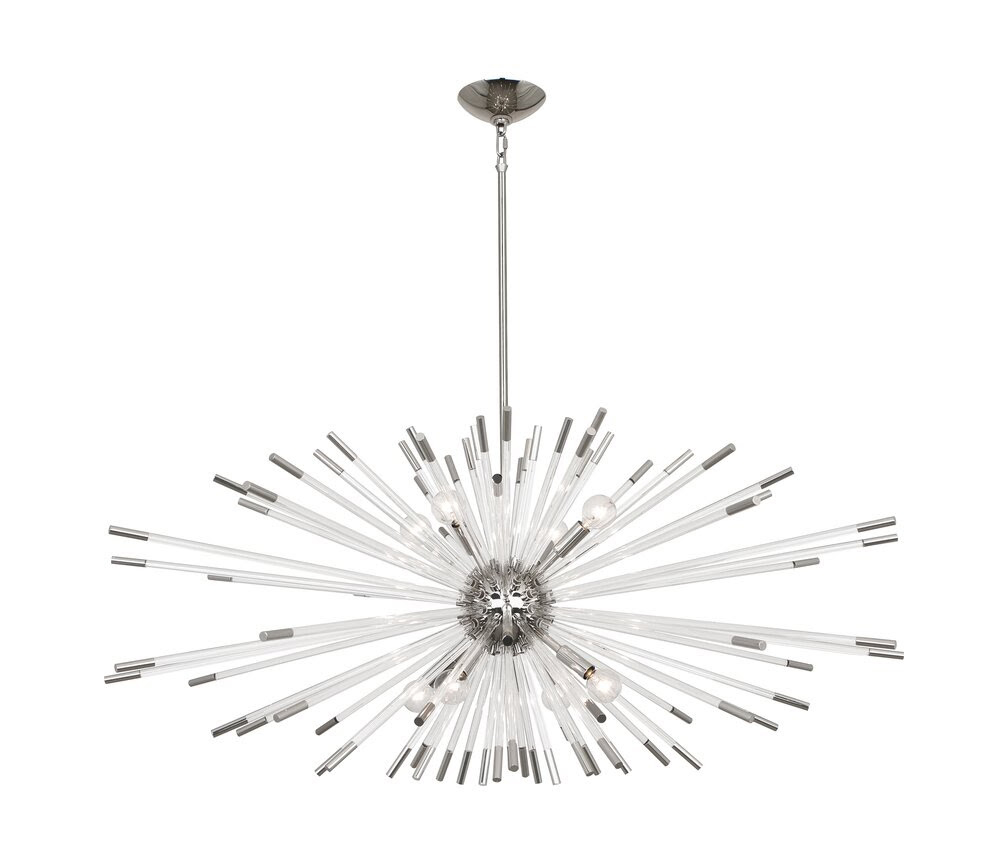 If a lantern style is more your speed, Regina Andrew has you covered. Available in multiple sizes and flush or semi flush mounted, I love the whimsical circle cut outs that allow a peek through to the modern paper shades within.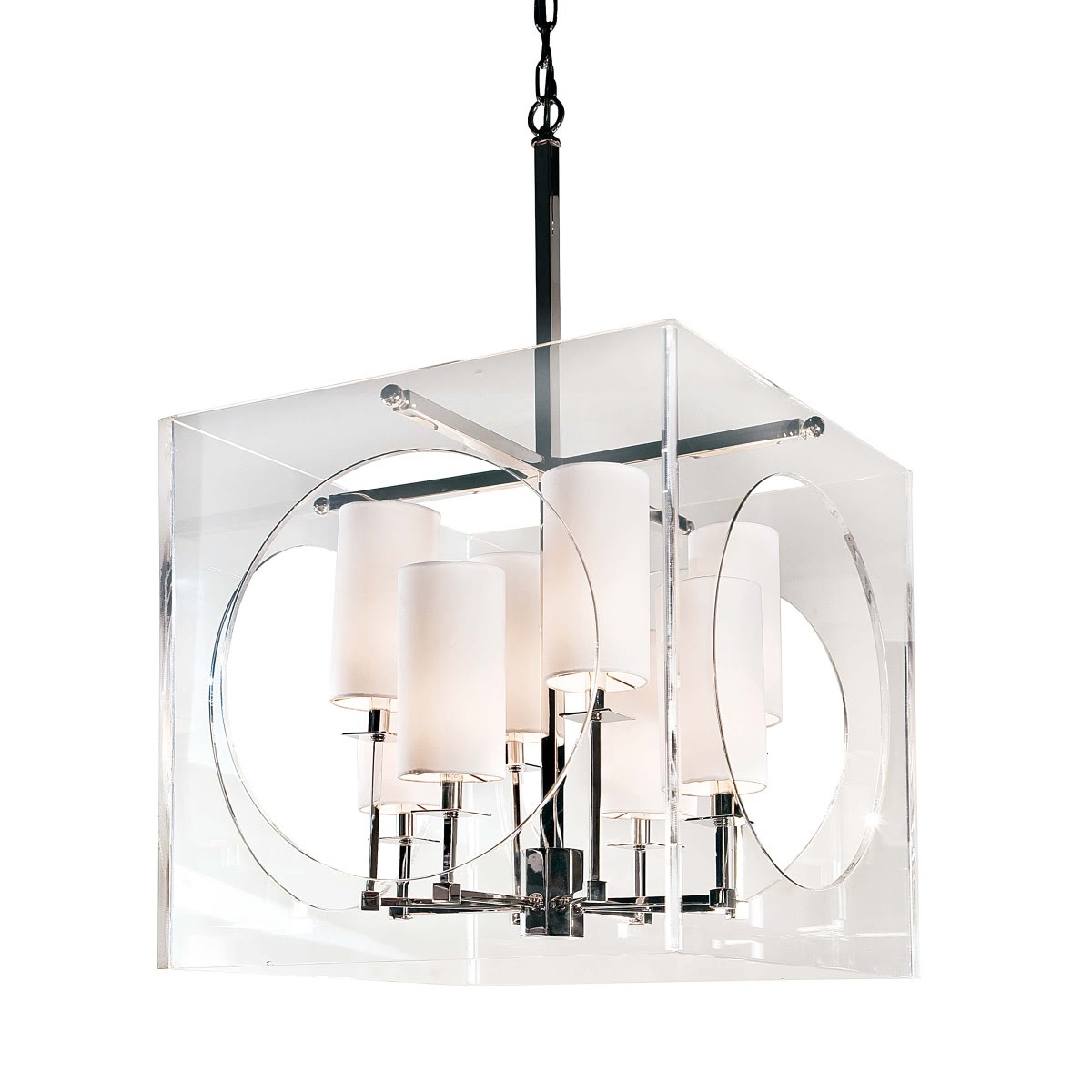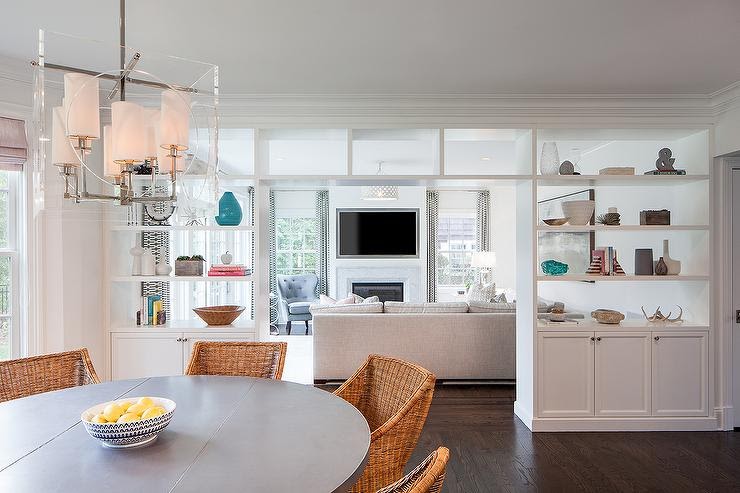 If you want to add a touch of femininity to your Lucite lantern, check out the masterful gold flower detail on this classic acrylic lantern shape. Perfect for a chic dressing room or a french styled dining room, this Regina Andrew Adeline Acrylic Lantern is so beautiful.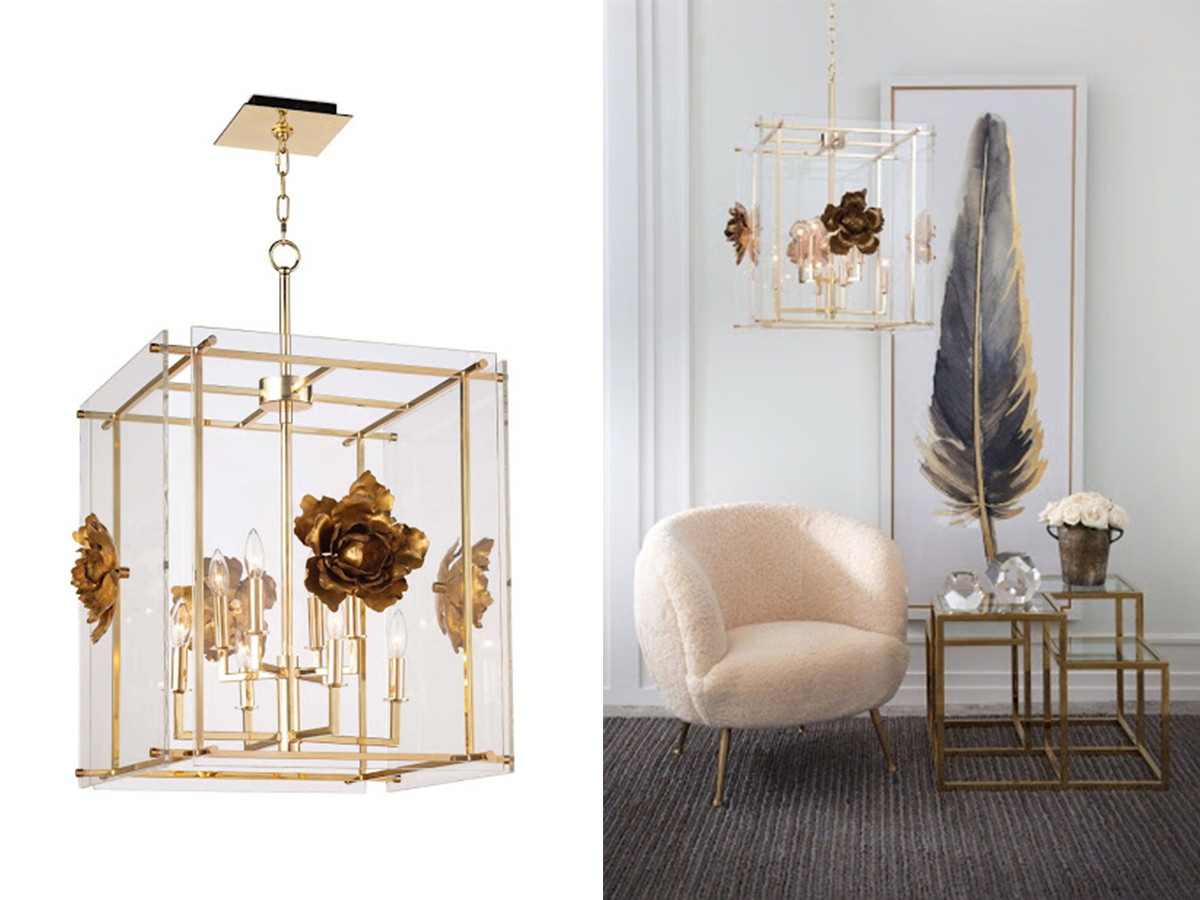 If you're wondering how you can find Lucite lighting on a budget, here are some equally brilliant ideas. These budget friendly clear acrylic pendants hit all the same notes as their more expensive counterparts... foyer lanterns, larger chandeliers and horizontally-oriented island fixtures, all with clear acrylic.
From George Kovacs, two Crystal Chrome Pendants, one in a trapezoidal shape and the other in a classic square lantern shape. Both styles show the masterful mix of beautiful polished chrome with quality Lucite.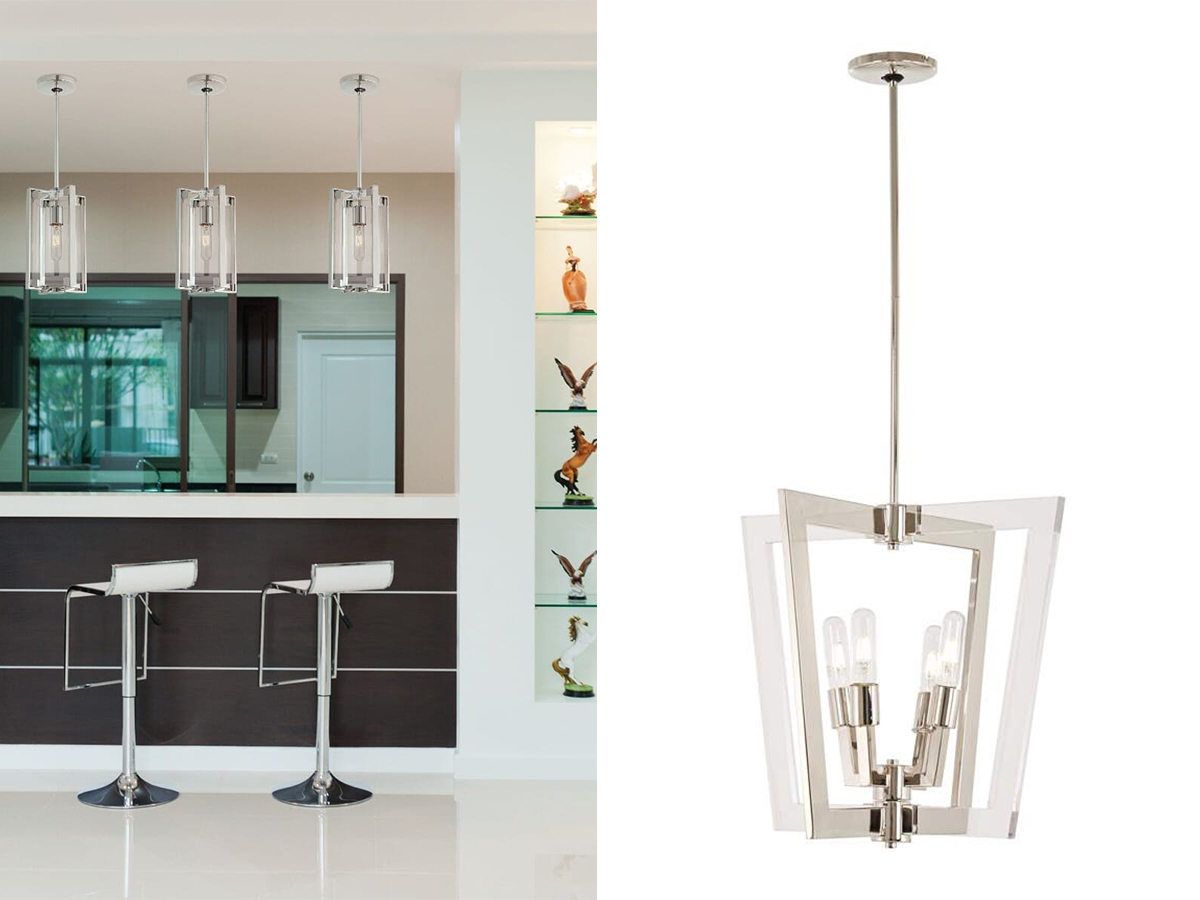 Also from George Kovacs' Crystal Chrome Collection, is the island version, Crystal Clear Nickel Kitchen Island Light Pendant at a whopping 43.5" long.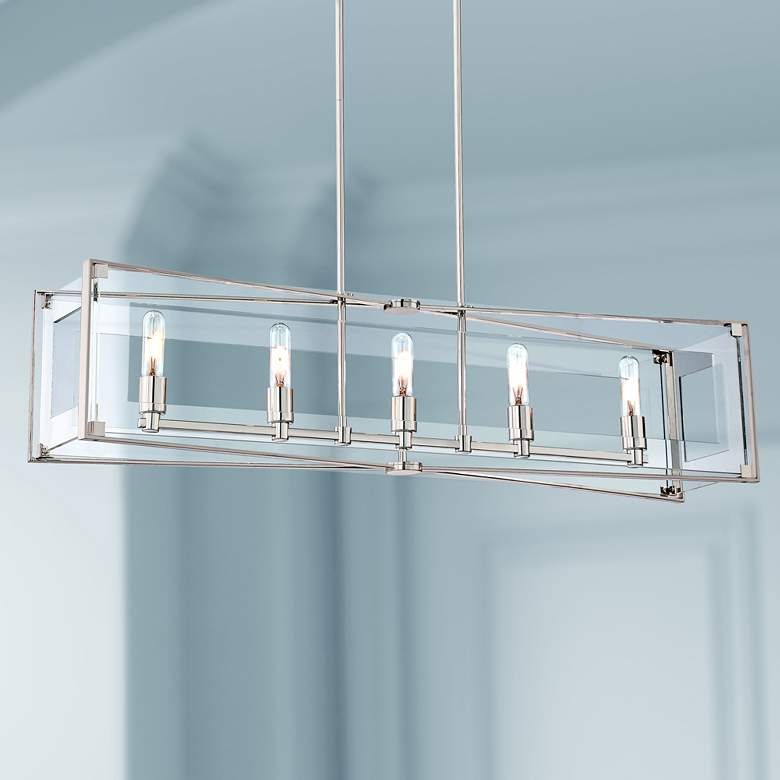 From hip designer Jonathan Adler, the style never ends and that includes plexiglass lighting. If you're looking for real lighting fun, this is your acrylic lantern. Fabulous in a breakfast nook, great in a row of three over a kitchen island, but stately enough for a luxe dining room; the Jacques Pendant is available in gold with clear Lucite and silver with smoke grey Lucite. We dare you to choose just one!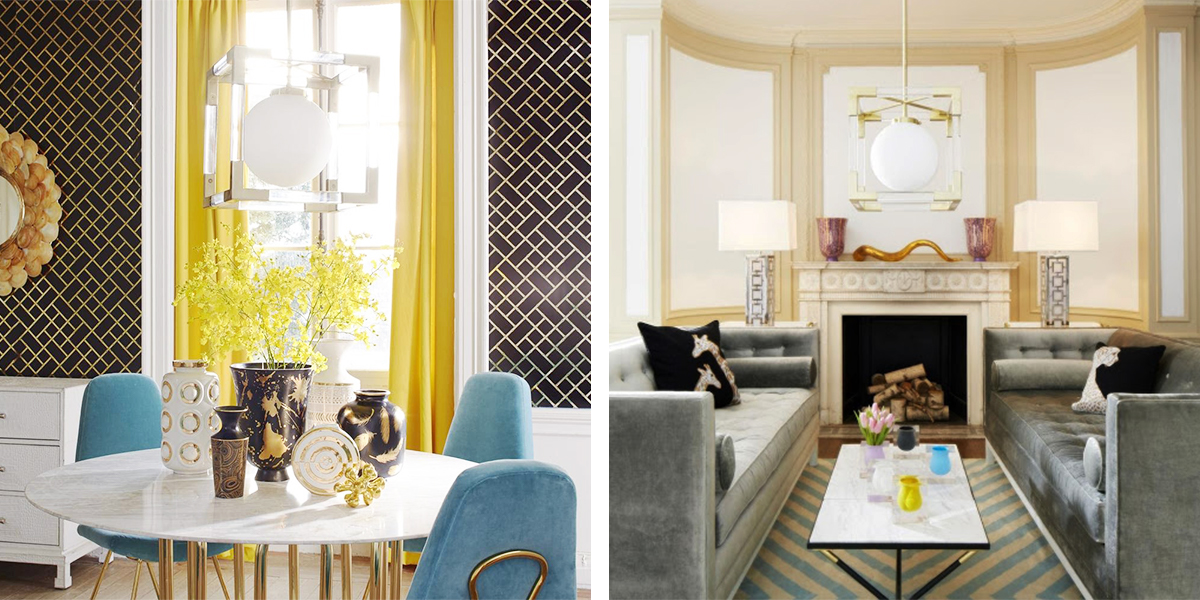 As an interior designer and the founder of Clear Home Design , I have spent my career designing modern, unique and comfortable interiors for my residential and commercial clients. I have always incorporated clear acrylic materials in my projects to create light, airy, sophisticated and modern environments. Essential to my design style has always been the use of transparent, clean and shimmering materials and Lucite fits that bill to a tee, not only clear Lucite furniture but, just as importantly, with lighting and accessories. West Essex Lighting has always been my go-to source for the newest materials in lighting and an incredibly voluminous collection of the latest Lucite light fixtures.