The long sultry days of summer have finally arrived, and there's no better way to spend them than lounging by the pool with a fresh caipirinha in hand. That's right, a well-decorated poolside is sure to be the hub of your summertime afternoons and relaxed evenings.
The best part about gearing up for a weekly brunch, setting in for a solo afternoon with a good book, or hosting a barbeque with your summer crew, is creating a stunning setting for everyone to connect and create memorable moments in.
There are so many ways to design and create stunning outdoor spaces that welcome a chic and relaxed vibe to your pool area for everyone to enjoy. Here, we're going to explore some of our favorite pool decor inspiration and tricks to keep you gunning for the poolside year round!
Luxury Botanical Oasis
Invite lush tropical energy into your pool decor with a leafy green lagoon-style oasis. This look is about unleashing your free spirit into the outdoor space and incorporating plenty of nature along the way.
Surrounding your pool space with vibrant leafy greenery and exotic florals gives a bohemian feel to any poolside. Don't be shy about integrating patterns and textures either - set the mood by layering mosaic tiles in earthy tones with natural-fiber furniture like rattan and wicker to create a natural, grounded feel. Patterned upholstery or planters in earthy tones to further accentuate the botanical theme. Moroccan-style hanging candle lanterns never went amiss in the indulgent wilderness of a blooming poolside.
This style understates perfection and placement and encourages getting down-to-earth, expressing yourself, and having fun. When selecting botanicals, consider which species will thrive in your outdoor climate, and opt for plants with minimal shedding to keep pool time exclusively for relaxing. Succulents, ivy, and other low-maintenance plants are perfect for poolside areas and help to create a lush, tropical feel.
Old-School Cool
As if summer was short of nostalgia, this time-honored look brings back the old days with a touch of retro - with a classic twist. Ideal for kids or simply letting your inner child shine, the idea behind a retro theme is to bring back all the things you used to love about summer.
Focus on styling the space casually and comfortably, then use vintage furniture and accessories to add pops of color and personality. Think brightly-colored umbrellas, some fun pool toys, or even a few retro clear acrylic benches with a modern and clean twist to keep your pool decor classic without cluttering the summer vibes.
Make your own Coke float by throwing some ice into a floatie and filling it with cool bottles of Coke to quench that summer afternoon thirst. Transition a long sunny afternoon into the summer evening by adding an outdoor movie screen. You could even watch it while sitting in the pool on floaties.
Poolside Bar Patio
A poolside bar on the patio is a fantastic environment to entertain guests and host endless summer night barbeques. By adding a few key accessories, you can create the perfect space to dive into cocktails and conversation.
To create a patio bar, start with plenty of cozy seating - like these lucite folding chairs - on the pool deck for your guests. If you have the space, consider adding an outdoor kitchen with a grill, sink, and counter space. Bring in a bar fridge or a moveable cart with wine bottle holders, and you've got the perfect environment for afternoon hangouts in a relaxed backyard setting.
You can achieve a sense of spaciousness by designating areas in your backyard for different activities with shade sails, hammocks, and lounge chairs. Add some plants and flowers to invite in a natural feel, or hang colorful lanterns and string lights to create a festive atmosphere.
Romantic Retreat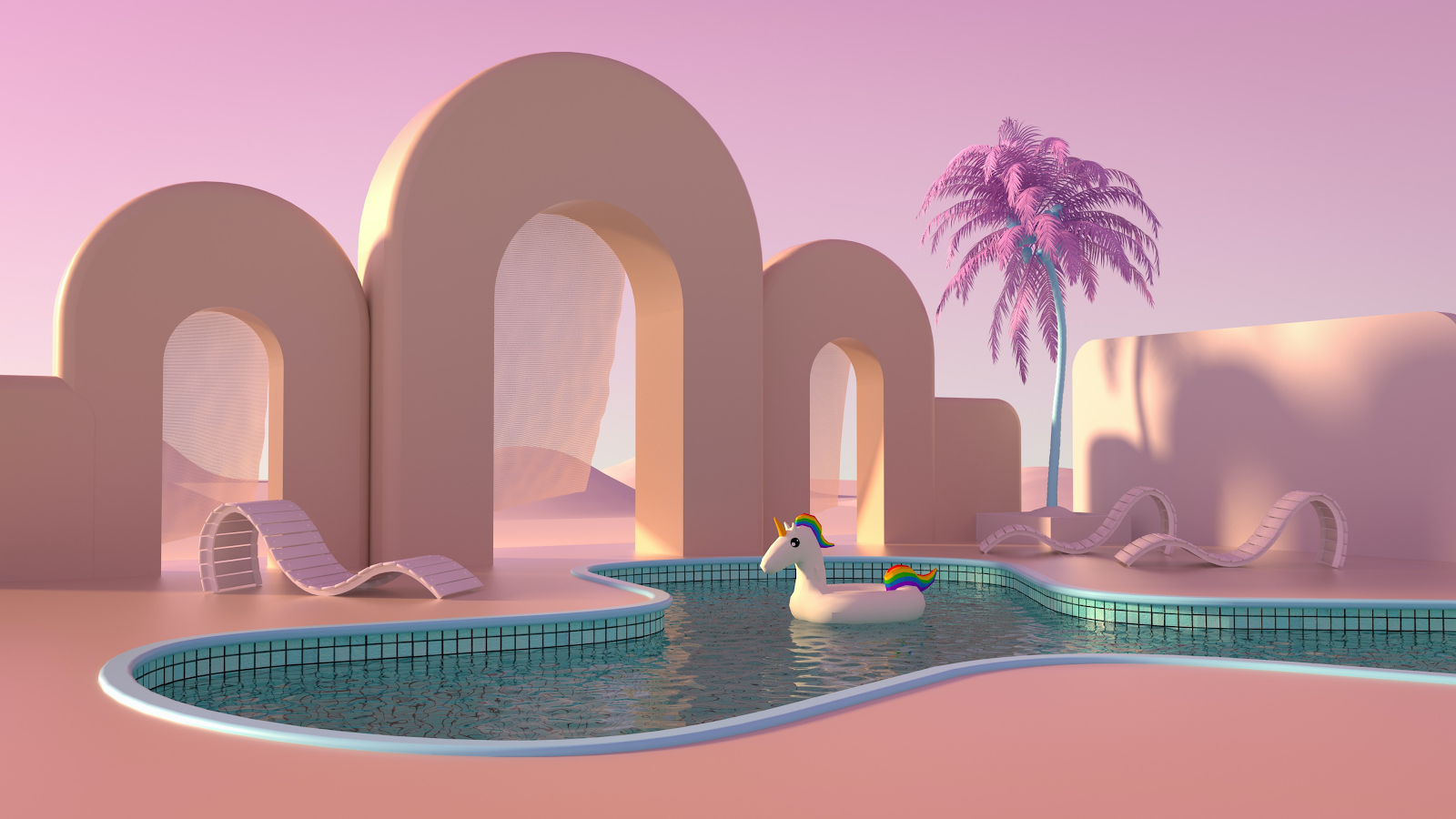 Planning a romantic stay-cation for you and your loved one? Your poolside décor is the perfect place to build a stunning lounge area to connect and relax. As a poolside connoisseur, you probably know that gorgeous petals in the pool will block your filter, which is not ideal if you're creating a cozy and intimate space. Instead, we're talking about setting up an amorous setting around the pool.
There's nothing sweeter than layering rugs and throws on the ground with plenty of soft cushions and low-lying tables. Choose a beautiful lucite chaise-lounge poolside chair with smooth curved lines that highlights the feminine and romantic feel of the pool.
Choose warm outdoor lighting to keep the ambiance and the pool area glowy and inviting even as night settles in. And, for an added touch of romance, you can add some floating lights or candles to the pool.
Serene Sanctuary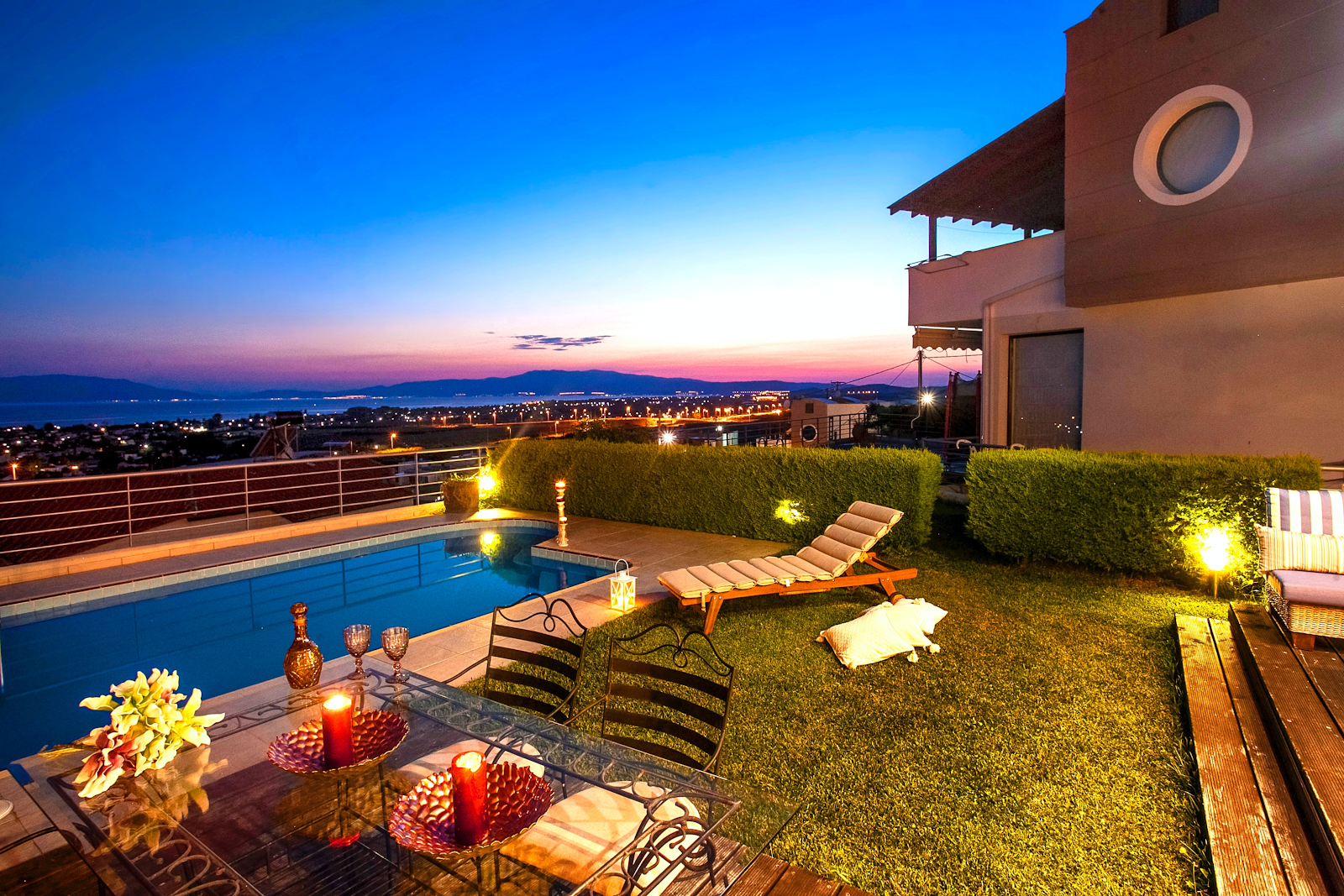 A serene sanctuary may look exactly like an Instagram-worthy photograph, but it's so much more than that. This scene takes the focus of the outer world and brings inspiration from whatever makes you feel nurtured and authentic.
We're all about the low mesh chaise lounge, luscious big towels, and plenty of cushions to get you set up for a long relaxed day in the sun. Adorn your patio with string lights to keep a sparkly ambiance as the sun cools down.
Keep the palette neutral with a splash of your favorite colors or patterns in the cushions, towels, or rugs in the area. Plenty of layered natural textures such as wicker, rattan, grained wood, and linen add life and integrate the whole poolside décor into one gorgeous sanctuary.
Warming Fire Feature
Who said your poolside patio is built exclusively for summer? Whether you are sporting a rustic and natural feel to your backyard or a classy chic minimalistic look, there's always room for a fire feature to add glow to your nights - whether it's summer or winter.
There is a range of fire features on the market to help ramp up the heat. From a faux fire that adds a warm orange radiance to inbuilt fireplaces - the sky's the limit. If you're dreaming about smores and scary stories, set up a portable fire feature to make the poolside adaptable.
Placement is important here because if an actual fireplace is too exposed to the wind or elements, it can cause a safety hazard so ensure you have a sheltered area for fires.
Dress Your Pool For Special Events
Regardless of the overall decor style you have chosen for your poolside, there are plenty of ways you can dress your actual pool for a special occasion to create meaningful messages and memories.
For example, floating floral decorations or floating lights can be an excellent way to mark a celebration. Balloons matched with plenty of pool toys (like pool noodles) are a great way to conduct one-off birthday bashes.
For something extra special, you can even get some thin plastic sheets and cut-out letters to craft your own special message in the water! The options are endless, and you can be as creative as you like.
Tips And Tricks
Now we have discussed some different approaches to creating your poolside décor and making the most of the sunny days and warm nights that lay ahead, let's condense it down to a few basic building blocks that will help you create the haven of your dreams.
These tips will help you add inspiration to any of the above ideas and may serve as the building blocks to creating them!
Keep It Light
Living it up by the poolside is all about capturing the allure of summer and turning the volume up so we can soak in those hazy days forever. In general, try to keep your pool decor light-colored. Whites, creams, and neutral tones make great base colors to build on with interesting shapes, colors, and patterns.
Your poolside is going to carry such epic vibes you won't want to leave come nightfall - so think about how you can brighten up the space with ambient lighting. This serves as an important safety feature too. Layering different lighting features can create a gorgeous night time effect. Here are a few ideas:
Outdoor lighting - Place lamps in the garden, around the pool, or along pathways to lighten up walking spaces. You could use a couple to feature your favorite plants and outdoor features!
Pool lighting - Whether waterproof lights are running around the inner edge of the pool or placed under the water, lighting up the water makes it that much more inviting and highlights the pool as the star of the show it truly is!
Overhead lighting - You may have lights wired into your patio or pool house, or you may be getting decorative with some smooth string lights. Overhead lighting tends to be either necessary lighting for cooking and games or low lighting that leaves a soft gooey atmosphere you'll never want to leave.
Work With What You've Got
The concept of revamping the entire backyard and pool area is pretty inspiring, but it can be a pricey endeavor. Unless you are planning a complete overhaul, we encourage you to work with what you've already got and embrace the unique charm of your space.
For example, consider the shape of your pool. A curved shape is excellent for creating a serene, feminine sanctuary or a botanical lagoon. Whereas a long sleek pool may naturally embrace the poolside bar patio ambiance. Equally, lush plants look fantastic around a pool, but if you don't have a garden to plant them in, a few statement plants in some vibey planters can make all the difference.
Create Indoor/Outdoor Flow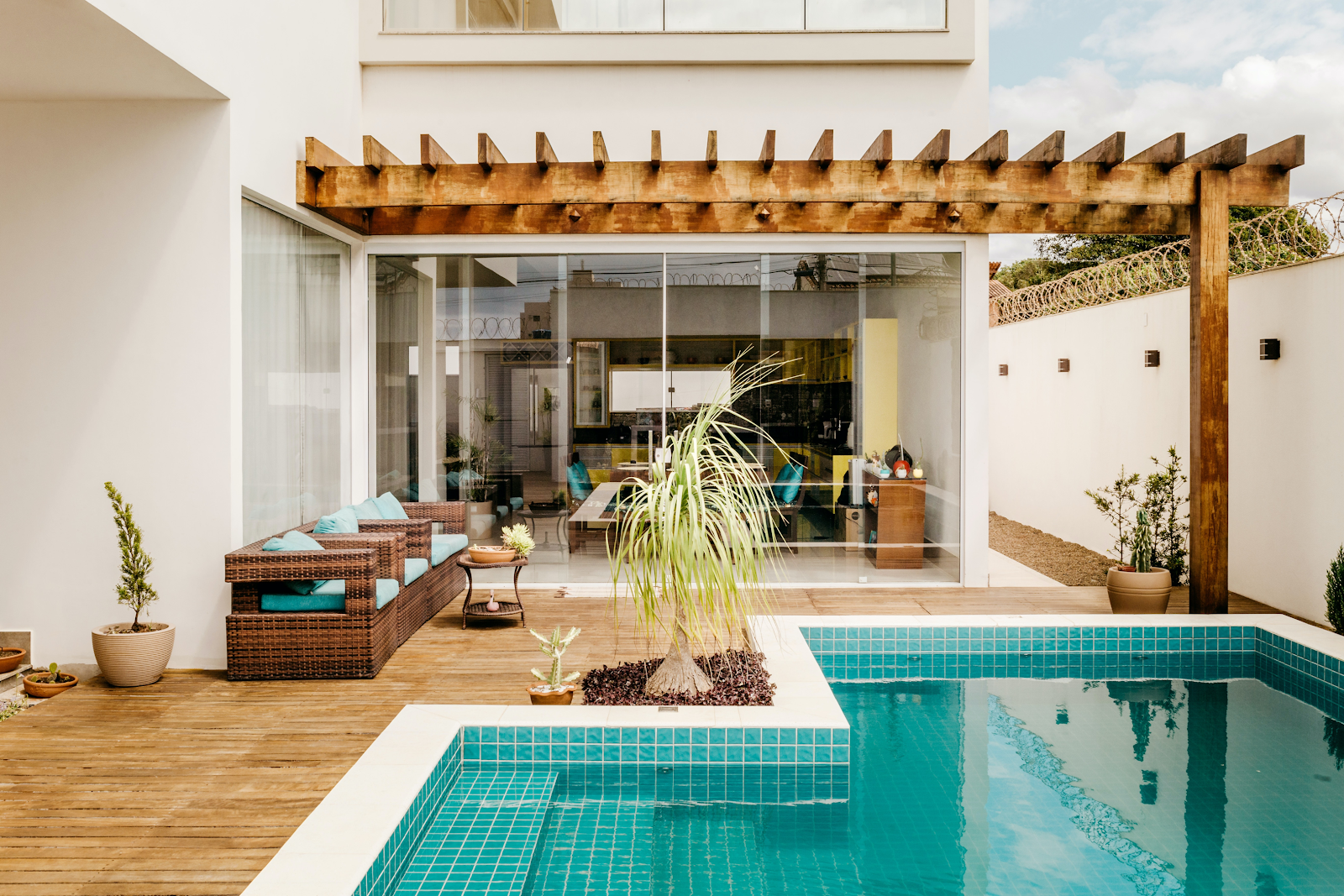 Poolside afternoons are not all about being outside. Particularly when you're hosting, you'll likely be fluttering inside from time to time, so consider how you can create pathways and flow between your home decor inside and outside.
Think about how to integrate your outdoor space with your interior design. Consider the colors, textiles, textures, and even themes you have inside your home. For example, using chic acrylic furniture styles inside and outside can create one cohesive environment in the home.
Make New Spaces
Your backyard doesn't have to be one open-access party! Even if you have open-plan landscaping, you can use flooring, roofing, and furniture to create unique and designated areas for specific activities like relaxing or dining.
And it doesn't have to cost thousands to achieve this. The efficient use of a few rugs on the patio, some clever placement of lighting and furniture, or even a moveable wicker space divider can create new spaces for you and your guests to enjoy.
Use plants
Plants make great space dividers. Like cascading succulents, hanging plants from a pergola makes a gorgeous natural separation between two areas. Shading bamboo and other tall, fast-growing plants can achieve new spaces effectively, too. Plants that don't shed much are ideal to be used by the pool as they require less clean-up.
Do It Yourself
Inspire your pool deck and your guests alike by designing your own unique items to adorn the area. For example, adding some interesting hooks to a piece of driftwood will give you a handcrafted towel hanger to place near the pool. Otherwise, you can add a personal touch by making signs for the above-ground pool or outdoor shower.
Another way to add a creative flair to your space is by decorating some planters with your favorite colors or geometric patterns. The sky's the limit!
Final Thoughts
Nothing says summertime quite like a well-planned and stylish pool deck to host long hazy days of relaxing and connecting with the ones we love. There are no limits to the wonderful settings you can create, especially if you're interested in combining your creative forces to truly make the space your own.
You can make it as simple or intricate as you wish! Coupling this guide with a few exquisite pieces will make your pool deck the envy of all pool-goers this summer.
Clear Home Designs offers only the finest quality acrylic outdoor furniture perfect for lounging and relaxing by the pool over the summer. Discover classic, chic, and inspired designs to make all the difference to your backyard fiestas (and siestas) and you will be set to go for a just-add-water, amazing summer!