The study space serves several purposes. It can be used as a home library for book lovers, a peaceful place to work, a private retreat, and a source of inspiration.
No matter what function it performs in your house, you can make any study room more effective by taking advantage of the space you have and its versatility.
To help with your renovation plans, we will talk about a few study room ideas today. Of course, to combine a few elements of home design and make them uniquely yours, it must balance the aesthetics of your living standard and inspire you when you need it.
Check out Clear Home Design's amazing study room decoration section here for the most comfortable and stylish furniture!
9 Stunning Study Room Ideas
Having their personal study space can help students succeed, whether they are straight-A students or are having trouble keeping up. A change of environment might help them refocus if they have any distractions in their usual study spot.
Good news for people with limited space: you don't need to dedicate a whole room to setting up the ideal study place. Simply transform a private living room nook or a free space of your child's bedroom into a fantastic study area. Browse through our vast collection of study room style tips, then bookmark your favorites.
1. Minimalist Study Room Design
A study space benefits greatly from the modern approach to serene simplicity. Focusing without interruption is made simpler by straightforward study room decor, relaxing hues, and a few accents. Modern study spaces often feature furniture and design aspects from Scandinavia. The peaceful atmosphere you seek in a modern study space is created by light wood colors and muted earthy hues like navy blue or emerald green.
Just a little wall décor will do. Choose the airiness of hanging pieces of furniture rather than freestanding items. You can create an appealing study area in a modern living room corner by adding a few simple floating shelves over a floating desk.
2. Luxurious Study Room Ideas
When you hear the phrase "luxury study," you probably picture a regal, walnut-paneled estate study. While pricey wood paneling remains a classy, warm option for study décor, there are a lot of other opulent study room design options to explore. When placed next to Persian rugs, marble tabletops, and vaulted ceilings, heavy wood furniture exudes grandeur.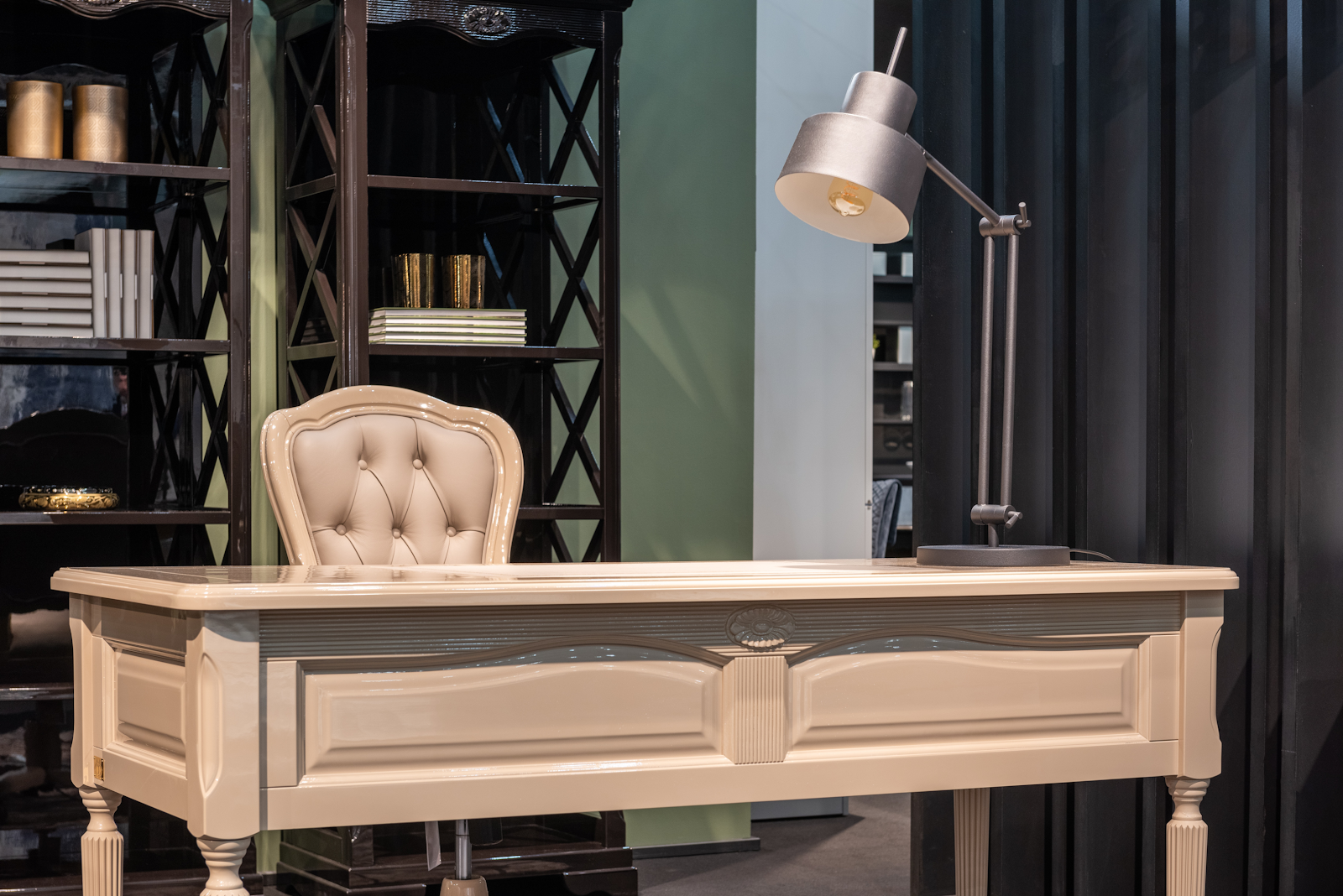 Even with a tiny amount of room to work with, you can create a magnificent study. Select a desk chair made of strong leather, and install an elegant chandelier in place. Purchase a brand desk lamp, and check that any built-in furniture has soft-close drawer mechanisms and integrated illumination.
3. Classic Study Room Ideas
Traditional study spaces in older homes exuded a rich elegance; these spaces often include library walls, vaulted ceilings, substantial furniture, and opulent materials. The classic study room, often regarded as the homeowner's domain, was a place to withdraw and work uninterrupted.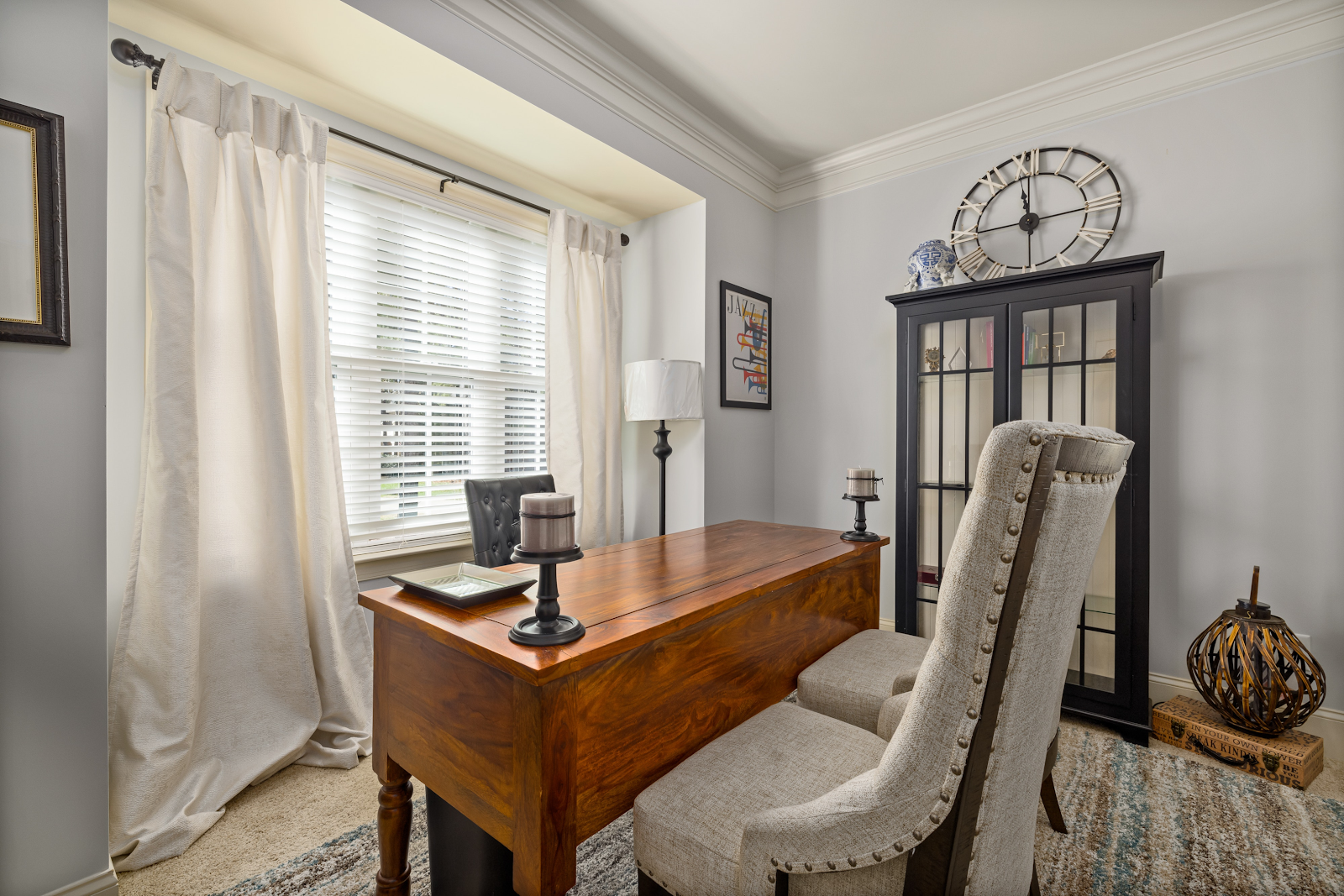 By settling on a darker color scheme and including burgundy, royal blue, or forest green in your paint and fabric selections, you can recreate this atmosphere in your study space. A fake animal skin rug, large wooden frames for artwork, and brass lights offer a polished finish to the look.
4. Modern Study Room Ideas
Modern design dates from the early to the mid-twentieth century, and it reflects the influence of the contemporary art movement on house interiors. Because it's still reasonably simple to obtain original furniture items to restore, mid-century modernism is a terrific décor motif for a study room. Modern design trends value minimalism, which helps to create a quiet study environment.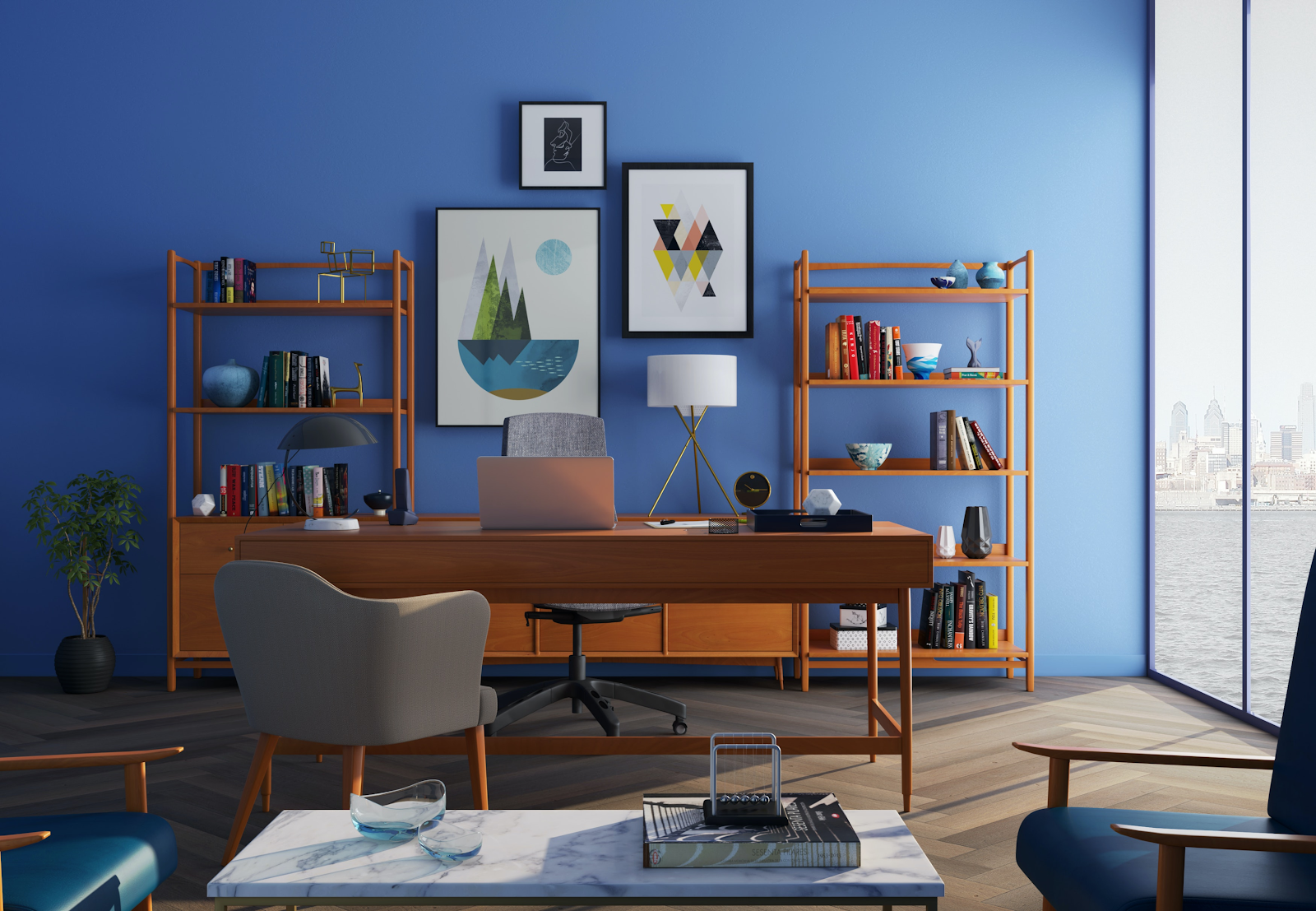 5. Small Space Study Room Ideas
A small study space may be equally productive as a big one. In reality, designating a bedroom portion as a study area gives the impression of having a dedicated workspace. The visible distinction between the study room and the sleeping space is made by your design and decorating choices. A modest study room concept often sorely overlooked is the humble and underutilized closet.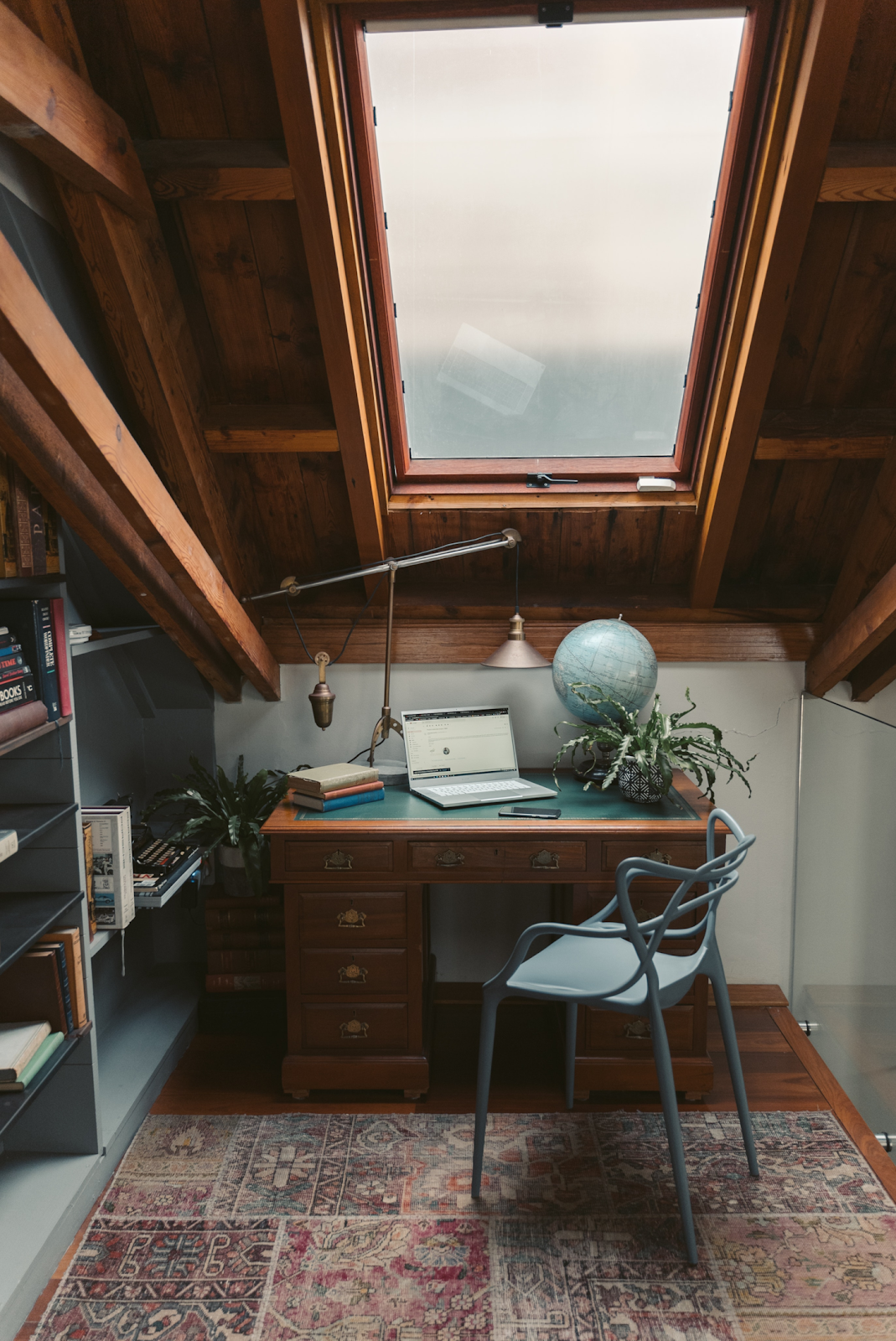 6. White Study Room Ideas
The contrast between a white study space and a regular, dark study is stark. The openness and brightness of a white study, possibly with a farmhouse feel, encourages learning. A tried-and-true interior design trick for enlarging a tiny area and giving a place a fresh, clean vibe is to use a lot of white.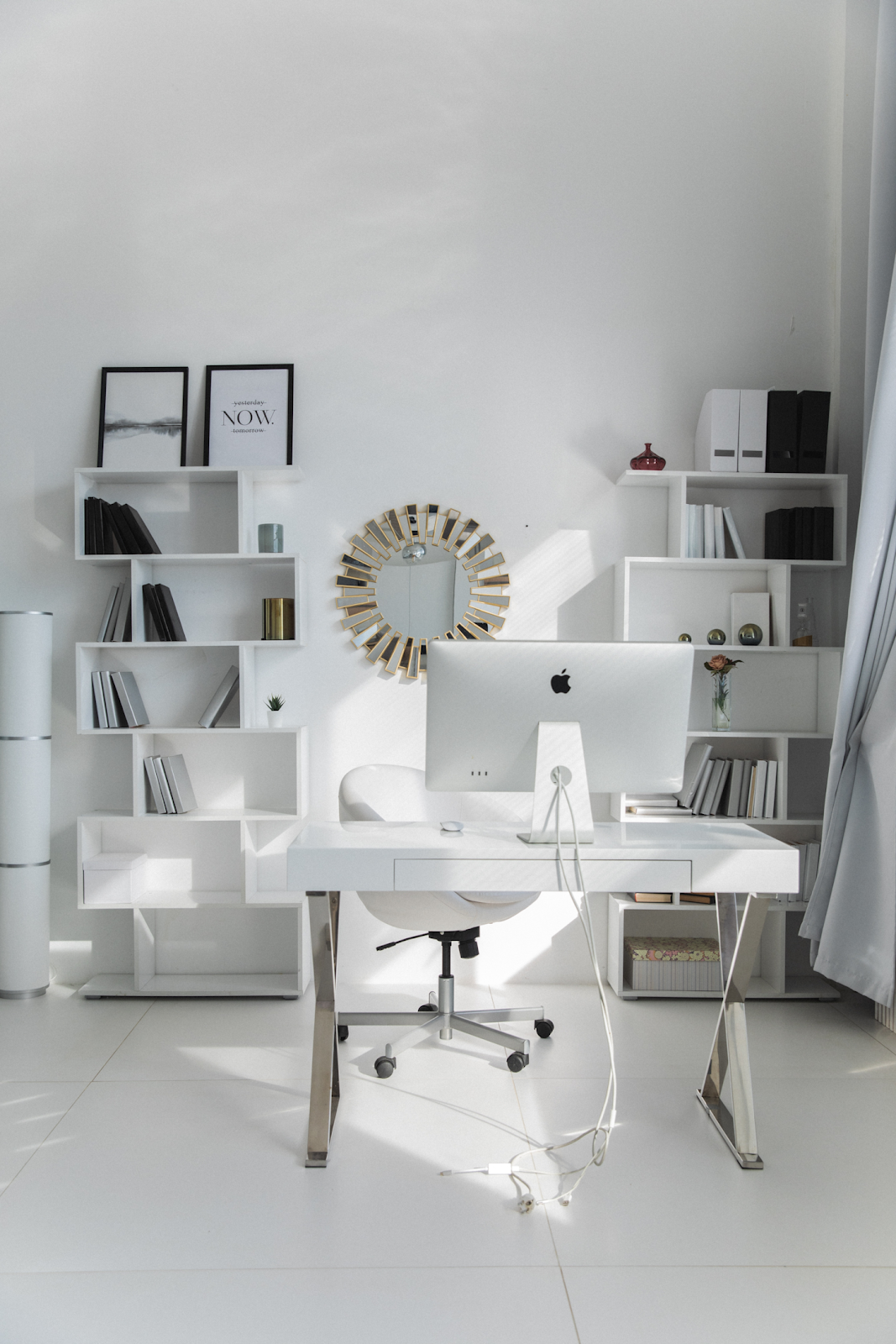 Maintain a neutral color palette and add metals or natural wood accessories to contrast with all-white walls and furnishings. Additionally, you may add splashes of your preferred hues, whether they are pastels for a gentler, shabby chic look or primary hues for a contemporary white study area.
7. Office Style Study Room Ideas
One room can function as both an office for grownups and a study area for children in some households, particularly those with little spare space. Simple design decisions make the area functional for all generations. For such a busy area to stay orderly, each family member should have access to adequate storage space.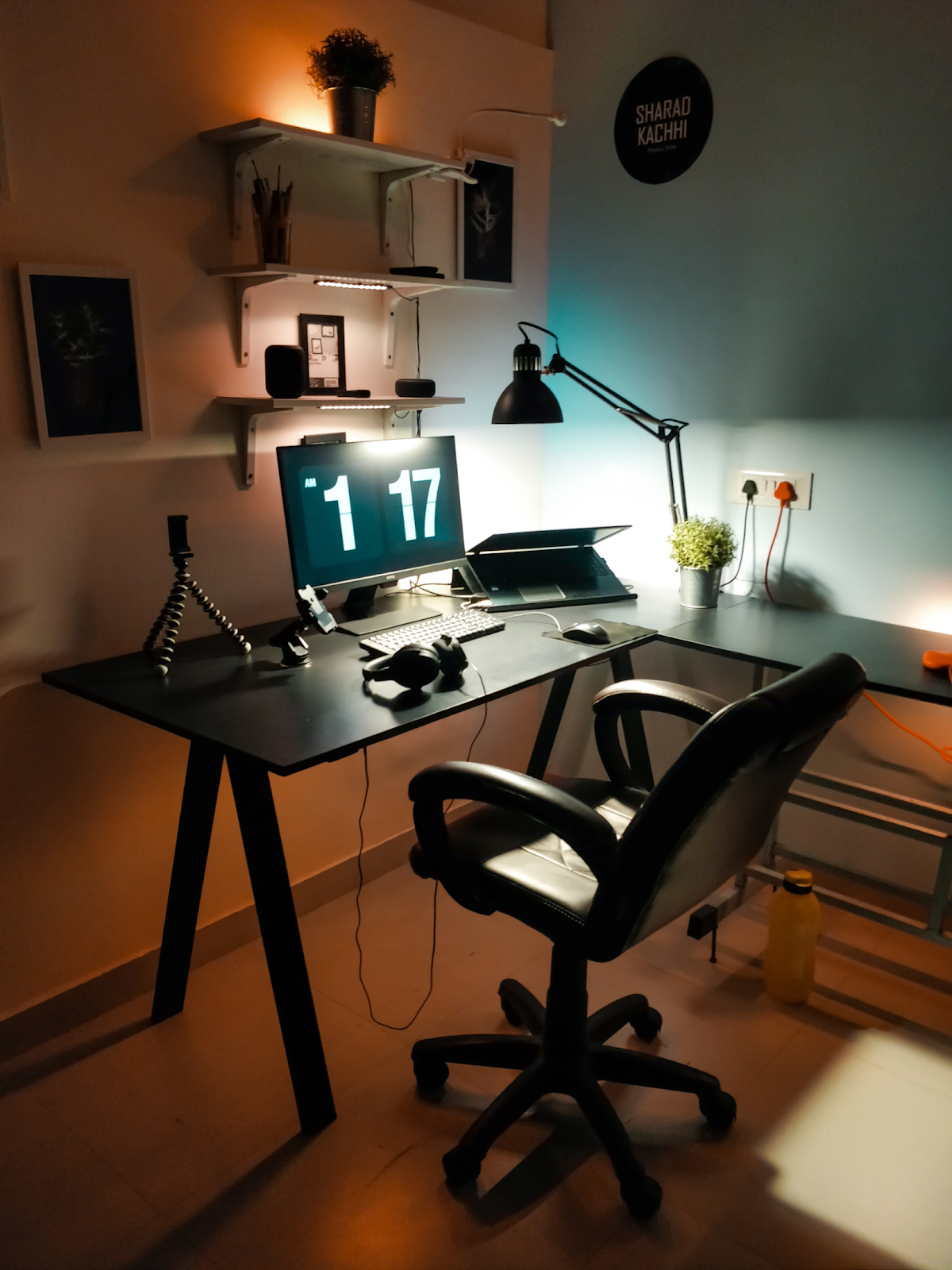 Create two desk places, one for adults and another for younger family members, if possible. A cubicle-style furniture arrangement with a bookcase acting as a decorative element and divider can help achieve separate spaces for each person. To reduce distractions, encourage everyone using the study space to use headphones.
8. Study Room Ideas for Girls
Girls of all ages like having a private area. Girls' study room designs that incorporate her favorite patterns, materials, and feminine accents might represent her "She Shed" way of life. Pinks, turquoise, and gray are all calming and thought-provoking colors, which makes them excellent choices for décor in a study space.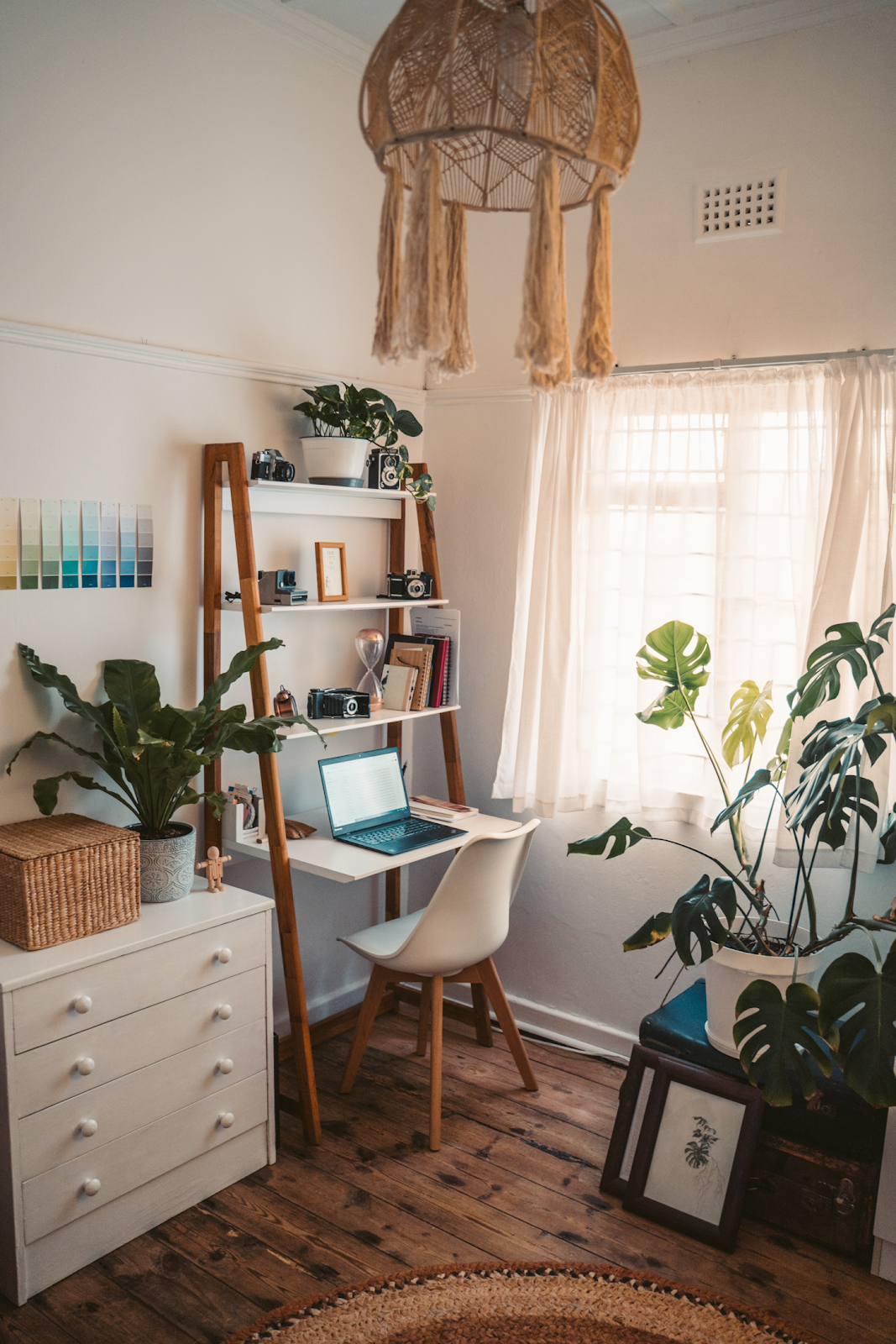 Study space in a dormitory or bedroom might be anchored by an accent wall covered in wallpaper. Girls frequently decorate their rooms with pictures of their loved ones, which may give a corkboard some flair. Let her choose the desk and chair in the room according to the style and color she prefers.
9. Study Room Ideas for Boys
Busy boys will benefit greatly from having a dedicated study area. Learning distractions can be reduced with a relaxing workspace. Of course, this does not imply that boys' study room ideas should be simple and uninteresting.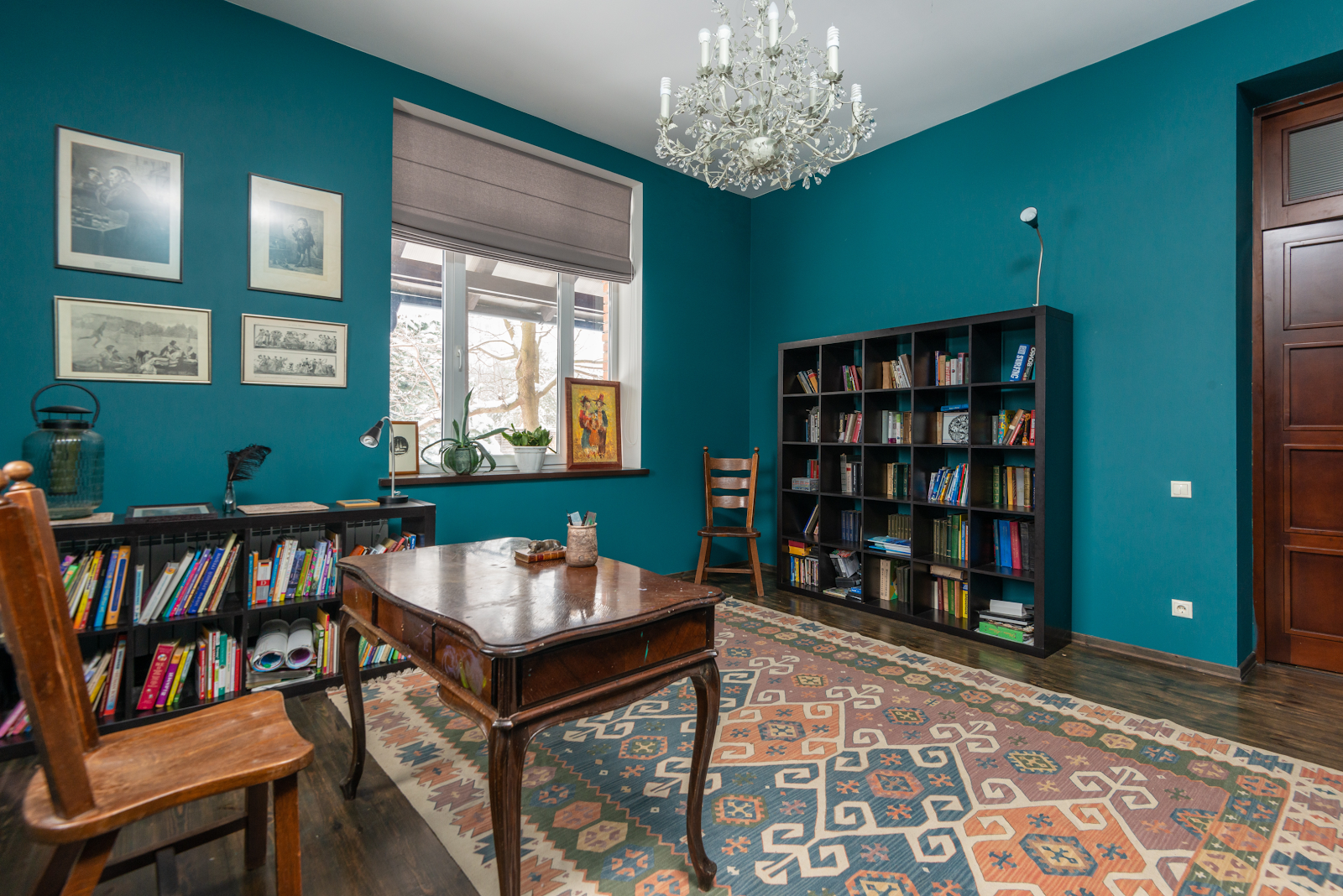 Before picking the decor for your son's study room, get his advice. He would most likely prefer to spend time in an area that he helped create. A pegboard is a useful storage solution that utilizes wall space and speeds up the cleanup.
Study Room Interior Design Ideas
No matter who will be using the study room, it's important to consider interior design to create an ambiance for focusing. The right color palette and furniture can help create a space that feels organized and encourages productivity. With these simple design tweaks, you'll have a functional and stylish study room that will be loved by all.
Desk Chair
When designing a study room, it's important to include a comfortable chair that encourages sitting for long periods of time. Consider adding adjustablechairs and desks so individuals can sit at the most comfortable level for them. You may also want to look into ergonomic chairs, which are designed with lumbar support and help reduce back pain. For a fun and unique touch, consider adding bean bags or lounge chairs to the study room.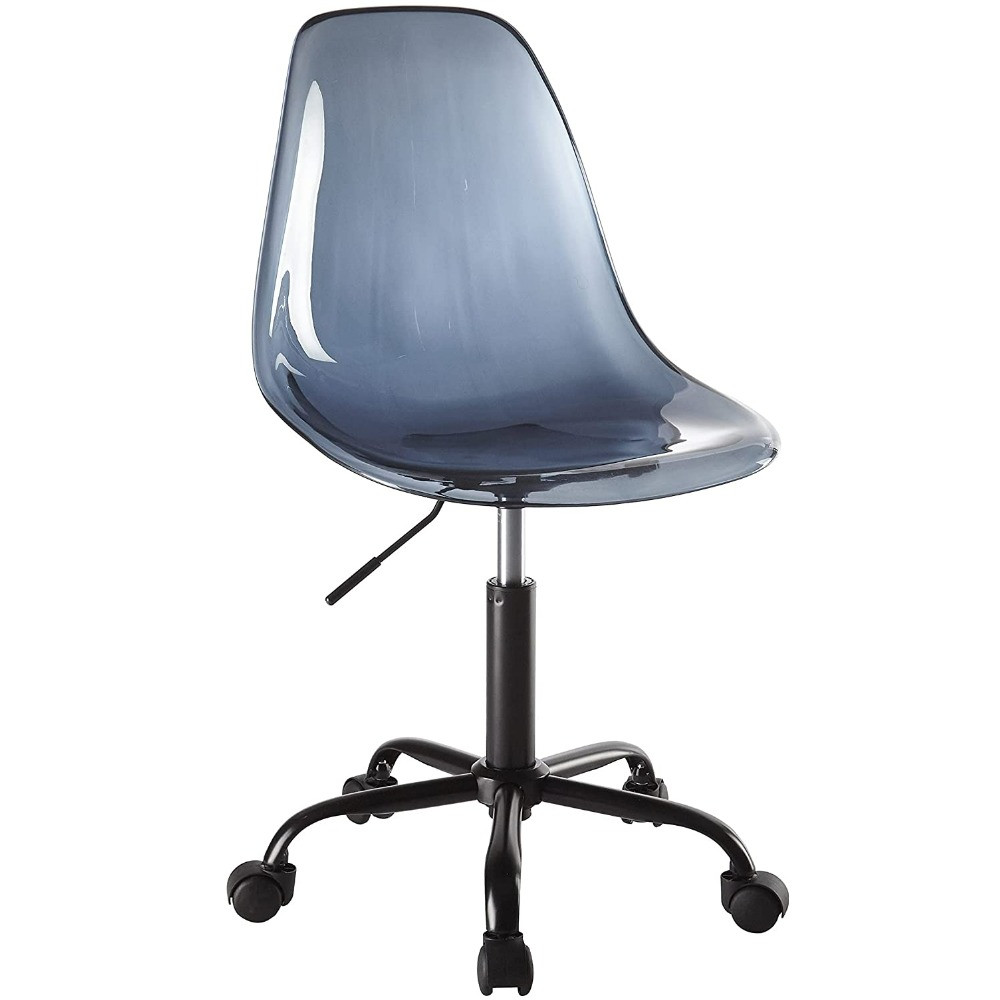 In addition to comfort, it's important to also consider aesthetics when choosing chairs for the study room. Consider incorporating stylish pieces that match the overall look of the space. Whether you choose modern pieces or opt for a more traditional look, the right chairs can help to create a study room that is both functional and stylish.
The perfect chair ideas for your study room will depend on the individual's needs and style. With careful consideration of comfort, aesthetics, and functionality, you'll be able to find the perfect seating option that encourages productivity and learning.
Study Table Lamps
The key to a productive study environment is having the right lighting. It is important to have natural light in your study room but desk lamps are also essential. Consider placing a desk lamp on your study desk, as well as overhead lighting that can be adjusted according to individual needs. You may also want to look into motion-activated lights or automatic dimmers which can help reduce eyestrain and make studying more comfortable.
If you're looking to add a decorative touch, consider incorporating wall sconces or other lighting fixtures that can help create a peaceful environment. You may also want to look into LED lights which are energy efficient and come in a variety of colors and styles. With careful consideration and a little bit of creativity, you'll be able to create a study room that is both functional and stylish
Study Desk
Another important part of designing a study room is choosing the right desk and storage options.Desks should be adjustable to fit individual needs while providing plenty of surface area for studying and working. If you're short on desk area, consider using wall-mounted desks or multi-purpose furniture that can also act as storage. For larger rooms, add a desk with plenty of drawers to store books and other supplies.
Storage
No matter the size of your study room, adding storage is essential for keeping it organized and clutter-free. Consider using built-in cabinets or standalone bookcases that can be used to store textbooks and notebooks. Wall shelves are great for displaying artwork or other decor items. If you're short on space, look for storage solutions that can be tucked away when not in use.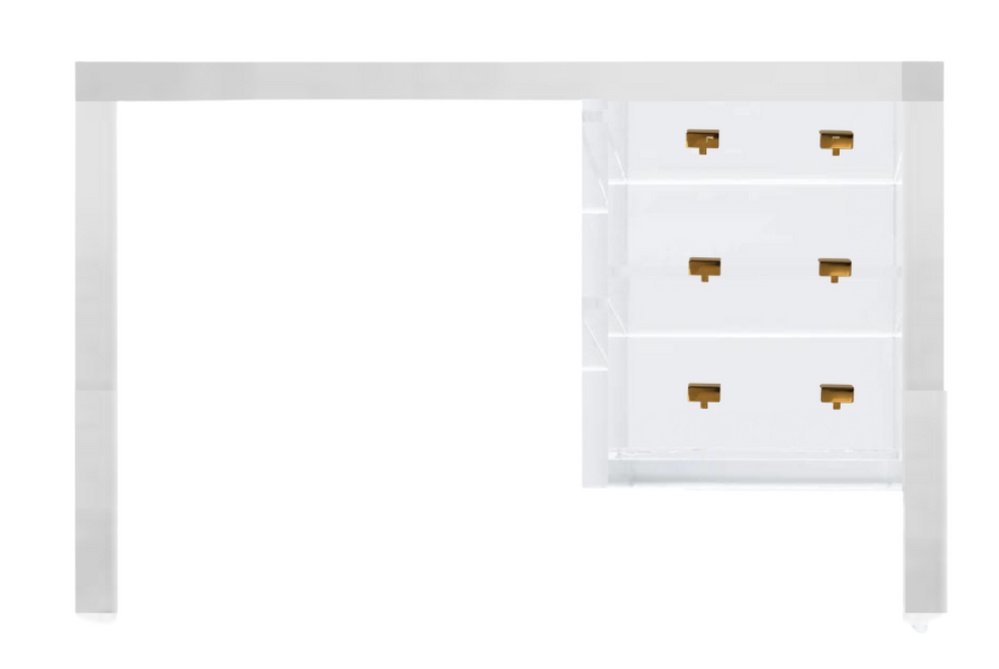 By adding the right desk and storage options, your study room will be both organized and stylish. With a little bit of planning, you'll have a functional study room that encourages productivity and learning.
Study Room Decoration
One of the important steps in designing a study room is to add some decor. Consider using art and posters that are inspiring and encourage focus. Wall decals can also be used to add personality and interest to the space. Other fun decor ideas include rugs, curtains with vibrant colors, or wall hangings that help create a warm and inviting atmosphere.
Abstract Giclee Print with Lucite Shadow Box Frame from Clear Home Design, for example, is a modern, vivid color print with geometric color splashes.No matter what your style is, it's important to select decor that reflects your personal taste. By choosing pieces that inspire you, you'll be able to create a study room that helps promote focus.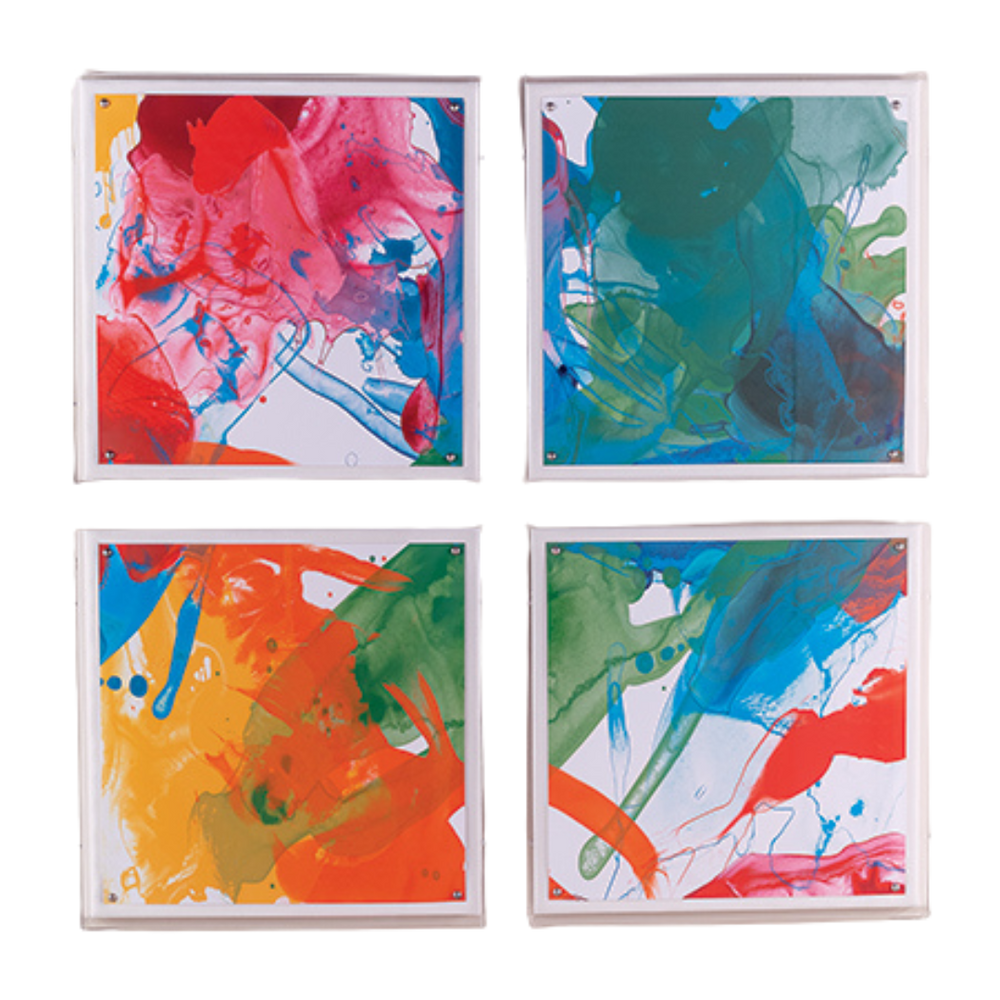 Shelves and Bookcases
Finally, it's important to consider shelves and bookcases when designing a study room. Adding your own shelves or bookshelves allows you to create more storage space for textbooks and other supplies. Look for designs that are functional yet stylish, such as built-in shelving units or wall-mounted shelves. This way, you can store items while adding a decorative touch to your study room.
When selecting shelves or bookcases, it's important to make sure that they are both organized and easy to access. Consider adding labels or baskets for organizing items, and look for designs that are sturdy and long-lasting. Floating shelves are also great for displaying artwork or other decor items.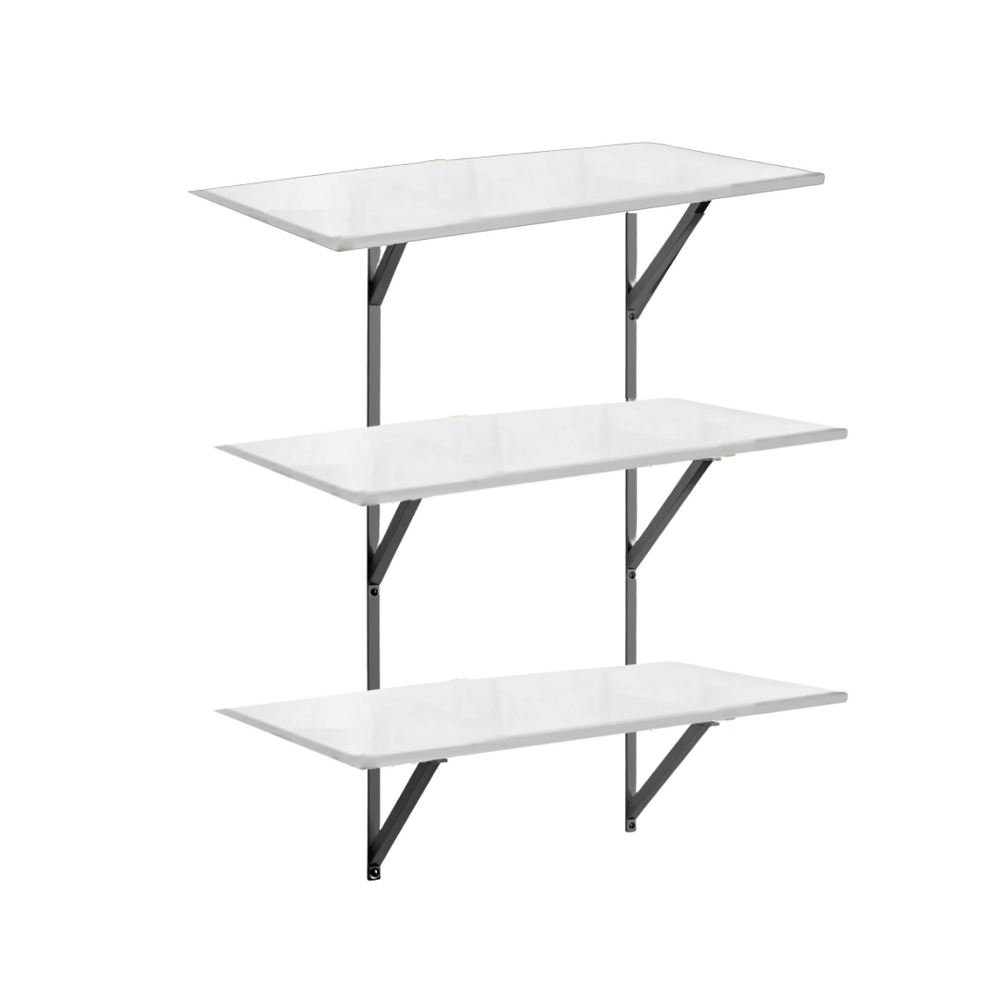 Conclusion
The study room layout is adaptable. While you're working hard or enjoying some great reading time, the kids can amuse themselves in a study area or a playground on the opposite side of the house. If you live in a studio apartment, it is also possible to construct an open-concept study space in the living room. The décor suggestions would then include furniture variants as well as minimalist concepts like wall-mounted study stations with built-in cupboards.
You must design the inside of the space only for practicality in this one area, but that doesn't mean it can't also be beautiful. Play around with the layout of your study space to see what suits your needs the most. There aren't any absolute laws in study room design ideas!
Give Clear Home Design a call to discover fun and modern acrylic furniture and art accents to modernize your study space. We can support you through the A to Z of your renovations and provide some helpful hints to help you achieve a gorgeous design you love!