Known for their rustic nature, cozy amenities, and supreme, remote settings, cabins hold a special place in the hearts of millions of people. Whether you're from a crowded city or a rural community, nothing beats the escape of modern cabins.
If you're looking to create the perfect modern cabin interior in 2023, look no further than Clear Home Design.
Whether you prefer the organic details of natural materials, a warm space with contemporary furnishings, or bright, airy rooms and windows, you can make it happen with the sleek, adaptive lucite gems of Clear Home Design.
Rejuvenate Your Log Cabin Interior Design with Coveted Lucite
With a curated selection of acclaimed accessories, furniture, and furnishings, Clear Home Design is the effortless marriage of classic and modern. Want to transform your cabin into a rustic, woodsy getaway while still maintaining the luxurious features of a modern cabin interior?
With beautiful lucite, it's easy.
Contemporary Features Boost Interest in Any Log Cabin Interior
Add a clear acrylic desk to your family room or modernize your cabin basement or study with a lightweight waterfall desk with drawers.
Want to refurbish your log cabin-style bedroom with a contemporary aesthetic? Fill the space with a gorgeous chrome and lucite queen canopy bed!
Let's take a look into some simple ways to fashion your interior design into that of contemporary log cabin décor. These three one-of-a-kind ideas for modern cabin interiors have a little flavor for everyone!
1. Rustic Cottage: Log Cabin Allure Meets Modern Comfortability
We all know the classic log cabin design styles. A kindling hearth with exposed beams, an inviting environment, and plenty of natural materials like wood, stone, and other rock. Vintage bone and pelt collectibles take up shelf space, timber abounds, and the open cabin rafters create space for air and light.
There Are Countless Rustic Log Cabin Styles, Textures, Layers, and Nuances
Ready to change the interior and craft a cabin that is both rooted in nature and amenable to the modern world?
Add some layered textures to smoothen out the rough-and-tough tone of the rustic log cabin. Or play with the light of the log cabin decor by carving dark silhouettes with signature living and family room pieces.
Want to add cabin comfort? Increase the modern spoils with features such as posh leather sofas, dark lazy couches, or eye-catching acrylic barrel chairs.
Give Your Rustic Interior a Contemporary Farmhouse Style
If the room or space is already modernized, try to introduce more organic highlights with wood, stone, bone, and pelt. Repurposed items like a barn door can be used for a rustic sliding door. You can even hide bunk beds with such a sliding door, preserving the rustic aesthetic and current-day convenience.
The interior design of cabins can include a full range of cottage styles, variations, accents, and furnishing. Warm wood, low lights, bold colors, and sweeping windows can all juxtapose to create a cabin and interior retreat that is both temptingly modern and uniquely classic.
2. Fashion a Sanctuary in Nature with Intimate Log Cabin Quarters
Imagine a modern cabin interior design where you're nestled up, feeling 'cabin cozy' under a thick crocheted afghan by the electric fireplace. You sip your hot tea, peer out the window to the cold outdoors, and gaze along your interior wall. An array of trinkets, textured blanket baskets, woven textiles, hunting accessories, and family heirlooms adorn the room and floor.
While not cluttered, this small, intimate interior cabin space design carries throughout every room, from the bathroom to the bedroom, den, and every interior space and wall therein.
This is the perfect cozy (but not cramped) cottage or cabin in the woods.
Accentuate and Intersperse Wood Walls Throughout a Modern Cabin Interior
Timber holds a special place in any log cabin or cottage interior design. For a homey feeling, spruce your cabin up with natural interior tones and light. Offset darker shades and hues with the whites of herringbone, or craft remarkable moose-antler chandeliers for a truly distinct kitchen, living room, or dining room.
Do you derive fresh inspiration from other wood-clad cabins? To experiment with the light of the wood walls or trim, revamp your interior with some modern designer-style trappings.
Reimagine Nature with a Modern Cabin Design
For example, rethink the rustic interior of your log cabin bedroom with an acrylic nightstand. A cerused oak wood nightstand with lucite bar handles is the perfect interior complement to any modern log cabin bedroom.
It's easy to make a cozy interior room both elegant and designer-friendly with curated lucite furniture. The selection's sleek appeal pairs naturally with the warmth of the rustic log cabin aesthetic. You can further refine your interior design palette with bare wood flooring.
This is one of the more popular interior design styles in today's modern cabin.
Curating a Cozy, Log Cabin Retreat
With a bare wood floor, you can always paint patterns, stencil designs, or age timber to nurture a diversity of lighting, contrast, and interest. On the advice of cabin designers, you may also incorporate the interior design concept of rough-hewn wood into your log cabin.
Earthy copper and iron finishes greatly enhance the natural lighting of wood floors, walls, ceilings, and surroundings.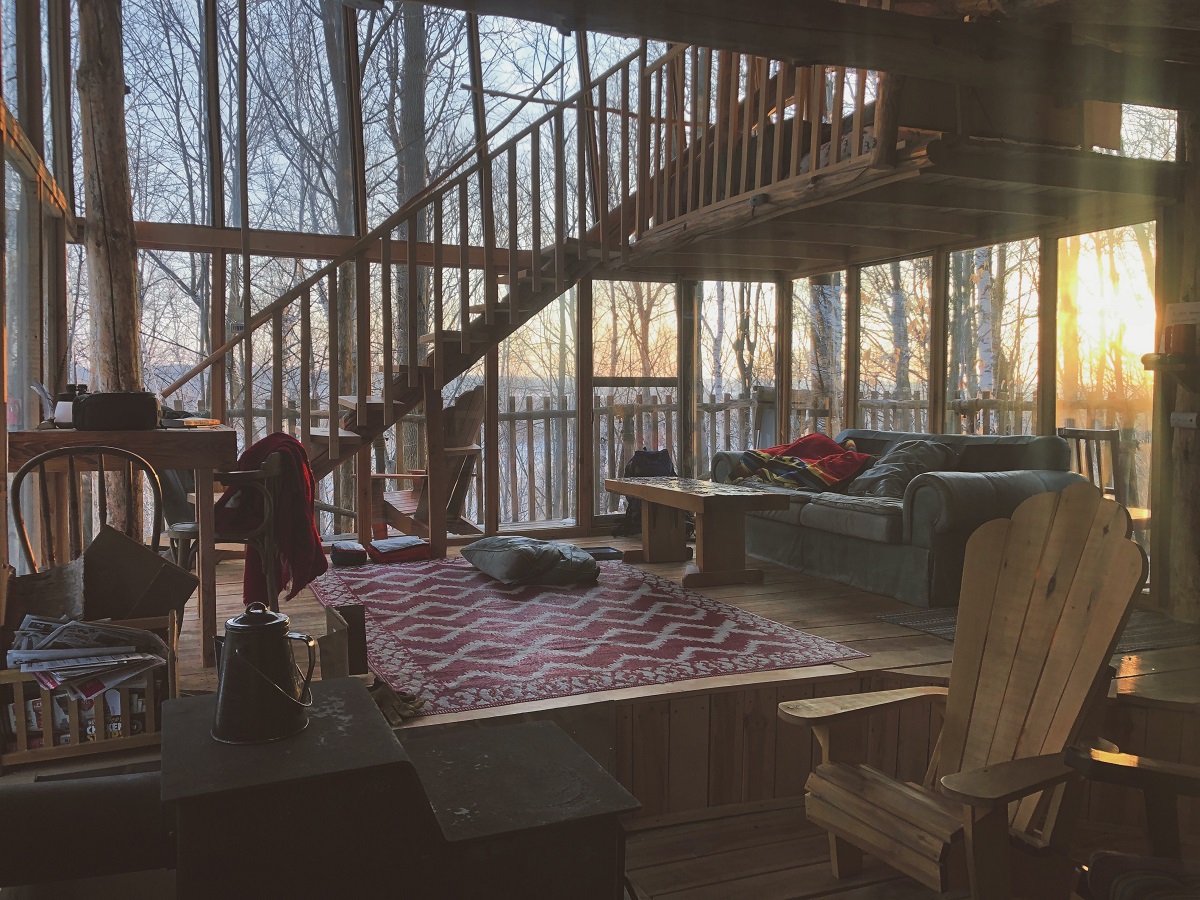 3. Lighten or Brighten the Interior Design of Your Log Cabin with Differentiated Colors
Finally, lightening or brightening the interior of your log cabin can add some much-needed variance, character, and subtlety.
Are the living room, family room, kitchen, or bathroom walls becoming too dry and drab? Splash the interior with rich colors, infuse some artistic flair, and produce a modern cabin that is bright, airy, and organic all at once.
For sleek and cozy cabin colors, add some acrylic storage to the modern interior and make your log cabin pop.
Enliven Your Log Cabin with Light Rugs, Mirrors, and Paints
Don't want it too bright?
Lighten the mood of your interior design and give your log cabin a light-hued rug for some modern cabin coziness.
When you want to balance out dark tones, temper your log cabin with a more placid interior design decor. Add reflective areas, some white paint, recessed lights, low-level lamps, and minimalist windows.
Imagine Your Perfect Cabin Interior...
Ready to craft that dream log cabin house? At Clear Home Design, we have the lucite accessories and furniture you can't find anywhere else.
Harmonize modern and classic and you get creative and revamp your treasured cabin. For all you need to get started, contact the masters of acrylic design today.