It is only logical to spend money on dental office decor that is attractive, practical, and cozy for patients and employees. You can perform at your best by offering high-quality patient care in a relaxing setting with support and the right dental office interior design.
A clinical setting where the practice can maximize its revenue and client experience will also be a highlight for your team. It's a good idea to ensure clinics are adequately constructed because you spend most of your day providing excellent patient care.
Here are some attractive dentist office design ideas below to get you inspired.
To discover the most unique furniture and decor for your dental office design, check out Clear Home Design today.
Use Natural Lighting
In every clinical or dental environment, lighting is crucial and can affect your patients' vision and first impressions. Illumination that replicates natural lighting and is gentle on the eyes is encouraged by our staff.
To keep the office's illumination uniform, homogenous lighting is essential. In the waiting area and/or consulting rooms, we advise employing pot lights first, followed by more contemporary or aesthetically pleasing fixtures. Consistency is achieved by using uniform fluorescence and light exposure across the whole office, as opposed to having certain places brighter or dimmer than others, which some patients can find unsettling. If your office doesn't get enough natural light, you can utilize acrylic mirrors to make the room brighter.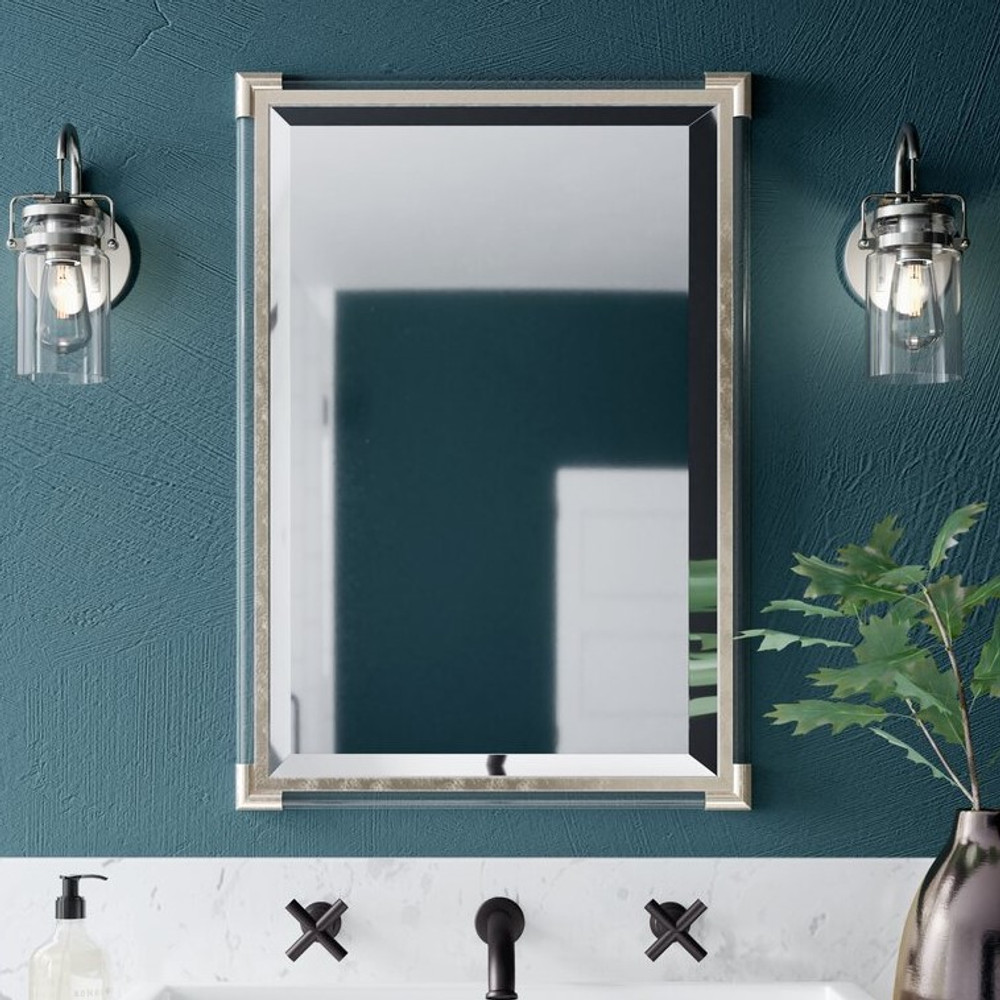 Open Floor Dental Office Design
Modern dentistry offices are now designed with open floor designs as a strategy to improve productivity and office cooperation. Themed office layouts and an open floor plan make greater use of available space and provide opportunities to keep patients relaxed during sessions. Recyclable items, dental instruments, and patient-focused objects like dental floss or mouthwash can all be kept in one place thanks to the layout and great design of today's dental offices.
These concepts are increasingly popular today since they empower a more adaptable and efficient dental office design. Modern dental office design gain a "wow" factor when space is utilized effectively. The ability to create that "wow" effect can help attract more clients too.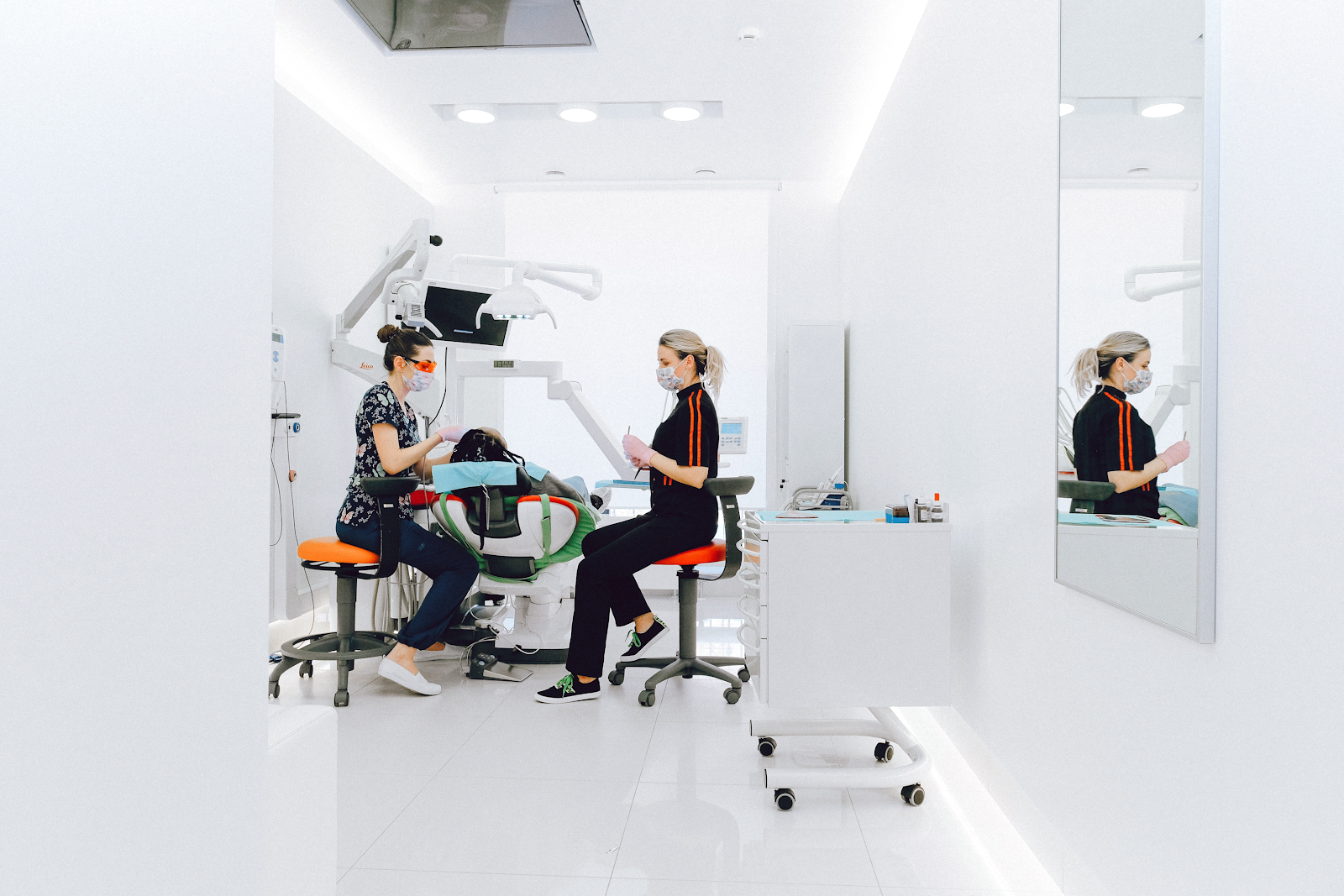 Patient-Focused Dental Office Design
We suggest starting your project with wall paint and complying with your brand's color scheme. The large walls should be painted in a neutral tone so that any strong colors you want to use may stand out. Beige, white, blue, light brown, or taupe rooms give patients and visitors a peaceful sense while enabling you to exhibit your artistic creativity with striking accents.
Another crucial factor to take into account is seating areas. Make long wait times more comfortable by providing nearby tables or surfaces for patients' and visitors' personal items. Considering the lifespan of furniture when you operate a bustling business, go for classic, easy-to-clean, and sturdy items as you select seating for your lobby or waiting room. Clear acrylic chairs for the waiting room are easy to clean and maintain a clear and pure design form.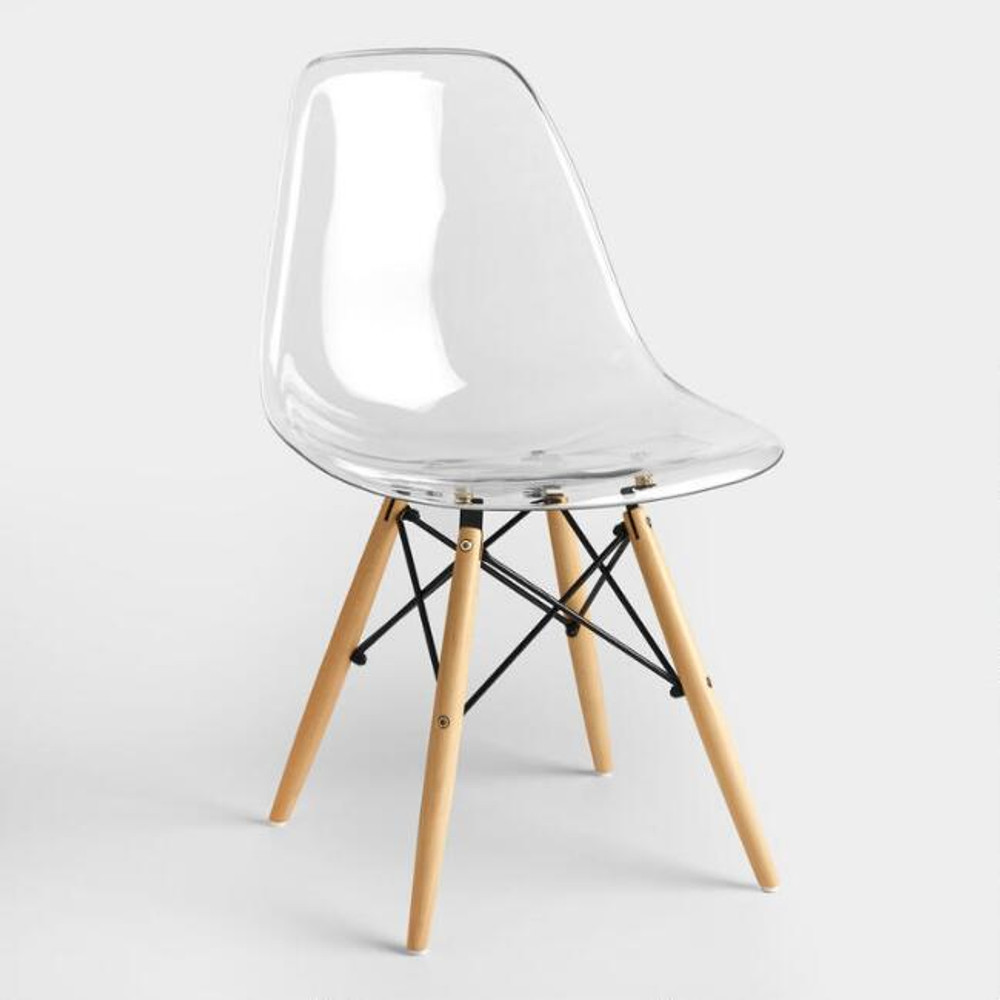 Consider a Themed Dental Office Design
Using themes is one approach to winning over your patients, particularly those who are younger. When a dentist practice has a theme, it makes patients feel more at ease and could increase word-of-mouth referrals. Any dental practice could build a themed office, even if it is more typical in children's dental office designs.
Look for topics, events, or organizations that are significant to both you and the community and establish your ideas around those. If the community has a famous landmark, decorate the office to seem like an information booth about its features. Be a fan of the sports team that your town supports and have images of the team, player bios, and other materials handy to raise awareness of the team.
Aesthetics
Most dental offices have a basic set of design elements that all dental practitioners should consider, such as comfortable furniture and good-quality lighting. In order to make your dental office stand out, you also need to think about how these elements come together to create an atmosphere that is both professional and inviting.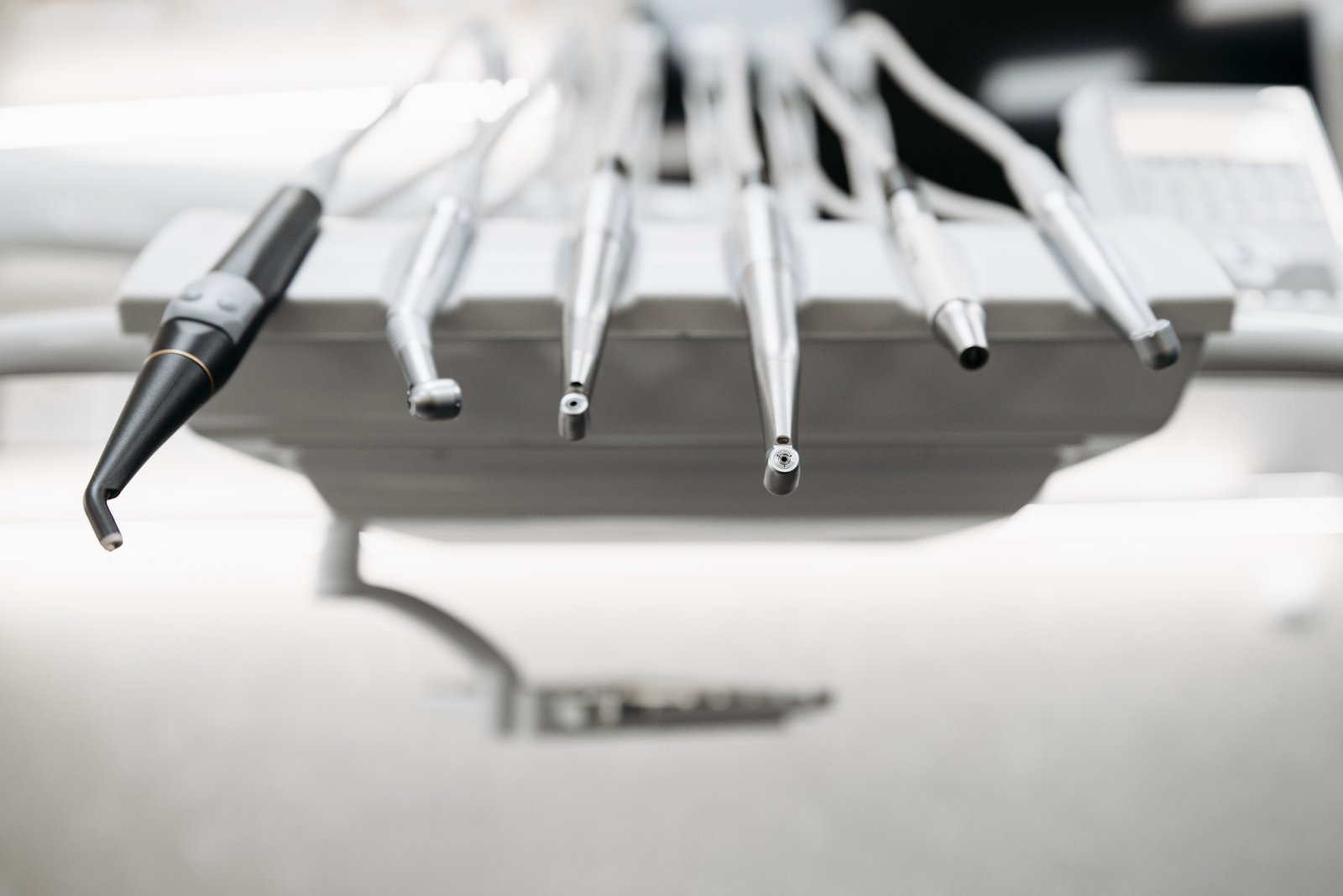 Furniture
When selecting furniture for your dental office, choose pieces that combine comfort and style. Furniture should blend with the overall design of the office to create a unified look. Avoid using too much upholstery or bright colors, which can overwhelm a dental space. Instead, opt for pieces that have clean lines and muted colors to create a calming environment for your dental practice.
Entertainment Design for Your Dental Office
With family-focused dental offices popping up everywhere, offering entertainment has become an integral part of their design process. Not only will it make the visit more enjoyable for patients, but also add a stylish touch to your office! Contemporary televisions can be framed and hung on walls like art pieces, or you could go above and beyond by installing entire media rooms filled with gaming systems and colorful arcade elements - creating a unique atmosphere that transports visitors away from reality. Modernizing your space in this way is sure to keep clients coming back time after time!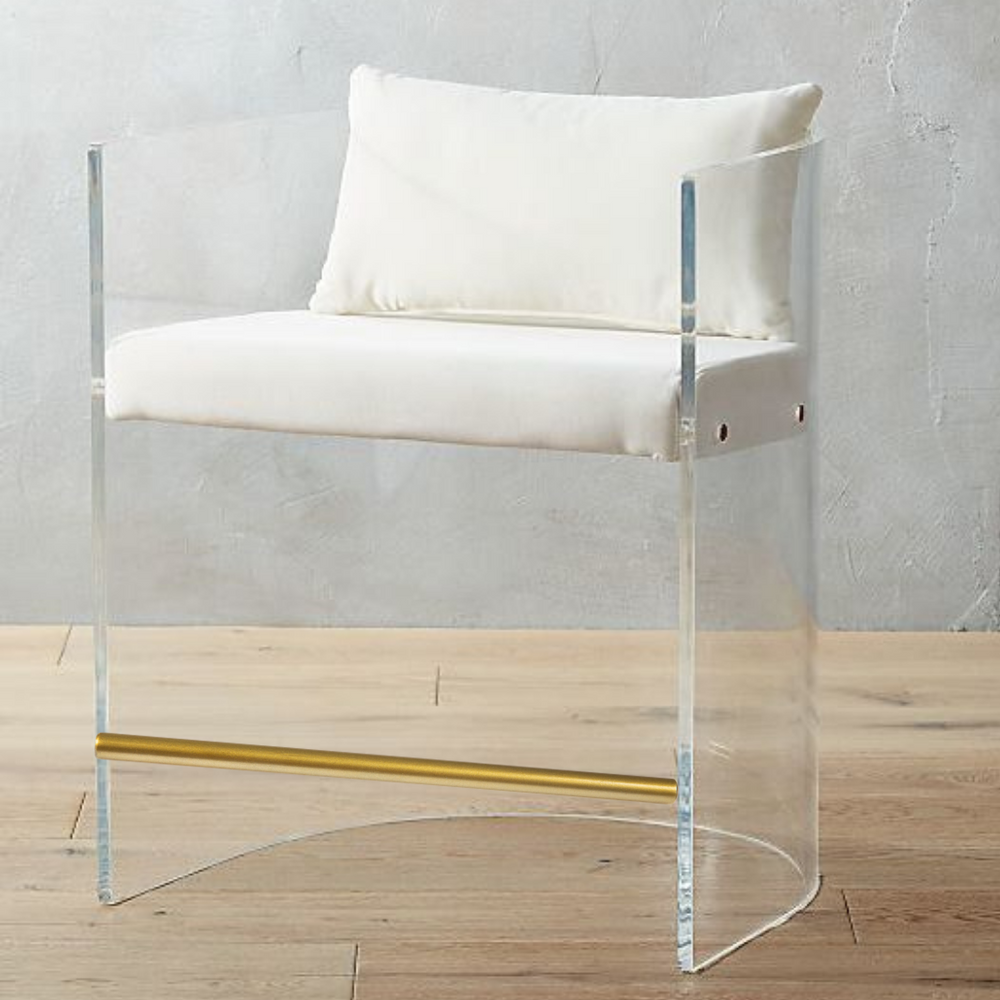 Home-like Feeling
Waiting rooms have transformed - no longer the sterile, dull places of previous years! The modern waiting room is now filled with comfortable furniture and features like flat-screen televisions adorning walls, fireplaces to warm up on chilly days, and chic sitting areas with acrylic bar stools that look remarkably similar to coffee shop lounges. An invitation for visitors to get cozy around elegant chairs or tables encourages meaningful conversations rather than tense anticipation of their appointment.
Go beyond the typical dental office experience with thoughtful amenities such as healthy snack stations. Relax in comfort and create a home-like atmosphere - because we all know that food is the way to everyone's heart!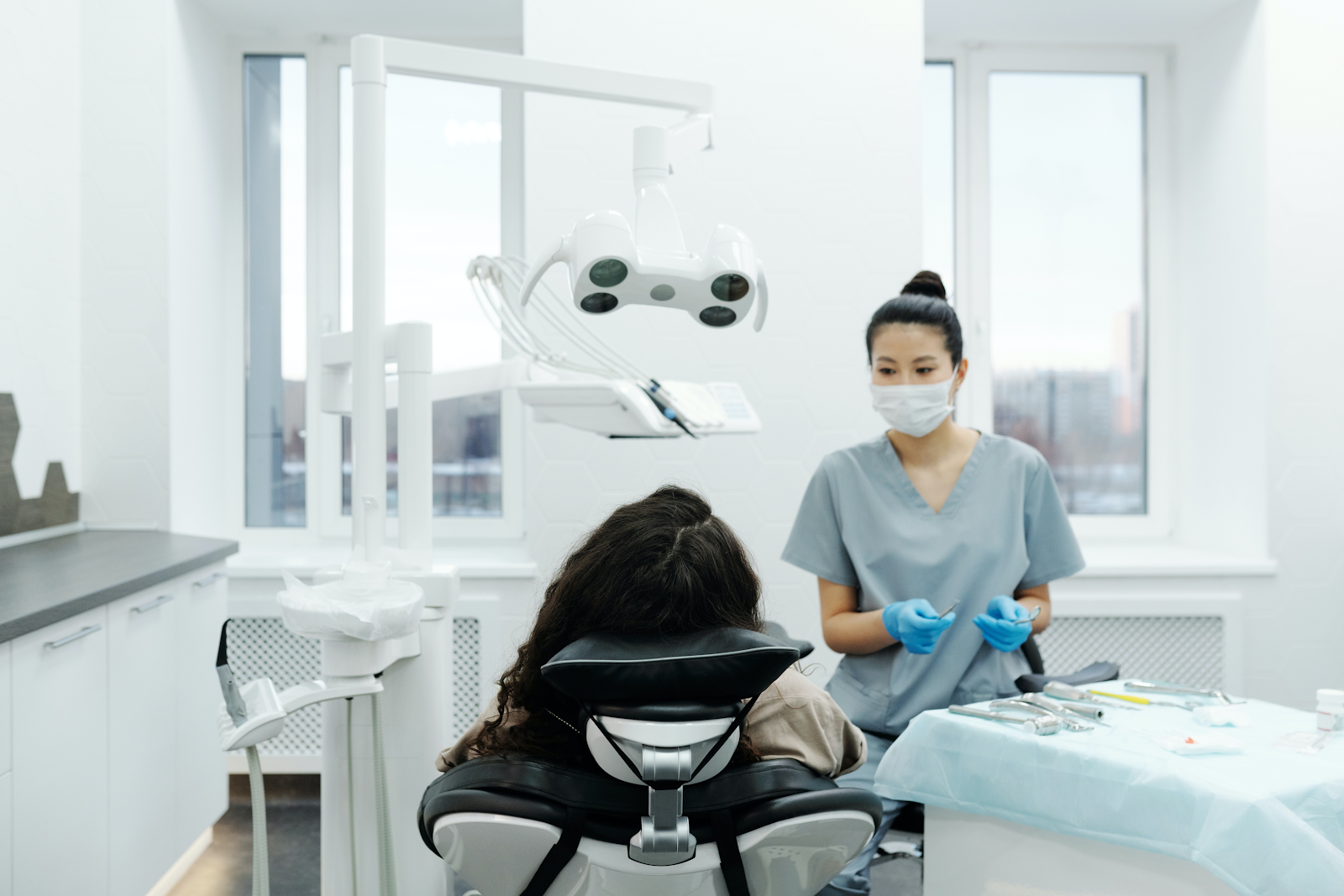 Conclusion
The interior design of a dental office should be modern, comfortable, and inviting. Natural elements can be incorporated with synthetic dental office décor to create a unique atmosphere. Color should be used judiciously to create an atmosphere that elicits tranquility. Lighting can also play a big role in making patients feel relaxed. Keep in mind that furniture should exude comfort, but also safety and convenience for the staff.
For stunning dental office interior design, check out Clear Home Design's creative and functional products! Here at Clear Home Design, we are proud to offer customizable items that will help you curate a space that allows your patients to feel welcome while they get their teeth cleaned or receive treatments. So don't forget to utilize all the advice listed above and explore the options available at Clear Home Design for a successful dental office interior design!