In the world of acrylic and bathroom trends, it's always exciting to see what new ideas are coming down the pike.
The bathroom is the ideal place to exercise your inventiveness, despite being a room typically based on utility. Bathroom design plans should be long-lasting without requiring you to stick with out-of-date decorations, fittings, or trends. A new acrylic vanity stool, a fun wallpaper pattern, or the installation of contemporary bathroom accessories are merely a handful of the numerous ways to update your décor without a complete overhaul.
Acrylic and bathroom design trends are always in demand, so we're excited to see what the future holds for this popular material! Want to add a touch of elegance and class to your bathroom? From modern designs to classic styles, there's something for your personal taste. We're sure you'll love these ideas emerging for 2023 bathroom decor!
Check out our list of the top 11 acrylic and bathroom trends for 2023 below, and be sure to share them with your friends who may be interested in trying any of these trends out for themselves!
11 Top Acrylic and Bathroom Trends 2023
Do you want to give your restroom a new, modern look? Acrylics are the perfect way to do just that! From sleek and stylish designs to bold colors, acrylics can help create the ideal atmosphere for your bathroom. Read on to learn more about the top acrylic and bathroom trends of 2023!
Attention to Details
In 2023, paying close attention to the little things will become a vital aspect of the bathroom design process. You can create subtle signature details by getting creative with unique fittings. According to interior designers, toilets and baths are attracting - and will continue to attract - a great deal of attention.
It is becoming increasingly popular to pair bowl and inset vanity sinks with colorful ceramic toilets for a unique aesthetic appeal. Instead of opting for nickel tones, trendy plumbing fixtures now have marble knobs and are finished in bronze and steel.
Elegant Terrazzo Walls & Floors
The lively, retro feel of terrazzo has led to a significant revival in recent years. One of the leading bathroom tile trends for 2023 is terrazzo, which continues to make an astonishing comeback. In addition to being offered in practically every color, its distinctive stone flecks are available in various sizes.
Although each terrazzo design is distinct, they are all equally beautiful.
Its durability and ease of upkeep ensure that it remains one of the most fabulous bathroom tile designs to copy. Even if overhaul renovations aren't on your list, you may still add a distinctive pop with terrazzo.
Spectacular Bathtub Focal Point
A spa-like ambiance and an aura of luxury are only a few things created by standalone bathtubs. In 2023 primary bathroom suites, baths have taken front and center stage. In light of this, designers have increasingly refined tub designs, and the trend i9s catching on. Each year, new options are created by creating new materials, such as acrylic.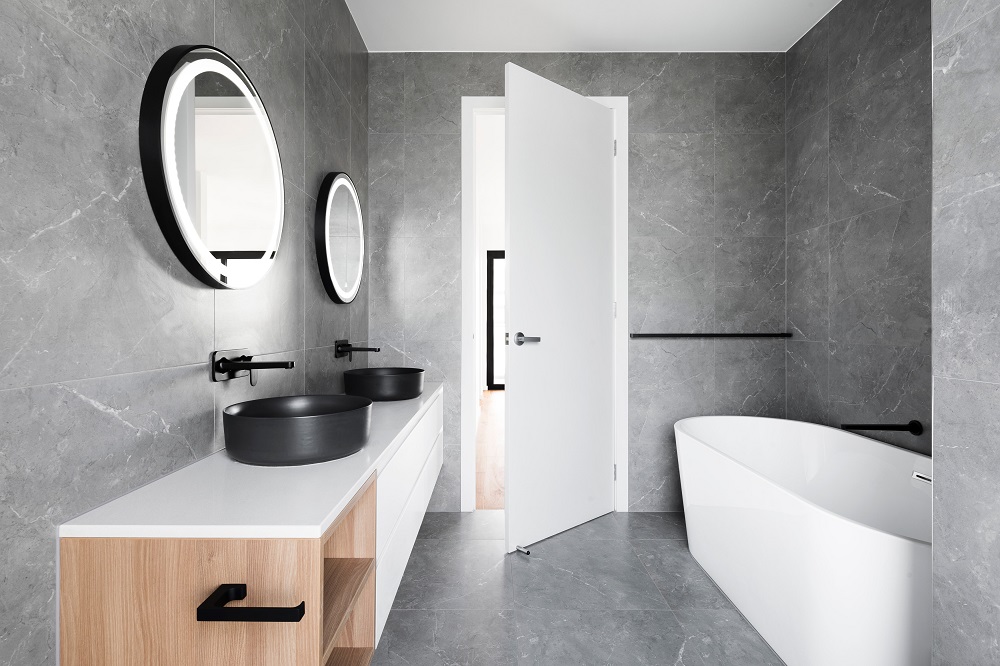 Because of this, we'll witness innovative bathtub designs that reinvent well-known classics. Transparent bathtubs will be eye-catching, and mindful customs will permeate time-tested favorites. For example, a tub might adopt the rounded shape of a teacup. Either design will provide a straightforward but significant decorative component.
Since they have been popular for several years, bespoke and standalone bathtubs are expected to remain popular. It serves as a beautiful technique for establishing a focal point in the space. Add gold fittings to the tub to give your main bathroom a striking, upscale, spa-like appearance.
The rising popularity of larger baths also shows how humanity has recently placed more value on self-care. Nothing is more satisfying than a well-earned soak at the end of a hectic day or taking a commuting bath in your elegantly decorated tub to ease the transition from the workplace to home.
Stone Slabs
Stone slabs, specifically those with lilac-colored shades, are famous now for those with extra space in the bathroom. It's becoming increasingly trendy to use marble to create objects such as matching vanities and sinks, which can serve as the focal point of a stunning bathroom.
For those on a budget, slab-size travertine - which resembles stone almost identically - is a more affordable choice that produces a comparable result. Whether it's travertine or marble, this bathroom trend of extensive use of stone is worth considering.
A Custom Vanity Bathroom Design
A vanity is a necessary fixture in every bathroom, so why shouldn't you make it fascinating and let it influence the atmosphere of the room? Designers have been reusing cabinets and furniture for a while, and customers ask for them more frequently.
Personalized vanities have come to stay. You'll like combining classic and beautiful elements with delicate textures, such as rich walnut woods and natural marble stones, for organic patterns that will endure.
Additionally, design experts consider this to be a more environmentally friendly option. Vintage or refurbished vanities add warmth to the room and give it a sophisticated appearance while breathing new life into items and reducing waste. They may also make a basic bathroom appear warm and well curated within a pocket-friendly price range. Eco-friendly bathroom trends are ageless and will never go out of style.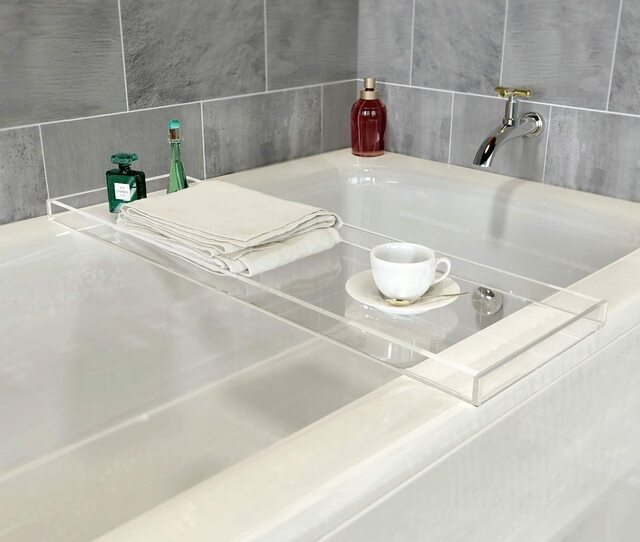 If you're all for bespokevanity designs, then you'll love the accessories at Clear Home Design. For your bathroom, these contemporary lucite furnishings add a classic and elegant look while maintaining functionality. From towel racks to robe hooks, acrylic side tables, and other transparent acrylic items that are smudge-proof, moisture-free, and water-resistant are obvious choices for lucite designs.
The bathroom furniture from Clear Home Design is ideal for any kind of contemporary or transitional bathroom.
Make Space To Linger
The number of self-care spaces in bathrooms fully equipped for spa-style treatments will rise in bathroom trends, 2023.
It might not seem like cushioned furniture belongs in a bathroom. Still, if you intend to indulge in some rest and relaxation, it is indispensable. Plush seating will be considerably more indulgent than settling into a cold toilet seat, whether lotioning your legs or reading a magazine.
A spacious conversation seat can help you create a cozy bathroom that welcomes the ritual of self-care. Additionally, it extends the functionality of the room for a post-work romantic rendezvous or spa day.
Incorporate Natural Materials into Bathroom Spaces
In 2023, more and more people may move on from artificial basins and vanities. More unfinished, natural materials will be used in bathrooms, and warm, welcoming bathrooms will be essential. This calls for the use of organic materials such as wood, zellige tiles, and stone that has been tumbled, brushed, or polished.
Stone and marble sinks will be a key component of this shift, according to Francesca Grace, the interior designer at Francesca Grace Home. In her opinion, using a stone wash basin can highlight the space and create a stunning impression. She sees the wash basin as an excellent opportunity to create something spectacular in the bathroom.
In addition, interior designers predict that tranquil settings and natural stone and natural wood hues will play a significant role in bathroom design in 2023. Use natural components and materials like wood, stone, plaster, curved surfaces, and jewel-toned elements to integrate outdoor elements into your house.
Bathrooms Could Contain Textiles
When designing a lovely bathroom, aesthetics are equally as significant as functional components. Cold, harsh finishes could cause many people to become picky. Floor tiles can be avoided, with the exception of wet bathrooms and family bathrooms frequented by kids or teens that may wet the floor. Older homes with original flooring may leave them in place and cover them with an exquisite bath rug, which effectively warms the space.
Consider a quality rug made of polypropylene or plastic resin that is water-resistant, durable, and simple to maintain if moisture or water damage is something you are worried about.
Stylish Powder Room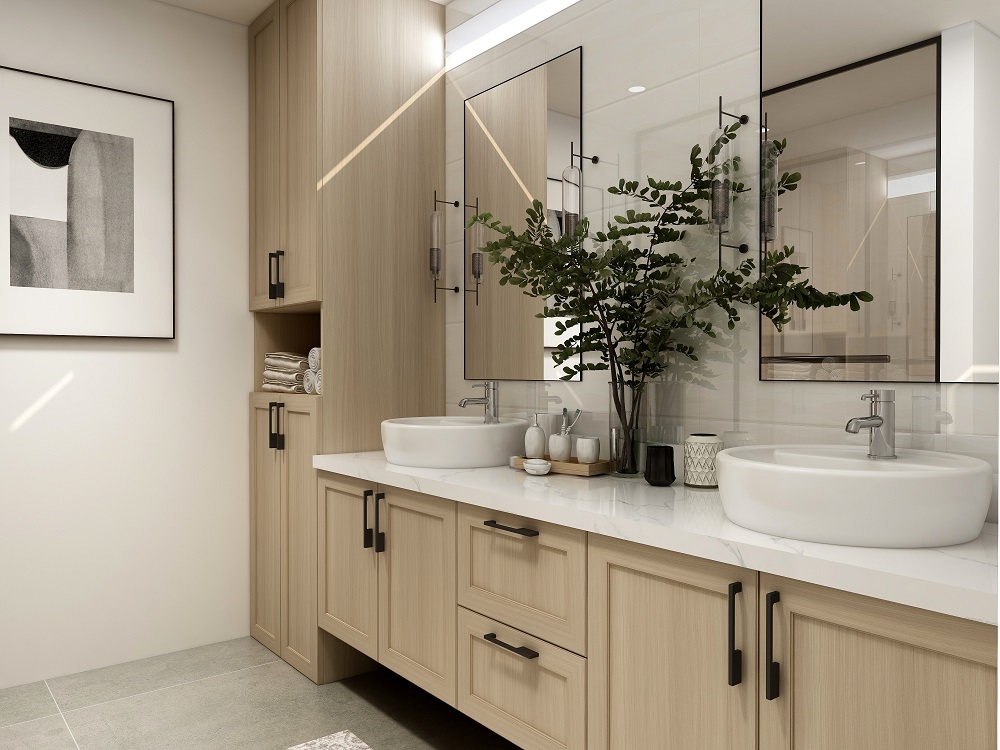 The appearance of powder rooms has received greater attention recently. If you're a more conservative homeowner, the powder room, being a small area, is a terrific place to try out different designs and possibly stray a little from the general concept of the house.
By transforming it into an unusual gem in your house, you may give your small powder room a big impression. A gorgeous gold-lined acrylic tissue box is the perfect addition to a classy and unique powder room!
Stunning Wall Coverings
Wallcoverings are moving into a much more dynamic area in order to make significant expressions in constrained spaces.
Create a lasting impact in your home by covering the entire interior with a striking print. There are a ton of beautiful prints available, and if you're decorating a powder room, a peel-and-stick alternative is a great choice.
Not courageous enough to cover the entire space? Start small—one wall will have a profound effect.
Boost Personal Pleasures
The little things that encourage better hygiene practices are all the rave two years after the COVID-19 pandemic.
The bathroom is increasingly becoming a space where people focus on well-being and self-care innovations. Heated towel drawers, steam baths with frills featuring chroma-therapy lighting and music players, plush organic stones, and saunas are all popular demands. With hairdressing tables, specialized acrylic mirrors, and more, a well-organized space is possible and worth every penny.
Clear Home Design: Create what you want!
We're excited about the future of acrylic and bathroom trends. What do you think?
Whether you're looking for a new bathroom, remodel, or just updating your interior design, these trends will help you create the perfect space. From sleek and modern designs to classic and traditional styles, there's something here for everyone.
If you're interested in discovering more modern acrylic accessories for your bathroom and the rest of your home, then you will love the acrylic selection at Clear Home Design!
Visit our online marketplace to browse our exquisite reflective vanity trays, lucite organizers, and acrylic bathroom stools.
Customize anything - Get in touch with us, and we will walk you through the process.